FEA presents! Crazy Fighting Night!
28.02.2018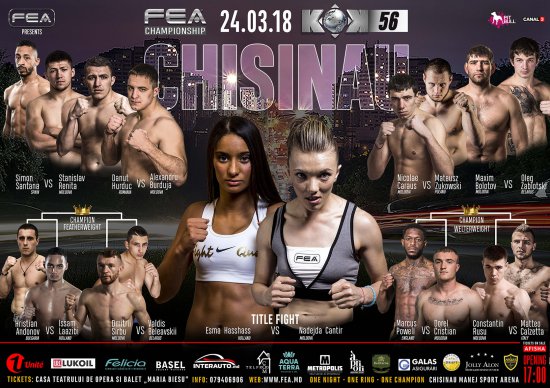 FEA presents! Crazy Fighting Night! Unforgettable combat evening, full of excitement and adrenaline. 3 parts, 18 bouts.
FEA CHAMPIONSHIP – fights involving young fighters, among them – there are those who already proved themselves, they are the future champions. The rising star – Donna Keli and the young striker – Mina Manoli.
KOK Heroes Series 36 in Chisinau – Final 4 – up to 65 kg
Dmitry Syrbu strives to win the pyramid so he can challenge Stanislav Renita to a title fight.
His opponent is Valdis Belyavsky from Belarus. The second semifinal pair will include the representative of Bulgaria  Hristian Andonov  against the Dutchman – Issam Lazibi.
The long-awaited rematch Burduzha – Hurduk!!! The two best fighters of their countries will claim the right to win.
Burduzha must preserve the primacy. Hurduk will do everything in his power to get the victory!

For the first time in history, the women's champion belt is at stake, and only one of the contenders will try it on.
Two candidates finally will meet in a title fight. Esma Hasshass against Nadezhda Kantsyr!!!
KOK WORLD GP 56 in Chisinau 2018.  Final Four in the up to 77 kg division.
Konstantin Rusu will meet with the famed Italian fighter – Stefano Fanelli. Rusu aspires to the title and will do everything possible to win.
Kristian Dorel will attempt his right to become a champion in two categories simultaneously!!! His rival, who doesn't need an of introduction, is Marcus Powell. We\'ll all see what comes out of this.
Heavy division fight – Maxim Bolotov versus Oleg Zablotsky.
The anticipated return of Nicolai Caraush. A super fight from Stanislav Renita, who, for the third year, keeps his champion belt!!!
March 24th 2018, Chisinau, Manej Arena. One night. One ring. One champion. Details at www.fea.md
PART 1  FEA CHAMPIONSHIP 2018
Featherweight superfight 3R x 3M, Extra 1R, K-1  Rules, -67 kg
(Moldova) Marin Vetrila  vs Petru Morari  (Moldova)
WINNER Petru Morari  by unanimous judge  decision  3:0
Lightweight superfight 3R x 3M, Extra 1R, , K-1   Rules, -71kg
(Czech Republic) Denis Farkas  vs Radu Copaceanu  (Moldova)
WINNER Denis Farkas  by unanimous judge  decision  3:0
Women`s flyweight superfight 3R x 3M, Extra 1R, , K-1   Rules, -55 kg
(Poland) Alecia Zomkowski  vs Donna Cheli  (Moldova)
WINNER Donna Cheli  by unanimous judge  decision  3:0
Welterweight  superfight 3R x 3M, Extra 1R, , K-1   Rules, -75kg
(Romania)  Maxim Pleshko  vs Mina Manoli  (Moldova)
WINNER Mina Manoli  by unanimous judge  decision  3:0
Middleweight  superfight 3R x 3M, Extra 1R, , K-1   Rules, -84 kg
(Moldova) Vasile Borsevschi  vs Maxim Zaplitnii (Moldova)
WINNER Maxim Zaplitnii by TKO 2R 2:10
PART 2   Figh Box KOK 36 HERO`S  WORLD SERIES 2018 in CHISINAU
1st Featherweight Semifinal fight 3R x 3M, Extra 1R, KOK  Rules, – 65 kg
(Belarus) Valdis Beleavskii vs Dmitrii Sirbu (Moldova)
WINNER Dmitrii Sirbu by KO 2R 1:13
2nd Featherweight Semifinal fight 3R x 3M, Extra 1R, KOK  Rules, – 65 kg
(Bulgaria) Hristiyan Andonov vs Issam Laazibi (Morocco) Issam Laazibi
WINNER Issam Laazibi by split judge decision 2-1
Lightweight superfight 3R x 3M, Extra 1R, KOK Rules, – 71 kg
(Italy) Giovanni Spanu vs Vitalie Matei (Moldova)
WINNER Vitalie Matei by KO 1R, 0:51
Light heavyweight superfight 3R x 3M, Extra 1R, KOK  Rules, – 95 kg
(Romania) Danut Hurduc vs Alexandru Burduja (Moldova)
WINNER Alexandru Burduja by unanimous judge  decision  3:0
Featherweight FINAL FIGHT 3R x 3M, Extra 1R, KOK  Rules, – 65 kg
(Morocco) Issam Laazibi VS Dmitrii Sirbu (Moldova)
WINNER Dmitrii Sirbu by unanimous judge  decision  3:0
Women`s strawweight TITLE FIGHT 5R x 3M, KOK Rules, – 51 kg
(Holland) Esma Hasshass vs Nadejda Cantir (Moldova)
WINNER Nadejda Cantir by split judge decision 2-1
Nadejda Cantir first champion KOK WOMEN`S CATEGORY
PART 3  KOK 56 WORLD GRAND PRIX 2018 in CHISINAU
1st Welterweight Semifinal fight 3R x 3M, Extra 1R, KOK  Rules, – 77 kg
(Italy) Matteo Calzetta vs Constantin Rusu (Moldova)
WINNER Constantin Rusu by unanimous judge  decision  3:0
2nd Welterweight Semifinal fight 3R x 3M, Extra 1R, KOK  Rules, – 77 kg
(England) Marcus Powell vs Dorel Cristian (Moldova)
WINNER Dorel Cristian by unanimous judge  decision  3:0
Middleweight superfight 3R x 3M, Extra 1R, KOK  Rules, -85 kg
(Poland) Meteusz Zukovski vs Vlad Hurduc (Romania)
WINNER Vlad Hurduc by KO 1R, 1:03
Heavyweight superfight 3R x 3M, Extra 1R, KOK  Rules, +93kg
(Belarus) Oleg Zablotskii vs Maxim Bolotov (Moldova)
WINNER Maxim Bolotov by unanimous judge  decision  3:0
Light heavyweight superfight 3R x 3M, Extra 1R, KOK Rules, – 95 kg
(Czech Republic) Vasil Ducar vs Samir Boukhidous (Morocco)
WINNER Vasil Ducar by split  judge decision  2:1  Extra round
Featherweight superfight 3R x 3M, Extra 1R, KOK  Rules, -65 kg
(Norway) Simon Santana vs Stanislav Renita (Moldova)
WINNER Stanislav Renita by unanimous judge  decision  3:0
Welterweight FINAL FIGHT 3R x 3M, Extra 1R, KOK  Rules, – 77 kg
(Moldova) Dorel Cristian VS Constantin Rusu (Moldova)
WINNER Constantin Rusu by split  judge decision  2:1  Extra round