FEA presents Vol.10 K-1 WORLD GP 2013 Middleweight Tournament in Moldova.
02.03.2013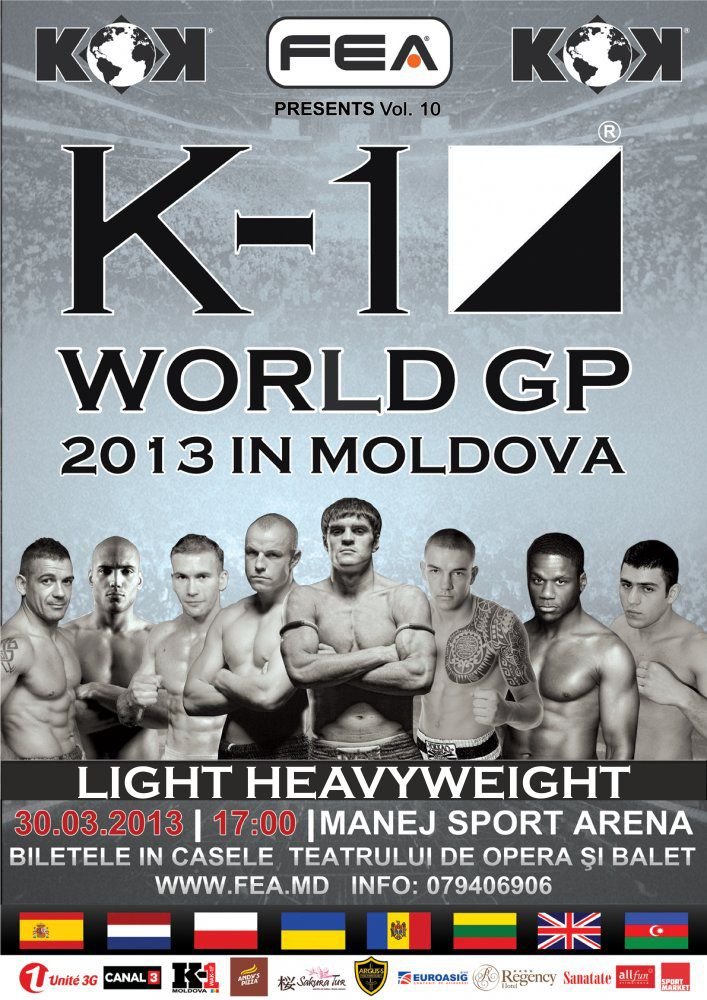 PROMO
FEA presents Vol.10 K-1 WORLD GP 2013 Middleweight Tournament in Moldova
For the first time in the world and in the history of K-1 here in the Republic of Moldova the most grandiose and large-scale tournament that has not ever been organized in our country will be held. 
It may safely be assured that such an event will not remain unnoticed among all the K-1 fans both from the Republic of Moldova and from all over the world. 
All the world combative community is observing the resurgence of K-1 with great interest. 
Many martial arts experts have already predicted its great future in comparison with such worldwide promotion companies as CULTURE STREET (Spain), BUSHIDO FC (Lithuania), FEA (Moldova), FIGHT CHANNEL (Croatia). 
Undoubtedly, interest in K-1 will increase even more because all the necessary measures are being taken for this purpose. Introduction of new weight categories has become an important point in the development of K-1 as a world discipline. 
And the first innovative step, of course, is going to be the tournament in the 85kg weight class FEA presents Vol.10 K-1 WORLD GP 2013 Middleweight Tournament in Moldova. 
This tournament will become a component in promotion of Moldovan fighters to high achievements and success, and advancement of our country's image along with the resurgent K-1 brand. 
Under the rules, in the main draw of K-1 WORLD GP 2013 Middleweight Tournament in Moldova two representatives from the Republic of Moldova in the 85kg category will be fighting. 
These surely are Constantin Tutu (Champion Thai Gym) and Kurtish Victor (Lion Muay Thai). 
Their opponents will be well-known fighters such as Leon Miedema (Holland), it will be recalled that in December Miedema was fighting with Tutu at the Eagles tournament 2012 which Constantin won according to an unanimous referees' decision, 
Romy Da Silva (Great Britan), Radosław Paczuski (Poland), Samir Kazimov (Azerbaijan), Moises Ruibal (Spain), Matas Stebuliauskas (Lithuania). Fighters from Lithuania and Ukraine will meet at the reserve combat. 
In addition to the basic eight combats, qualifying semifinal matches for medium and heavy weight categories fighters are scheduled within the tournament. 
So the best two fighters of the RM in 71kg category who will fight for the right to enter K-1 MAX Final 16 are Christian Dorel and Vitaly Matej!!!! 
Throughout their career these two best fighters have been competing, but only the winner will enter the World K-1 semifinal. This intriguing point is an incentive to win, and on March 30 in the ring we'll watch a real battle. 
The combat in a heavyweight category is going to be the second qualifying battle where one of the fighters is Sergei Lashchenko, name of the second we\'ll let you know soon. 
Also an interesting combat between Alexander Kol (Soul Gym) and Denis Apavaloae (Lion Muay Thai) will take place in the open fight. 
In the superfights Igor Frunze (63kg) and Maxim Bolotov (+91 kg) will come in the ring, both fighters are from the Soul Gym sports club. 
To be repeated, that such a large-scale tournament with a great number of sports stars has not ever being held in Moldova before. 
Intriguing fights have already attracted interest of the entire public, not only in Moldova, but in the whole world. Perhaps, a lot of fans from Europe and the CIS will come at this tournament.
Soon, we will report on the matches map, stay tuned.
FIGHT CARD
 SPECIAL GUEST
ERROL ZIMMERMAN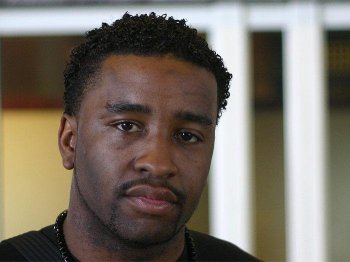 Date of birth 20-April-1986
Weight 110 kg
Height 1.90 m
Country Surinam
Record 100 – 9 – 1
Full Biography
Sometimes it is hard to believe Errol Zimmerman only turned 25 early in 2012. That's because he has been knocking people out since 2001, when he fought under professional kickboxing rules aged just 15. Four years later, at an age when most of his peers were only just graduating into full-contact fights, he was having his first battles under the K-1 mark. He is nicknamed 'The Bonecrusher' and its not hard to see why – he has 76 wins overall, 41 by knockout. Zimmerman has ridiculous power in both hands and can literally end a fight in an instant with one jaw-shattering blow that leaves his opponent face-down on the canvas, or flat on their back staring at the ceiling with sightless eyes. As is often the case with sportsmen who have a high level of natural ability, Zimmerman went through phases where he relied on his power to win fights and preferred the nightclub to the training room. That loss of focus was reflected in patchy runs of form which saw him lose fights he should have won, at the same time adding unnecessary defeats to his record or leaving tournaments earlier than he should have. The lesson sank in. Zimmerman always prided himself on his knockout power and the way he thrills the fight fans, but he had other ambitions within the sport. For one, he wanted his name to be recorded alongside the all-time greats and that wasn't going to happen if he was not giving the sport the respect and discipline it required. He gained a new focus at the start of 2011 and the results became apparent immediately. Since the start of that year he has won eight consecutive fights – seven of them with thunderous stoppages. One of the wins was over one of his own icons, the equally powerful and aggressive Jerome Le Banner, who he stopped in the first round.
TICKETS
TICKETS "FEA presents Vol.10 K-1 WORLD GP 2013 Middleweight Tournament in Moldova."
Tickets for the event can be purchased at the National Opera and Ballet MARIA BIESU. Tickets from 100 lei.
The address of the championship: athletic arena Moldova. Str. Andrew Doga 26. OPENIG 17:00.
Telephone offices of the National Opera and Ballet Theatre: 0 22 24-51-04.
Hours of operation: Tuesday to Sunday from 9:00 to 18:00
(off – Monday).
Tickets for the VIP seats and parterres marked on the scheme yellow and green can be ordered by calling 079 406 906.
SCHEME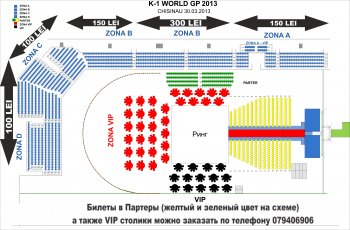 RESULTS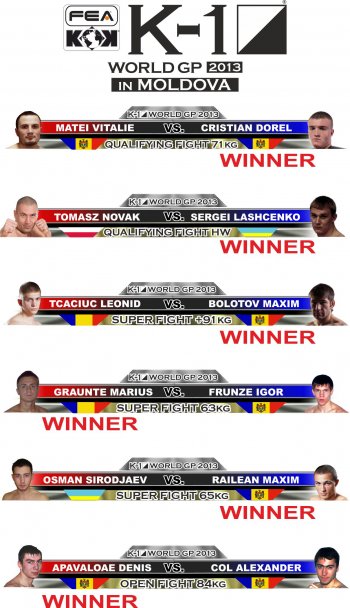 PHOTO
VIDEO