Nicolae Hantea vs Kadir Dalkiran, interim championship MMA fight, under 65.8 kg division!
23.02.2023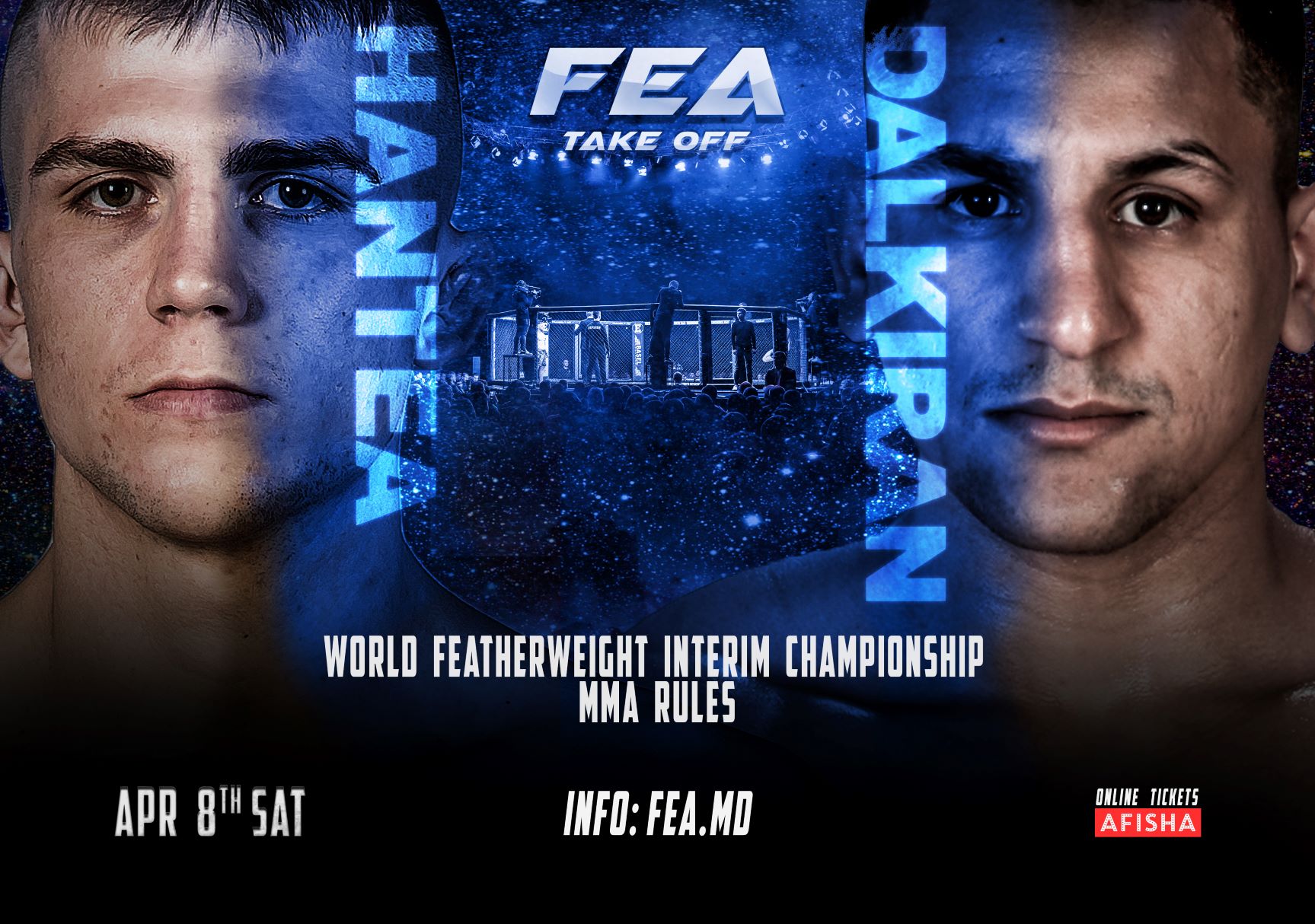 Nicolae Hantea vs Kadir Dalkiran, interim championship MMA fight, under 65.8 kg division!
On April 8th, as part of the FEA TAKE OFF tournament, we'll see the title fight, 5 rounds, 5 minutes each, MMA rules, for the interim championship belt and the Featherweight title.
Nicolae Hantea, from the Republic of Moldova, and Kadir Dalkiran, from Turkey, will meet in this championship fight. Hantea won his last fight ahead of schedule in September of the last year, during the FEA CHAMPIONSHIP LOADING tournament.
Nicolae Hantea has been striving for the title in this category for a long time. And now we can say that the moment of truth has come, to prove that he is indeed one of the best Moldavian prospects in his category.
Nicolae conducts his training at THAI BOXING CLUB, under the guidance of Vladislav Belinschi. He is 22 years old, height- 177cm, weight- 66kg, 9 fights, 7 wins, 2 losses.
Kadir Dalkiran is 24 years old, 2 years older than Hantea. He won his last fight by unanimous decision. His record consists of 4 wins and 3 losses. Height -167 cm, 10 cm shorter than his opponent.
He's very versatile, but focuses more on wrestling. He's very ambitious, and unpredictable. Therefore, this fight will be very intense.
To be noted, the reigning absolute champion of this category is Valeriu Mircea. Consequently, the owner of the temporary belt will automatically become the first contender for the title fight against Valeriu Mircea.
Who'll become the first contender? We'll find out on April 8th, 2023!
Stay with us, do not miss it! Ciorescu Futsal Arena, start 17-00. Tickets- afisha.md. Live- only at feafights.tv.
Nicolae Hantea. COUNTRY: Moldova. City: Chisinau. DOB: 05/18/2000. AGE: 22. HEIGHT: 177 cm. WEIGHT: 66kg. Coach: Vladislav Belinschi. Gym: Thai Boxing Club. Wins:7. Losses:2. Draw: 0.
Kadir Dalkiran. COUNTRY: Turkey. City: Istanbul. AGE: 24. HEIGHT: 167 cm. WEIGHT: 66kg. Coach: İbrahim Yıldız. Gym: İbrahim Yıldız Fight Academy. Wins:4. Losses:3. Draw: 0.