Lightweight 4-men tournament, FEA TAKE OFF!
18.02.2023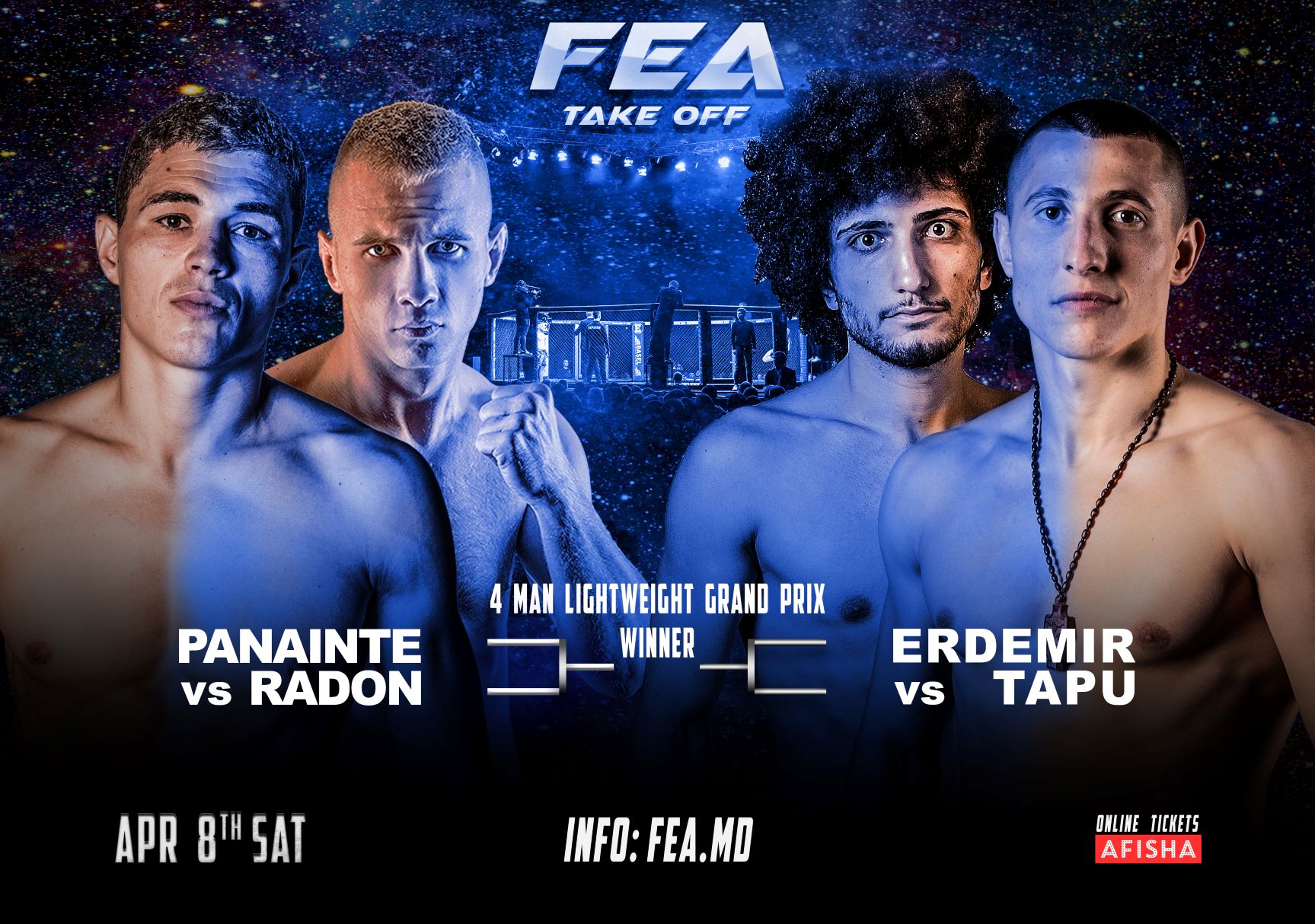 The first semi-final brings by now familiar faces, Denis Tapu (Moldova) against Samet Erdemir (Turkey). Both fighters are young, ambitious and determined to win.
Samet, in his last FEA performance, on September 17 of the last year, suffered a very close-call loss in front of Vitalie Matei. Meaning he now has the chance to become the winner and get a rematch with Matei, but this time around, it would be a title fight, for the vacant FEA Lightweight belt.
Samet is training in Istanbul, at Pirana club, coached by Ismail Uzuner. He is 21 years old and holds a record of 7 wins and 2 losses.
Denis Tapu confidently goes to the intended goal, he spent 2 fights within the project, both victorious. The first one was by knockout and the second – by unanimous decision.
Denis Tapu represents Morari Fight Club and Maximus. He is 23 years old, height- 175cm, weight- 71kg. Has 11 wins and 2 losses on his record. Denis is the owner of several belts and titles.
In his December 17 fight, he unanimously defeated the Italian, Sette.
Tapu has excellent hand and foot work, meaning he will do his best on not giving his opponent the slightest chance of winning.
Denis Tapu. COUNTRY- Moldova. City: Chisinau. DOB: 07/03/1999. AGE: 23. HEIGHT: 175 cm. WEIGHT: 71kg. Coach: Serghei Morari, Oleg Sclifos. Gym: Morari Fight Club, Maximus. Wins: 11. Losses: 2. Draw: 0.
Samet Erdemir. COUNTRY- Turkey. City: Istanbul. DOB: 11/15/2001. AGE: 21. HEIGHT: 180 cm. WEIGHT: 71kg. Coach: Ismail Uzuner. Gym: Pirana GYM. Wins: 7. Losses: 2. draw: 0.
-2 time Muaythai Turkish champion
-IFMA European 2.
Vitalie Panainte, from Moldova, and Patrick Radon, from Poland, will meet in the second Lightweight semi-final of the Final 4. Both fighters are true professionals in their field, both have an incentive to become the winner and win the right to the title fight.
Vitalie Panainte has already fought 3 times within the FEA CHAMPIONSHIP project, winning two times and losing once. Panainte will do everything possible to reach the final where there's the chance to meet Denis Tapu, in front of whom he suffered his last defeat.
Patryk Radon is a well-known Polish fighter who has won many awards and trophies. He proved himself as an experienced and very dangerous fighter. Especially since he previously fought within quite high-profile world projects.
The intensity begins to gain momentum. And we will see the outcome on April 8th!
Vitalie Panainte. COUNTRY: Moldova. City: Chisinau. DOB: 07/01/1993. AGE: 29. HEIGHT: 178cm. WEIGHT: 71kg. Gym: Thai Boxing Club. COACH: Vladislav Belinschi,
Win:6, Loss:2 Draw:0
Patryk Radon. COUNTRY: Poland. City: Wroclaw. DOB: 08/12/1993. AGE: 29. HEIGHT: 180cm. WEIGHT: 71kg. Gym: ŁKS ŁÓDŹ / GYM FIGHT.
Win:10, Loss:1 Draw:0
April 8th, Ciorescu Futsal Arena FMF, online tickets afisha.md, live: feafights.tv !!!