Igor Duca versus Martin Petkov. Professional Muay Thai undercard bout, FEA EQUINOX!
03.09.2023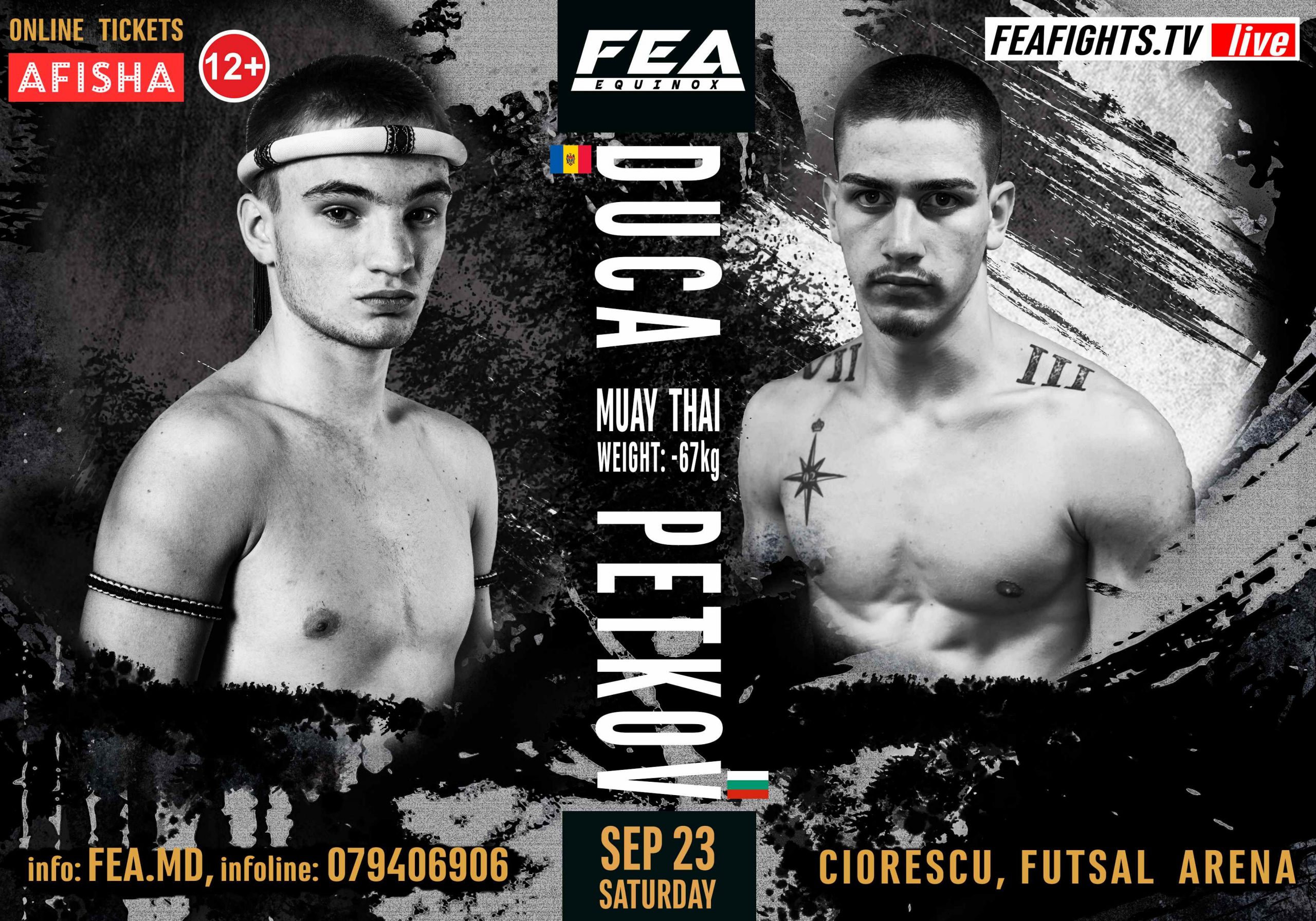 In the undercard of the FEA EQUINOX tournament, we have a Muay Thai rules professional bout in which the representative of Moldova, Igor Duca, and Bulgaria's Martin Petkov, will face off.
For Igor Duca, the upcoming fight will be his debut. Previously, he competed in amateur tournaments, where he earned numerous awards and titles. Notably, he is the Muay Thai European Champion and World Vice-Champion. Igor trains at BERCUT club in the capital city, under the guidance of Vlad Dima and Andrei Grosu. He is 18 years old, stands at 180 cm, and weighs 67 kg.
Martin Petkov is a year older than Igor, being 19 years old. In the professional circuit, he has had 2 fights, with 1 victory and 1 defeat. He stands at 184 cm and weighs 67 kg. Petkov trains at the Anton Petrov Academy in Varna, guided by Anton Petrov. As previously announced, FEA Championship is introducing this division to popularize professional Muay Thai in Moldova.
FEA EQUINOX, weight -67 KG. MUAY THAI rules. (Moldova) Igor Duca vs Martin Petkov (Bulgaria).
Martin Petkov
COUNTRY: Bulgaria
City: Varna
DOB: 28.11.2003
AGE: 19
Height: 184 cm
Weight: 67 kg
Coach: Anton Petrov
Gym: Anton Petrov Academy
Style: Muaythai K-1
Win -1 Loss -1 Draw
Igor Duca
COUNTRY (Moldova)
City: Chisinau
DOB:
AGE: 18
HEIGHT: 180 cm
WEIGHT: 67 kg
Coach: Andrei Grosu, Vlad Dima
Style: Muaythai K-1, kickboxing
Gym: BERCUT FIGHT CLUB
Wins 0 Loss 0 Pro debut
Amateur:
European Youth Muaythai champion
World Youth Muaythai vice-champion