FEA EQUINOX – Fiodor Cazanji vs Marian Lupascu!
04.09.2023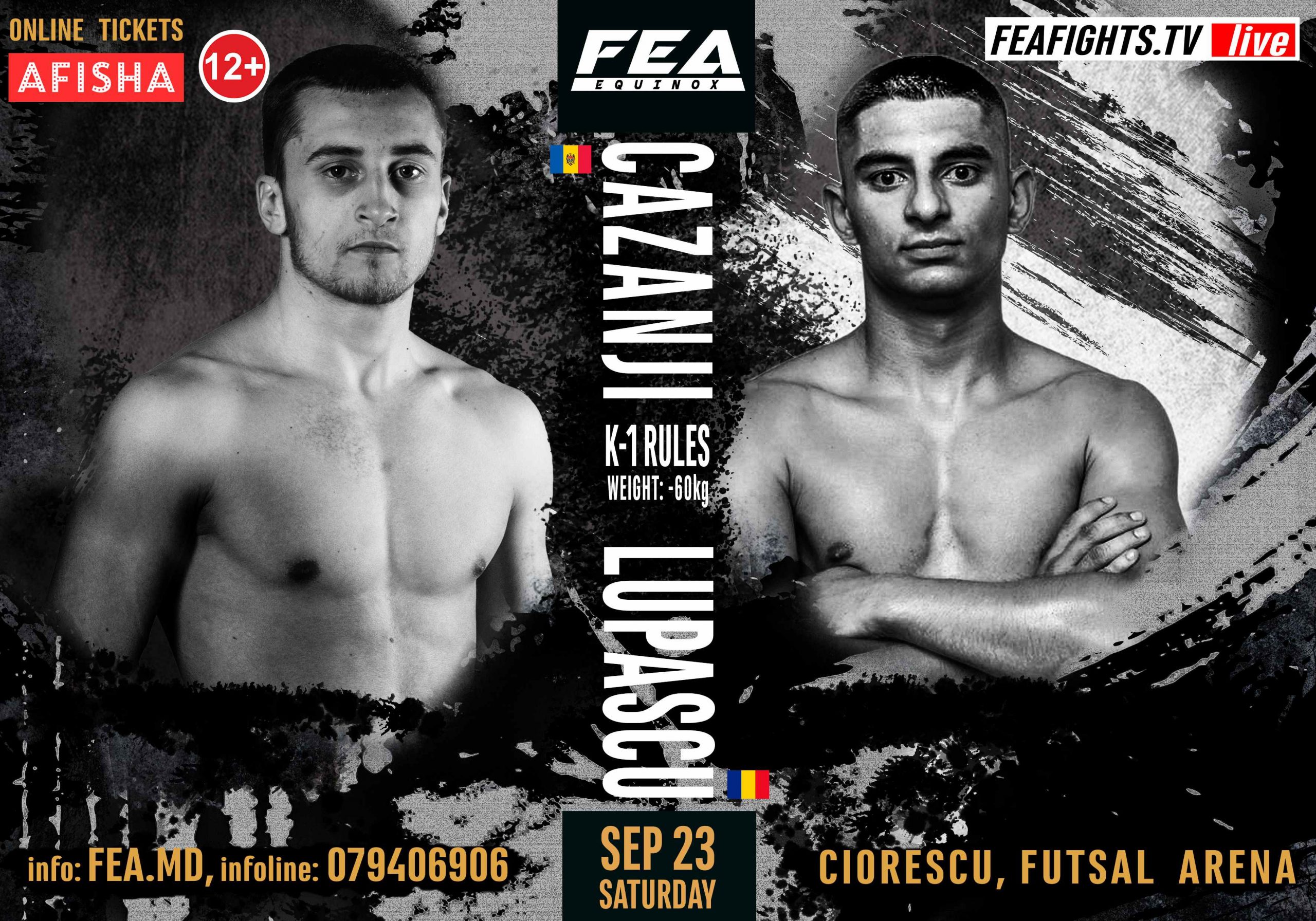 Excellent news keeps coming in for all fans of the FEA CHAMPIONSHIP project. In the first part of the FEA EQUINOX, we will witness a bout within the new FEA BANTAMWEIGHT division up to 60kg category, between Moldova's representative, Fiodor Cazanji, and Romania's fighter, Marian Lupascu.
Fiodor Cazanji is a trainee of the LION COMRAT club where he is coached by Andrei Sarandi. It's worth noting that the famous Moldovan fighter, Alexander Romanov, also trains at this club. Cazanji has significant potential in K-1 rules fights. In his last match, he scored a TKO against a quite experienced opponent, Robert Hu Hualong, securing a remarkable debut in the professional K-1 rules circuit. Cazanji is 20 years old, stands at 170 cm, weighs 60 kg. His record is 1 win with no losses.
Cazanji's opponent, Marian Lupascu, is an intriguing fighter from Romania. He is trained by Constantin Mihai at the legendary Scorpions Iasi club. Marian is a young and promising prospect with an impeccable record of 3 wins with no losses. He is 20 years old, weighs 60 kg, and stands at 170 cm.
For the spectators, this clash will be a true gift, as both fighters are charged only for victory. For the fighters themselves, it's a test of strength and character!
Don't miss it! September 23rd, Ciorescu, Futsal Arena – FEA EQUINOX!
FEA EQUINOX BANTAMWEIGHT BOUT ( -60 kg) 3 min x 3R, extra 1R, K-1 Rules
(Moldova) Fiodor Cazanji vs Marian Lupascu (Romania)
Fiodor Cazanji
COUNTRY (Moldova)
City: Comrat
DOB: 11.03.2003
AGE: 20
HEIGHT: 170 cm
WEIGHT: 60 kg
Coach: Andrei Sarandi.
Style: K-1
Gym: Lion Comrat
Wins 1 Loss 0 Draw 0
Marian Lupascu
COUNTRY (Romania)
City: Iasi
DOB:
AGE: 20
HEIGHT: 170 cm
WEIGHT: 60 kg
Coach: Constantin Mihai
Style: K-1, kickboxing
Gym: Scorpions
Wins 3 Loss 0 Draw:0