Cristian Neacsu vs Eugeniu Bat – up to 71 kg fight, FEA TAKE OFF K-1 Rules.
27.03.2023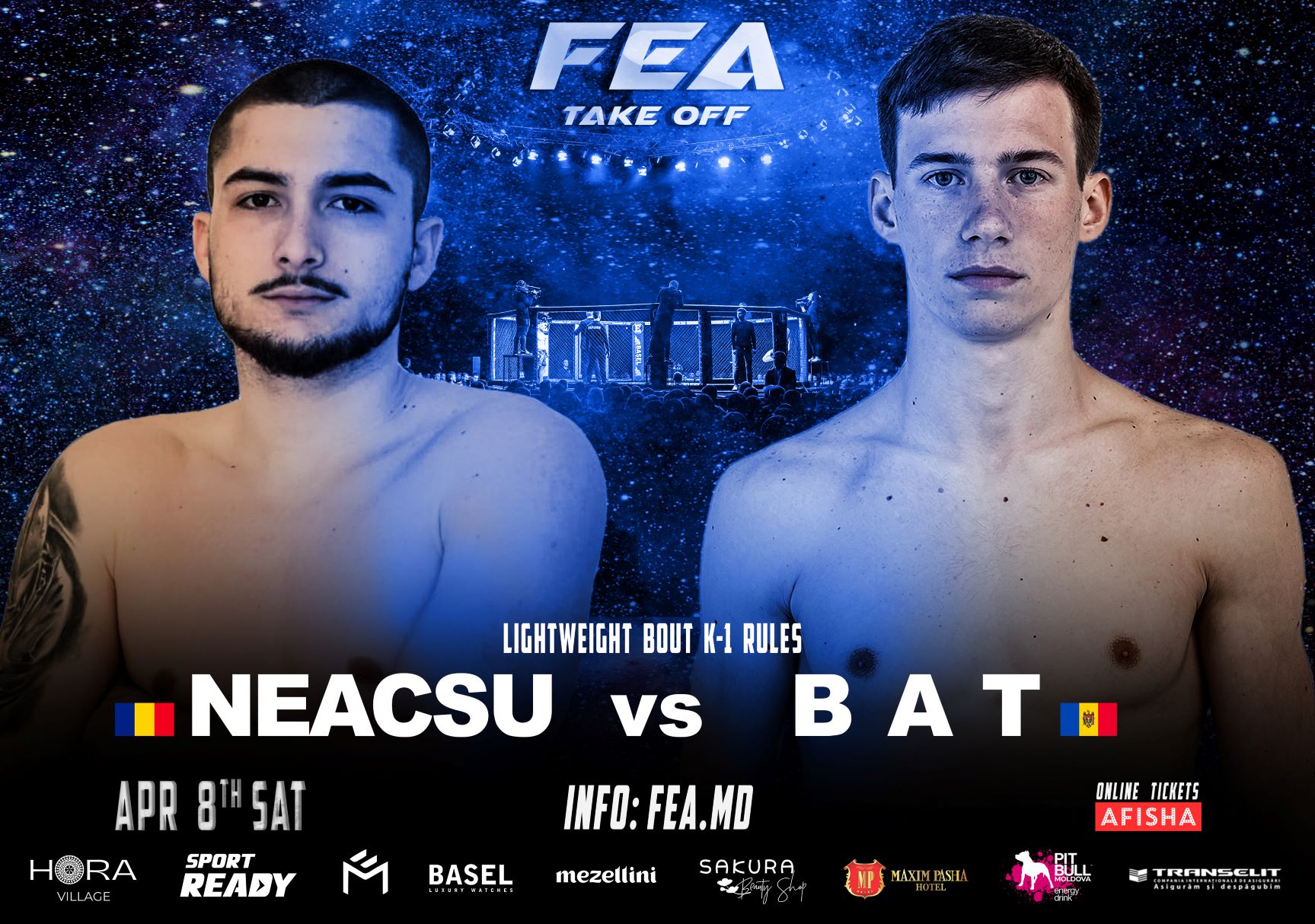 Cristian Neacsu vs Eugeniu Bat – up to 71 kg fight, FEA TAKE OFF K-1 Rules.
On April 8th, in the undercard of the FEA TAKE OFF tournament, we will see the match in the up to 71kg division, between Eugeniu Bat, representing the Republic of Moldova, and Cristian Neacsu, from Romania.
As announced earlier, Bat was supposed to fight against Pavel Barbanoua, but due to the fact that Barbanoua was injured, he is now replaced by a fighter from Romania, Christian Neacsu.
The fight will be quite tense and competitive, Eugeniu is more experienced, his record consists of 2 wins and 2 losses.
He competes both according to K-1 and boxing rules, in which he has proven himself quite well. He trains at Garuda Fight Club, under the guidance of Vitalie Sochirca.
For Cristian Neacsu, the upcoming match will be his debut fight, he will try to prove himself as best as possible.
April 8, 2023, stay with us, don't miss it! Ciorescu Futsal Arena, start 17-00. Tickets: box office of the National Opera and Ballet Theater "Maria Biesu".
Online tickets: afisha.md. Live- only at feafights.tv. Infoline: 079406906.
Eugeniu Baț. Country: Moldova. City: Chisinau. DOB: 04/27/1999 Age: 24. Height: 180cm. Weight: 70 kg. Gym: Garuda Fight Club. Coach: Vitalie Sochirca. Record: W-2, L-2, D-0.
Cristi Neacsu. Country: Romania. City: Gaiesti DOB: 12/23/2000. Age: 22 Height: 178cm. Weight: 70kg. Gym: Friends Gym Gaesti. Coach: Record: W-0, L-0, D-0.