A new challenge for Vershynin and endurance test for Caraus, FEA WORLD GP ODESSA under 85 kg bout!!!
01.08.2019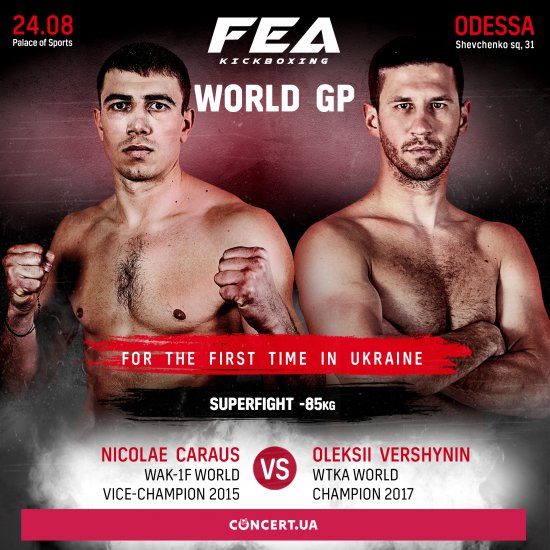 A new challenge for Vershynin and endurance test for Caraus, FEA WORLD GP ODESSA under 85 kg bout!!!
In addition to the main events of the fight card, part of the tournament will consist of superfights including famed fighters of the kickboxing world, extremely anticipated by fans and supporters. One of these bouts is the stand off between the representative of the Republic of Moldova Nicolae Caraus and the fighter from Ukraine, Oleksii Vershynin.
The fight isn't trouble-free, and the two rivals are worthy of each other. Both fighters are tall and have the same professional record. Both spent 7 fights, 5 wins and 2 losses.
Caraus has a good track record scoring victories over such experienced fighters as Bogdan Nastase and Samir Boukhidous. In his last fight, March month of this year, he lost by decision to the Romanian fighter Dragos Imbrea. But recently won the gold in Thailand. So we can safely say that Caraus' physical state until the 24th of August will get even better. On August the 15th , Caraus will turn 24 years old; his height is 182 cm; weight class – under 85 kg; He attends BERCUT club under the supervision of Andrei Grosu.
Oleksii Vershynin is 8 centimeters taller than Caraus, with a height of 190cm. In his last match in Chisinau, he confidently had beaten the sturdy Moldavian, Maxim Zaplitnii. Vershynin has been training for 8 years now. He has an impressive amateur experience as well, where he spent many fights.
Vershynin has a high chance of winning, as they say, at home even the walls help, but, in addition, more responsibility falls on his shoulders. Oleksii is a calculated fighter, he doesn't jump blindly into the battle, he seeks out the opponent's weakness and starts working on it. He exploits the advantage of his long arms constantly and tries to keep his adversary at distance, letting him close only to strike. Oleksii is 27 years old. He trains in Kiev, in fighting club "Desantnik" under the guidance of Nikita Vlasov.