Kickboxingz.com – FEA Kickboxing Debuts in Ukraine
27.07.2019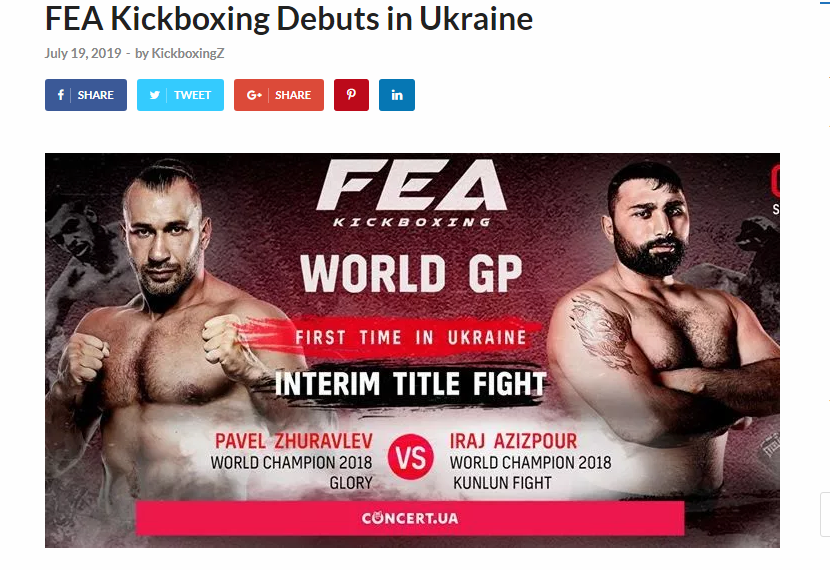 The Fighting & Entertainment Association of Moldova (FEA) announced it will hold its debut event in Ukraine on 24 August.
The event will be held in the seaport city of Odessa at the Palace of Sports.
Headlining the fight card is a battle for the organization's interim heavyweight title between Pavel Zhuravlev of the Ukraine and Iran's Iraj Azizpour.
Both fighters are decorated veterans. Zhuravlev is a former GLORY interim champion and KOK and Superkombat tournament champion. The Ukrainian also advanced to the semifinals of the 2012 K-1 World Grand Prix held in Croatia, where he lost to tournament champion Mirko "Cro Cop" Filipovic. Nicknamed "The Caiman", Zhuravlev will be returning from a seventeen month layoff.
Azizpour won the 2017 KLF 100+ kg Tournament at Kunlun Fight 69 in February 2018. In the 2018 tournament, the Iranian advanced to the finals where he lost a decision to Roman Kryklia, whom he defeated the previous year.
Kickboxing Z will keep you updated when the full fight card is announced.