Interview with FEA president Dorin Damir and FEA Light Heavyweight champion Alexandru Burduja
16.03.2019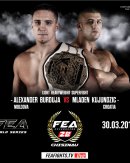 Alexandru Burduja "My opponent is very experienced, it will be a great fight, I am the FEA champion, I want to start the year with a victory and finish it the same way"
In the superfight of FEA WORLD SERIES 2019 vol.28, under 95 kg, March the 30th, we'll witness the reigning FEA champion, Alexandru Burduja in a battle with the famed Croatian fighter, Mladen Kujundzic.
Last December, Burduja won the pyramid where he overpowered Gokhan Gedik in the first semi-final, and in the final he won the encounter against Mihail Tyuterev. It was Alexander who won the championship belt. Now he will face a skilled fighter from Croatia, Mladen Kujundzic.
In his interview, Burduja stated the following: "My opponent is very experienced, it will be a great fight, I am the FEA champion, I want to start the year with a victory and finish it the same way"
"The bout already promises to be thrilling; Mladen is much more practiced than Alexander. He has many fights against top fighters in different international projects on his record. Both fighters have similar techniques. They will fight of their capabilities. Possibly this fight will end ahead of time" – declared the organizer of the FEA 28 tournament, FEA President, Dorin Damir.