March the 30th FEA WORLD GP 2019 vol. 28
01.03.2019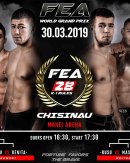 Two Grand Prix's will determine the winners of two championship belts!!!
Super-fights with world renowned fighters, and young debutants at the start of their path.
Saturday night, three part tournament, which will overwhelm even the skeptics. Manej Arena will turn into a modern day coliseum. Where fighters, like gladiators, will show their skill, honor, courage and determination.
FEA WORLD GP 2019. March 30th
Featherweight tournament – Grand Prix Final Four in the 65 kg category.
Stanislav Renita against Cristian Spetcu and Dmitrii Sirbu against Francesco Picca will face each other in the semifinals.
Which one of the four will be the winner, who will have enough strength for the final, who will earn the championship belt – we'll find out Saturday, March the 30th.
March 30th 2019, FEA WORLD GP vol.28 – FORTUNE FAVORS THE BRAVE.
Chisinau Manej Arena, online tickets – afisha.md, info: fea.md
General partner: UNITE