FEA vol.27 WORLD GRAND PRIX Light Heavyweight Tournament
12.11.2018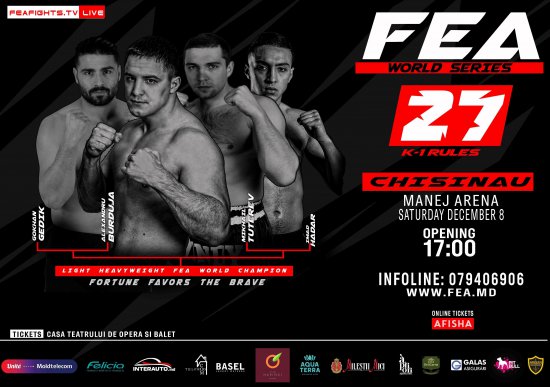 The Final Four where only one will come to be champion. Gokhan Gedik representing Turkey versus Alexandru Burduja from Moldova. Mihail Tyuterev from Russia against Imad Hadar from Morocco.
First semifinal, up to 95kg (light heavyweight) Gedik vs Burduja. Gokhan Gedik is Mike Passenier's understudy, a skilled and dangerous fighter, willing to go all the way for the win. Has old scores to settle after losing to Alexandru, so this bout is rematch of sorts.
Alexandru Burduja is a Moldavian striker at the peak of his form, as exhibited at the last show in Chisinau, where he unanimously won the superfight against Yegoyan.
Second semifinal, up to 95kg (light heavyweight) Tyuterev vs Hadar. Mihail Tyuterev- a fighter living in Czech Republic but representing Russia. Professional kickboxer, world champion, has a great deal of experience. The much desired belt – is his goal. Imad Hadar is the youngest contender in the Grand Prix Final Four, he's 20 years old, but already fought in many world promotions. Four fighters – one title, one belt !!!