ANTHONY JOSHUA, REGELE GREILOR. Boxerul britanic l-a făcut knockout pe Alexandr Povetkin
24.09.2018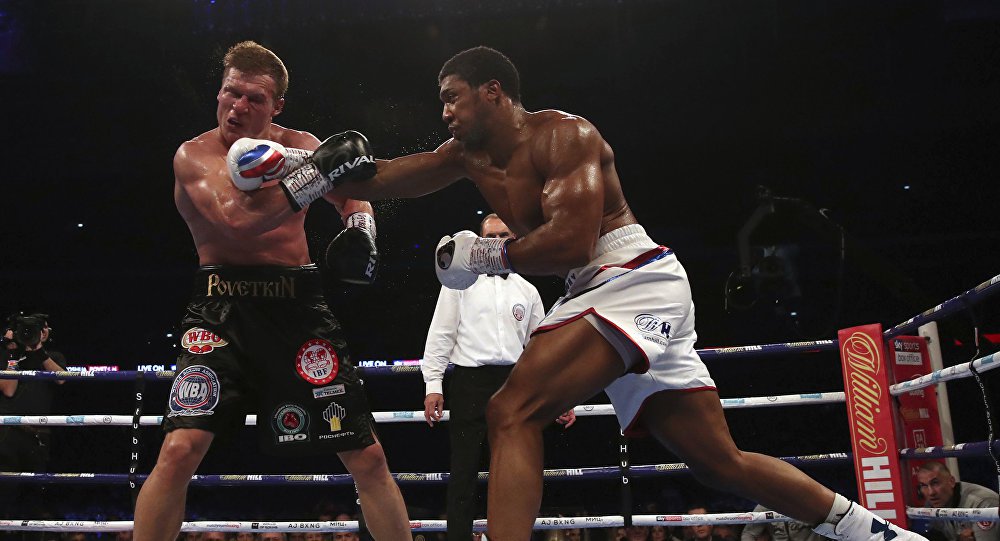 British Boxer Anthony Joshua retained his world heavyweight titles by delivering a knockout in the seventh round to beat Russian contender Alexander Povetkin at Wembley Stadium in London last night.
Anthony Joshua inflicted the first stoppage defeat of Alexander Povetkin's 13-year professional career when the two went toe-to-toe in Saturday night's world-heavyweight clash in London.
The victory allowed Joshua, who was putting his International Boxing Federation, World Boxing Association and World Boxing Organization belts on the line against Povetkin, to extend his unbeaten professional record to 22 wins from 22 fights, with 21 knockouts.
Immediately after the fight, Joshua admitted that former World Champion Povetkin was a "tough challenger":
"Alexander Povetkin is a very tough challenger and he proved that tonight… but I came here to have fun. I realized he was strong to the head but weak to the body," he said, later adding that it was all about the instincts.
Joshua paid due respect to Povetkin, having approached him after the dramatic fight in the dressing room for a friendly handshake and a hug and wished him luck in Russian:
After the defeat, Povetkin confessed that his British opponent turned out to be stronger:
"It\'s hard to say, I\'m not tired. I missed the blow. I was inattentive. The fight was good, it was okay. As for Joshua, I can't say I'm surprised. He was simply stronger, that's why probably it [the fight] ended up with a knockout. I want to thank everyone who rooted for me and was worried about me. Everything is fine…" he said.
Povetkin\'s only defeat in his professional career until Saturday night was in 2013 when Ukrainian Wladimir Klitschko beat him in Moscow.
Joshua is already booked to box again in London on April 13, but the big question is who he\'s going to fight. He has on multiple occasions emphasized he wants to fight fellow undefeated champion Deontay Wilder next.