Pavel Zhuravlev predicted a first-round knockout victory for himself against Myron Dennis
02.04.2018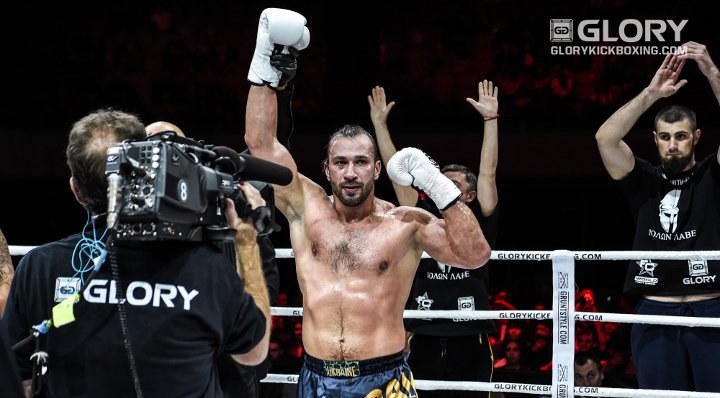 Pavel Zhuravlev predicted a first-round knockout victory for himself against Myron Dennis in the GLORY 52 SUPERFIGHT SERIES main event, but Dennis was not in the mood to comply.
When matchmaker's initial plans for Zhuravlev were foiled by injury earlier this month, 'Light Skin Dynamite' Dennis stepped into the slot.
He had last been seen at GLORY 32, where he suffered a loss to Brian Collette, and had been fighting under MMA rules in the intervening period.
"I know everyone expects he is going to knock me out, but they are going to get a surprise after the first minute of the fight. They will change their minds," the likeable light-heavyweight said earlier in fight week.
His comments met with skepticism, but that only made him even more determined to prove his detractors wrong. No, he didn't win the fight – he actually lost a unanimous decision – but there was a moral victory for him, given the disparity in record and experience between him and Zhuravlev.
The fight itself brought exactly what one would expect from Zhuravlev: massive shots, full force behind everything, bad intentions in every blow. Less expected was Dennis' refusal to fold in the face of this. And not only did he not fold, but at times he gave back as good as he got.
Zhuravlev was rarely troubled by Dennis during the fight but he did take some shots which made him respect the American in a new light. Dennis' heart and toughness also got more than one grudging nod of respect from Zhuravlev during the fight.
Zhuravlev is the world interim light-heavyweight champion but this was a non-title fight. The focus now shifts to a title unification bout with light-heavyweight champion Artem Vakhitov, who has been sidelined with a hand injury since October's win over Ariel Machado.
The night's SuperFight Series card featured two current GLORY champions, Pavel Zhuravlev and Anissa Meksen, who competed in non-title bouts against Myron Dennis and Ashley Nichols, respectively.
The GLORY 52 preliminary card streamed live on Pluto TV channel 215 and the GLORY YouTube and Facebook channels at 7:30 p.m. ET. The GLORY 52 SuperFight Series aired live at 9 p.m. ET on UFC Fight Pass. The main card streamed live at 11 p.m. ET on ESPN3.
FULL RESULTS
Robin van Roosmalen def. Kevin VanNostrand by unanimous decision (48-47, 49-46 x4) – featherweight title unification bout
Simon Marcus def. Zack Wells by TKO (punches). Round 1, 1:03
Mike Lemaire def. Chris Camozzi by unanimous decision (30-27 x5)
Josh Jauncey def. Stoyan Koprivlenski by split decision (29-28, 28-29 x2, 30-27 x2)
Pavel Zhuravlev def. Myron Dennis by unanimous decision (30-27 x5)
Anissa Meksen def. Ashley Nichols by unanimous decision (29-28 x3, 30-27 x2)
Troy Jones def. Paul Banasiak by unanimous decision (30-27 x5)
Zakaria Zouggary def. Bailey Sugden by unanimous decision (30-26 x5)
Charles Rodriguez def. Brian Bruns by unanimous decision (30-27 x5)
Jermaine Soto def. Alex Higley by split decision (30-27, 28-29, 29-28, 29-28, 29-28)
Arthur Estrazulas def. Chris Bonilla by TKO (strikes). Round 3, 2:20
Gerrica Trias def. Natalie Morgan by unanimous decision (30-27, 29-28 x4)
Jose Palacios def. Sovankesa Som by split decision (29-28, 28-29, 29-28, 28-29, 29-28)