Спортивный обзор 9 мая 2017
09.05.2017
The Moldovan jiu-jitsu fighters Petru Pelivan and Eugen Matveiciuc have won the bronze medals in their weight categories at the European Cup in Berlin.
Another Moldovan judoka, Adil Osmanov, placed himself the seventh in the 55-kg category.
Moldova has been represented by 14 judoka sportspeople. Now they're getting ready for the European Cup in the Romanian city of Ploieşti to start on May 5.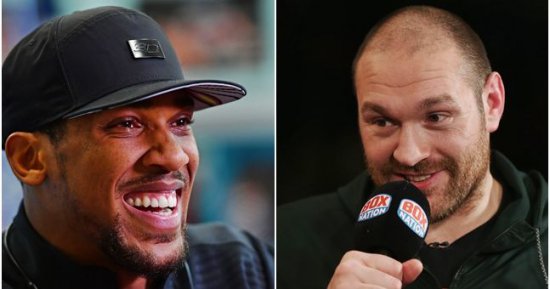 Tyson Fury is eyeing up a fight with Anthony Joshua, and has kicked off the war of words with the heavyweight.
Following Joshua\'s victory over Wladimir Klitschko at Wembley Stadium, Fury called him out. Joshua repaid the favour and called out the Manchester boxer, who hasn\'t fought since November 2015, in the Wembley ring.
Since then, Joshua\'s promoter Eddie Hearn has said a potential fight between the pair won\'t occur anytime soon, and there are a number of obstacles for Fury to hurdle before they can discuss the bout.
But that hasn\'t stopped Fury taunting Joshua.
The 28-year-old labelled the heavyweight champion a "fraud" and a "bodybuilder". He predicted Joshua would be an easy night\'s work, and not just for him.
Fury was asked by journalist Steve Bunce if there was another boxer in the division who could defeat Joshua before he gets the chance to fight him He instantly replied "Wilder" – referring to the American heavyweight Deontay Wilder.
"Anybody can beat anybody in the heavyweight division," Fury told BBC 5 live.
"But I tell you what it is, when you\'ve got a static target, a big heavy bag with legs, it\'s dangerous if you let him hit you. Then you just box and move, and be awkward, and Wilder\'s got tremendous power.
"Let me tell you, if it was Wilder that hit AJ with that shot, and he got back up, he would\'ve finished him."
Wilder, like Fury and Joshua, has yet to taste defeat in his professional career so far. The Bronze Bomber recently used footage of one of his fights to call out Joshua.
Why Deontay Wilder doesn\'t think Tyson Fury will actually make a comeback
Nearly a week on from one of the biggest heavyweight fights in recent history and the boxing world is still catching its breath.
By knocking out Wladimir Klitschko in the 11th round at Wembley last weekend, Anthony Joshua has become the man almost every heavyweight wants to take on.
It isn\'t yet known who will \'AJ\' will jump into a ring with next but Deontay Wilder, Joseph Parker and even Tyson Fury have publically called out the current IBF, WBA (super) and IBO champion.
Many fans of Joshua have expressed the desire to see an all-Brit epic contest with Fury but according to Wilder, they could be waiting a while.
The Gypsy King has only recently returned to training after vacating his belts, suffering from depression and allegedly taking a banned substance last year.
However, current WBC heavyweight champion Wilder doesn\'t think Fury will complete a comeback to the ring.
In an interview with Boxing Talk, Wilder admitted he actually feels sorry for his rival and doubts Fury will be able to lose the weight he has put on in his absence from the sport.
"(Tyson) Fury isn\'t going to come back," Wilder said.
"I think he\'s good for boxing, but he struggles with his weight. He has for his whole career and now he\'s done added double the weight, he could barely get to where he was while he was active. How hard is it going to be for him to get that weight off? He\'s probably damn near 400 pounds right now.
"Every time he speaks I feel sorry for him, it sounds like he\'s got some issues and he could barely talk. He\'s talking with his tongue and stuff like that and I don\'t want to see that happen to him.
"He\'s an undefeated fighter, nobody has beaten him. He only got his belts taken away for not responding when duty called. He wasn\'t ready for that and I don\'t think he\'s built to be fighting back to back. He\'s the type of fighter that needs time off."Of course, Wilder\'s not-so-subtle dig at Fury may have been a cheeky method to push forward his own claims for a fight with Joshua, though.
But his comments are only likely to spur Fury on in his attempts to return to the ring.
The 28-year-old has been working hard alongside Billy Joe Saunders in Marbella over the last few weeks and has hopes of making his competitive comeback in July.
That will all depend on the outcome of a hearing on Monday, where Fury will learn if his boxing licence will be re-granted by the British Boxing Board of Control.
Do YOU want to write for GiveMeSport? Get started today by signing-up and submitting an article HERE: http://gms.to/writeforgms
On Saturday, May 6, Superkombat Fighting Championship travles to the Palacio Vistalegre in Madrid, Spain for Superkombat World Grand Prix II 2017: Madrid.
In the night's main event, Romania heavyweight star Cătălin Moroșanu fought Poland's Lukasz Krupadziorow. Moroșanu made a successful GLORY debut when he knocked out Maurice Greene in the second round at GLORY 38: Chicago. Krupadziorow returned on short notice after defeating Bellator veteran Tony Johnson Jr. by first-round knockout last month at Superkombat World Grand Prix I: Bucharest 2017.
The event aired live at 11 a.m. ET on Fightbox HD and Sport.ro (Romania). The event replay is available on Youtube.
FULL RESULTS
Cătălin Moroșanu def. Lukasz Krupadziorow by unanimous decision
Bruno Susano def. Clyde Brunswijk by knockout. Round 1
Dawid Zoltaszek def. Cristian Ristea by TKO (strikes). Round 2
Patrick Schmidt def. Daniel Oso Perez by unanimous decision
Daniel Stefanovski def. Janilson da Cruz by knockout. Round 1
Parih Nayanesh def. Eduard Chelariu by decision
Edye Ruiz def. Youssef El Hadmi by unanimous decision
Manuel Romero def. Omar Aimash by unanimous decision