Interview with Orheianu Octavian, Dmitry Fiodorov, Eugen Petrachi and FEA president Dorin Damir.
06.02.2017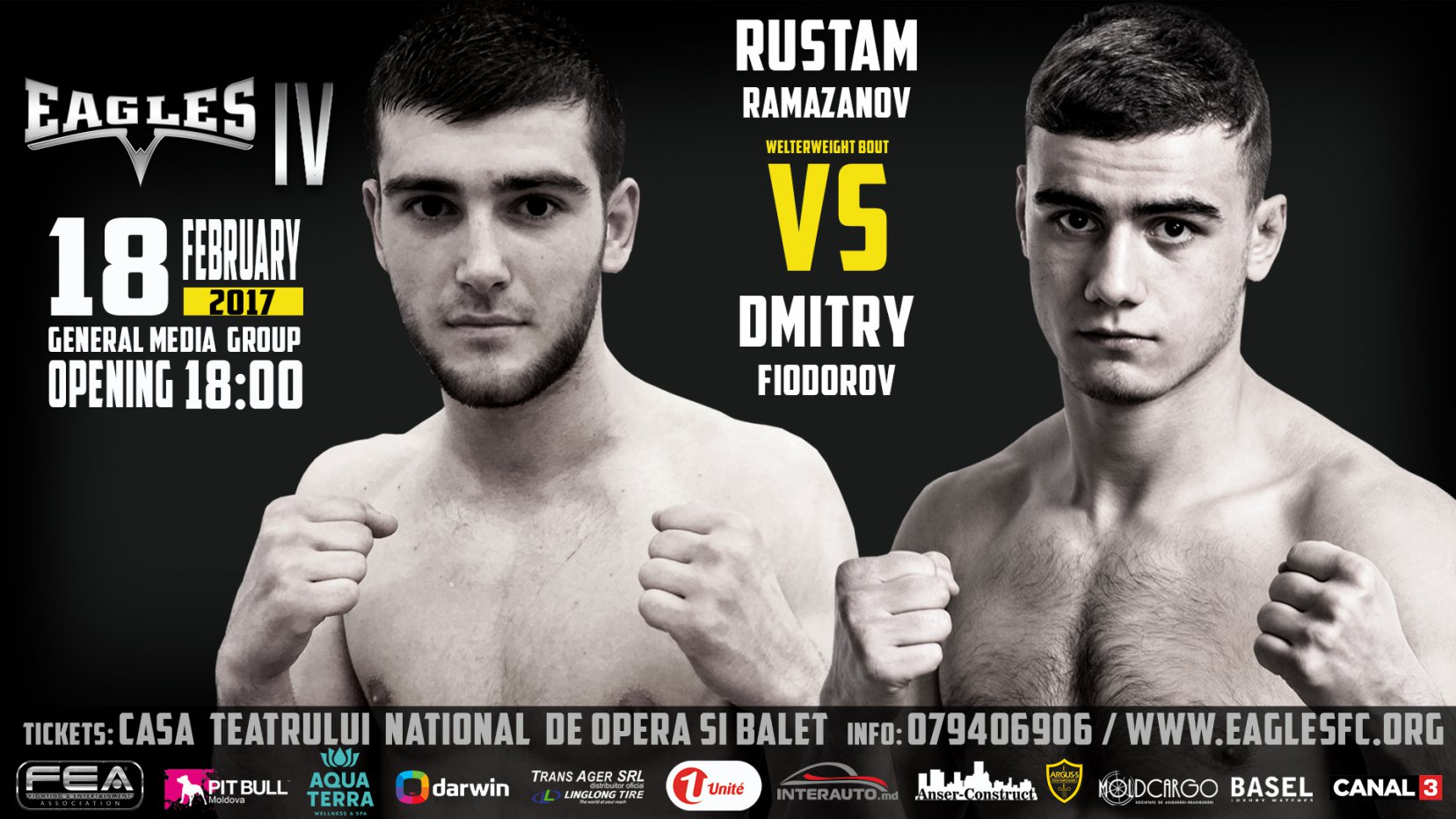 Orheianu Octavian :
Yes, Dumitru Fiodorov is a modest athlete, but when it comes to fighting, he gives one hundred percent. He is charismatic, hardworking and disciplined. We see a very bright future for Dumitru.
Yes, indeed, in my club there are a lot of big-name fighters in all weight categories, strikers and wrestlers. Such as Romanov Alexandr, Daniel Filipschi, Vlad Popovschi. In principle, they have an influence on all my work, on the mat or stand-up fighting.
FEA president Dorin Damir:
Dumitru Fiodorov is a very good and promising fighter from the younger generation. It is very interesting for me to observe the evolution of these fighters, because they are growing with each passing day. With each fight they are better, they start to show character, a novelty appears in their fights. I think that Fiodorov is a future champion and he finds himself among the best in our project and in other MMA projects.
Yes, unfortunately, in the last battle Ramazanov won the fight, but in this fight I will win, I will return the favor. I would want to wish good luck to my opponent, he must prepare for one hundred percent and to not let his guard down. For him, this fight will be on the limit, the hardest of all his battles. But I will surely win.
Eugen Petrachi
Yes, we with the coach team have watched Cristian, Gheorghe's rival in the cage. In my opinion, there shouldn't be a problem to fight with him. They have two different styles, Gheorghe is more experienced in MMA, in Brazilian jiu-jitsu. As we all know, in the martial arts, the striking is not the only good thing. So I think this will be a step that Gheorghe has to overcome in order to fight for the belt.
What can I say? The adversary's base comes from judo. But now he likes more to fight from distance. On the evening of 18th this conflict between us will resolve itself, because I have trust in myself and I believe that the victory will be on my side.
Eugen Petrachi
Gheorghe is already all set, we work a lot with him. Work outs from morning till dawn. We work. We're working the Brazilian jiu-jitsu, grappling, striking, cross fit, we're working on absolutely everything. He's prepared, it only remains to drop some kilograms for the fight and that's all.
FEA president Dorin Damir:
Gheorghe Ciobanu is a fighter from the same range with Filipschi and Fiodorov, a young generation of fighters. They are very willful and you cannot take away from them their strength of character and perseverance, they go forward only. Therefore, they are very interesting to the public, very interesting to us as managers of such fighting projects, and they are very interesting to television. I think these fighters represent the future, and they are the future of our EAGLES project.
Gheorghe Ciobanu
My final goal for this year is to go with small but confident steps. What's the purpose? To fight for the belt. To become one of the best fighters in Republic of Moldova and not only to overcome all the fighters that will come in my way in the EAGLES project.
FEA president Dorin Damir:
About our young fighters I can only say one thing: they are very similar to the brand of one of our partners, the PITBULL drink. Our fighters, they are the same, they go to the end of the battle no matter what happens.