Match-ups and Bout Order Made Official for GLORY 32 Virginia and GLORY 32 SuperFight Series on Friday, July 22
08.07.2016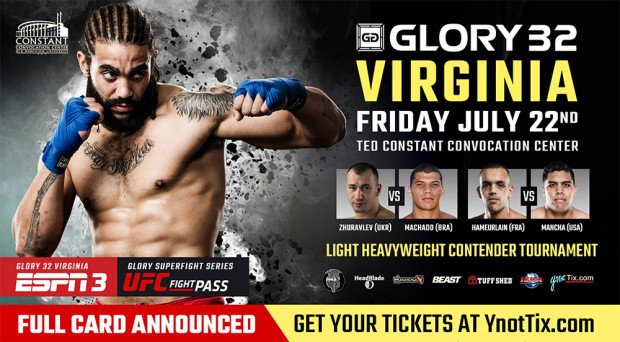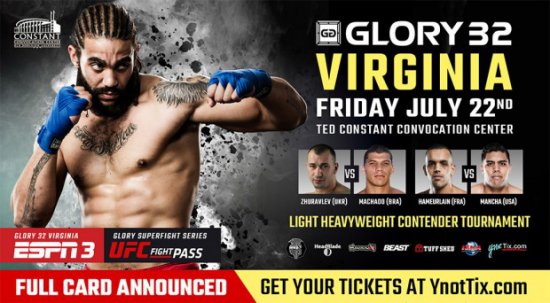 GLORY 32 Virginia, streaming live on ESPN 3 at 10 p.m. ET and replaying on ESPN2 at 11 p.m. ET, is headlined by reigning GLORY featherweight champion Serhiy Adamchuk (33-5, 14 KO) of Ukraine, defending his belt against Canadian challenger Gabriel Varga (27-3, 8 KO).
In the first of two semi-final bouts comprising the one-night, four-man Light Heavyweight Contender Tournament, GLORY newcomer Pavel "Caiman" Zhuravlev (69-10, 25 KO), representing Ukraine and fighting out of Sevastopol draws Brazilian debutant Ariel Machado (48-6, 33 KO). On the other side of the tournament bracket, No. 7 ranked Manny Mancha (5-2, 4 KO) of California takes on Algerian-French muay thai practitioner Zinedine Hameur-Lain (54-13, 33 KO), currently ranked No. 8.
Hard-hitting light heavyweight and Virginia native Brian "The Lion" Collette (22-3, 18 KO) returns to the GLORY ring in the co-headline bout against an opponent to be named later. Collette was originally slated to face Karl Roberson as part of GLORY 32 SuperFight Series but was moved to GLORY 32 Virginia after Roberson was forced to withdraw.
The five-fight card for GLORY 32 Virginia can be found below:
GLORY 32 Virginia
Featherweight Title Headline Bout: Serhiy Adamchuk (c) vs. Gabriel Varga
Light Heavyweight Tournament Final Bout: Winner of Bout A vs. Winner of Bout B
Light Heavyweight Co-Headline Bout: Brian Collette vs. TBA
Light Heavyweight Tournament Bout B: Manny Mancha vs. Zinedine Hameur-Lain
Light Heavyweight Tournament Bout A: Pavel Zhuravlev vs. Ariel Machado
Heavyweights headline GLORY 32 SuperFight Series, streaming live and exclusively on UFC Fight Pass at 7:30 p.m. ET, as 6\'9″ British bruiser "Chopper" Chi Lewis-Parry (6-1, 2 KO) stands toe-to-toe with 6\'7″ American kickboxer Maurice "The Pirate" Greene (4-2, 2 KO).
In the co-headline bout, GLORY stalwart Anderson "Braddock" Silva (39-14-1, 24 KO) of Brazil welcomes 25-year-old heavyweight Gordon "German Barbarian" Haupt (20-6-1, 6 KO) for his promotional debut.
Representing the tournament reserve bout of GLORY\'s Super Bantamweight Grand Prix, Funda Alkayis (28-2, 12 KO) of Turkey battles Belgium\'s Vanessa De Waele.
Veteran Francois "Bang Bang" Ambang (15-6, 6 KO) and Georgian kickboxing and mixed martial arts star Giga Chikadze (34-4, 20 KO) each have new opponents for July 22. Ambang, coming off an impressive one-night tournament performance at GLORY 30 Los Angeles in May, now faces fellow-welterweight, muay thai practitioner Michael Stevens (8-5, 3 KO). Chikadze, fighting out of Kings MMA in Huntington Beach, Calif. and currently ranked No. 9, squares off against rising featherweight prospect Chris Mauceri (7-2, 2 KO).
The five-fight card for GLORY 32 SuperFight Series can be found below:
GLORY 32 SuperFight Series
Heavyweight Headline Bout: Chi Lewis-Parry vs. Maurice Greene
Heavyweight Co-Headline Bout: Anderson Silva vs. Gordon Haupt
Super Bantamweight Bout: Funda Alkayis vs. Vanessa De Waele
Welterweight Bout: Francois Ambang vs. Michael Stevens
Featherweight Bout: Giga Chikadze vs. Chris Mauceri