Sport Review march 31
31.03.2016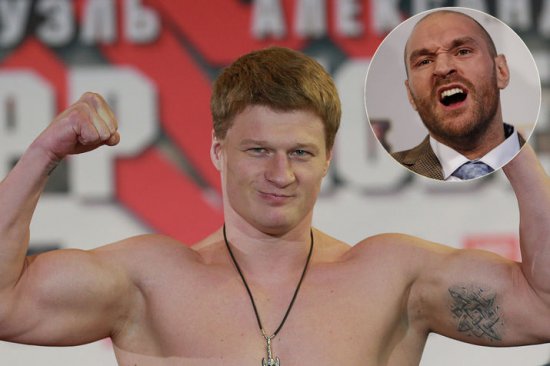 IBO/WBA/WBO heavyweight champion Tyson Fury is picking WBC heavyweight champion Deontay Wilder (36-0, 35 KOs) to beat his mandatory opponent Alexander Povetki (30-1, 22 KOs) in their fight in two months from now on May 21 at the Khodynka Ice Palace, in Moscow, Russia.
Fury sees the 6'2" Povetkin as being too little and too fragile-chinned in order to beat a big and highly athletic fighter like the 6'7" Wilder, who also has big punching power with his right hand. Fury notes that Povetkin hit the deck repeatedly in his 12 round decision loss to former world champion Wladimir Klitschko three years ago.
Povetkin looked like he didn't belong inside the same ring with the 6'6" Wladimir in that contest, and it's not surprising that Wladimir easily won the fight.
"I think Wilder will chin him because the fact that Povetkin is too small, and chin isn't special," said Fury to IFL TV. "I'm going to show to the fans how small Povetkin really is. [Fury then holds up a picture of him standing next to a much shorter Povetkin]. He's like a midget compared to us. Look at the size of him. He's like a midget. Wilder is as big as me. Look how big I look. Look how big Hughie is compared to him [Povetkin]. He looks like a lightweight. So if Wilder can't chin him? I know his chin is lightweight because every time Klitschko touched him in the face, he went down. He goes down about 19 times. So there you are. Look, I'll fight Klitschko, then the winner of Povetkin-Wilder, which will be Wilder in my opinion, and the winner of Martin and Joshua, which will be Martin in my opinion," said Fury.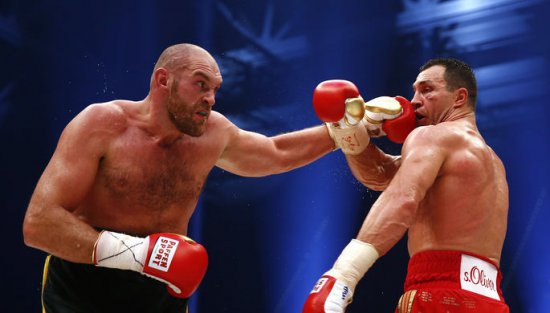 I totally agree with Fury. Povetkin is just too little to defeat a guy the same size of Wilder, especially with all the shots Povetkin is going to need to be able to take in order to have a chance of winning the fight.
The thing about Wilder is he doesn't punch with major power until he gets all of his leverage on his shots. When he's close to his opponents, he doesn't generate the tremendous power on his shots that he needs to get them out. This is why we saw Wilder's recent opponent Artur Szpilka hang around until the 9th round in their recent fight in January of this year. But when Wilder is at the correct distance to get maximum power on his punches, there is nobody in the division that compares to him in the power department. Wilder reminds me of a heavyweight version of Thomas "Hitman" Hearns.
Wilder is built a lot like Hearns, and he has the same one-punch power on his shots that we saw from the tall and wiry Hearns. If you looked at Hearns' old fights on Youtube, you could see him measuring his opponents with his left hand. Hearn did this in order to get the proper distance to get the most power on his shots.
Hearns realized that he was only able to punch with devastating power when he was at the proper distance to get leverage on his shots. Wilder is the same way. The difference between Wilder throwing his shots at close range and at the proper distance from the outside is like night and day. His power is out of this world when he throws his shots from the proper distance. I don't see Povetlkin being able to handle Wilder's power without hitting the deck for the 10 count once he lands his first flush shot.
Povetkin beat four guys recently to get his shot at Wilder, but none of them were in the class of Wilder. Povetkin beat a bunch of medium sized heavyweights to become Wilder's mandatory challenger. Now that Povetkin is his mandatory, he'll be stepping up to fight the super heavyweight sized Wilder, and I see him being too short to deal Wilder's size and power. Fights like this make you realize that the heavyweight division needs to be split up from a regular heavyweight and the super heavyweight division like it is in the amateur ranks. You need to be able to keep the smaller heavyweights from getting manhandled by the giant guys like Deontay because it's just not fair.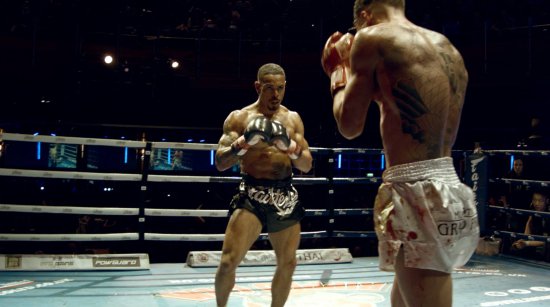 Muay Thai GP #3 Results and Video of Bloodbath. Muay Thai GP held their third event this past weekend in a night that saw a lot of huge fights along with a great turnout. MTGP has released a video of the fight of the night, a bloodbath between Paul Barber and Daniel Terry. Definitely worth your time.
Full results provided by the promotion below. Muay Thai Grand Prix 3 – Official Results
MTGP World Welterweight Title – FTR 66KG Charlie Peters def. Tommi McCormick by unanimous decision
Main Event – FTR 55KG Damien Trainor def. Adrian Lopez by split decision
Co-Main Event – K-1 59KG Paul Karpowicz def. Jamie Whelan by split decision
MTGP 4-Man – K-1 72KG Final Conor Stewart def. Luke Whelan by split decision
*performance of the night – Conor Stewart*
FTR 57KG Dean James def. Hakim Harness by unanimous decision
FTR 54KG Daniel McGowan def. Victor Saravia by TKO (Rd 2 referee stoppage, cut on Saravia\'s forehead)
FTR 54KG Iman Barlow def. Maria Lobo by unanimous decision
FTR 67KG Alex Bublea def. Ben Lucas by unanimous decision
FTR 63KG Paul Barber def. Daniel Terry by TKO
*fight of the night*
B-Class 68KG Michael Pham def. Dominik Matusz by split decision
FTR 48KG Evan Jays def. Tommy Zoom by unanimous decision
MTGP 4-Man K-1 72KG Semi Final 2 Conor Stewart def. Christos Avramidis by unanimous decision
MTGP 4-Man K-1 72KG Semi Final 1 Luke Whelan def. Luca Caputo by unanimous decision
K-1 77KG Marley Zwanenberg def. Kleanthis Kyriakou by split decision
B-Class 63KG Kieran Manwaring def. Paul Masgangy by unanimous decision
B-Class 68KG Adil Alhinai def. Saj Imran by TKO (Rd 4 doctor stoppage, cut over Imran\'s eye)
C-Class 78KG Phil Casper def. Mark Robinson by unanimous decision
K-1 67KG Colin Chu def. Jamie McGuigan by unanimous decision
K-1 67KG Liam Wells def. Jon Zugrav by unanimous decision
*prelims fight of the night*
C-Class 75KG Dan Hardiman def. Donavan Pignilleto by unanimous decision
K-1 68KG John Dang def. Damien Ahmed by Unanimous decision
K-1 62KG Jakub Mi def. Adam O'Driscoll by TKO (Round 3)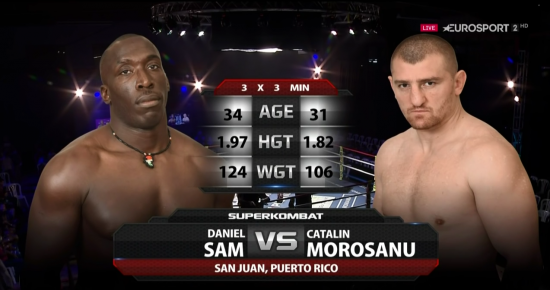 SuperKombat Puerto Rico Results: Sam Wins Controversial Decision
Yesterday, on Saturday, March 26th in San Juan, Puerto Rico, SuperKombat kicked off their 2016 season. They left the comfort of home in Europe for sunny Puerto Rico in what was an interesting night of fights with a bit of a twist ending. The undercard was chock full of local fighters to keep the fans happy, with Angela Whitley crowned the SuperKombat New Heroes Women\'s Lightweight Champion over Cristiana Stancu.
On the main card Alex Filip knocked out Bryan Daye in the third round, Cristian Spectu was able to floor Turan Hasanov in the third as well. But when it came to the main event, well, things didn\'t go as planned. Romania\'s favorite son, Catalin Morosanu, went up against big Daniel Sam from the UK and by all accounts it was Morosanu winning the fight, only for the judges to give the fight to Sam after three.
SuperKombat is already looking for an immediate rematch between the two. New Heroes

New Heroes Women\'s Lightweight Championship: Angela Whitley (R3 – TKO) Cristiana Stancu
Jose Rodriguez (R2 – TKO) Hakan Dirken
Dumitru Topai (R1 – KO) Victor Rosado
Ruth Julian (R3 – Dec) Carmarie Matos
Adrian Torres (R3 – Dec) Cesar Causin
Main Card
Adrian Frias (R3 – Dec) Kevin Rivera
Alex Filip (R3 – TKO) Bryan Daye
Cristian Spectu (R3 – TKO) Turan Hasanov
Daniel Sam (R3 – Split Decision) Catalin Morosanu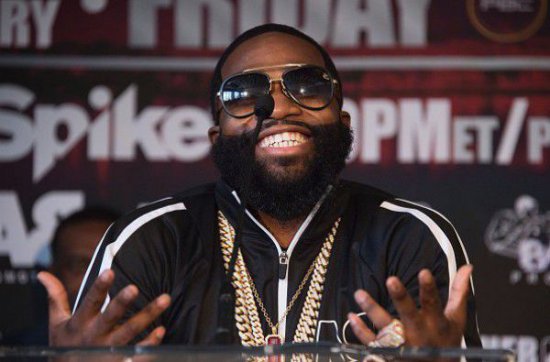 Adrien Broner faces robbery and assault charges as police issue arrest warrant for world champion boxer
Four-weight world champion boxer Adrien Broner, who is scheduled to fight Britain\'s Ashley Theophane on April 1, faces assault and robbery charges in his hometown of Cincinnati.
The 26-year-old allegedly knocked a man unconscious and robbed him outside a bowling alley on January 21, according to a report in the Cincinnati Enquirer.
They say police have issued a warrant for his arrest.
The alleged assault is said to have taken place after a gambling dispute at a Madisonville bowling alley, with the Cincinatti Enquirer reporting that Broner was betting large sums of money with another man on their bowling prowess.
Broner is said to have threatened the man with a handgun after losing several thousand dollars, before punching him in the face and knocking him unconscious.
TMZ Sports report that Broner then took money from the pockets of the alleged victim, who was hospitalised and needed stitches to close a gash on his chin.
Broner (31-2, 23 KOs) claimed the vacant WBA light-welterweight belt – a world title in his fourth weight class – in October against Khabib Allakhverdiev.
Theophane (39-6-1, 11 KOs), who fights for Mayweather Promotions, is eyeing up his first world title shot at the age of 35.