FFC 22 Athens 19/2/2015, 8PM Pavel Zhuravlev and Brian Douwes.
19.02.2016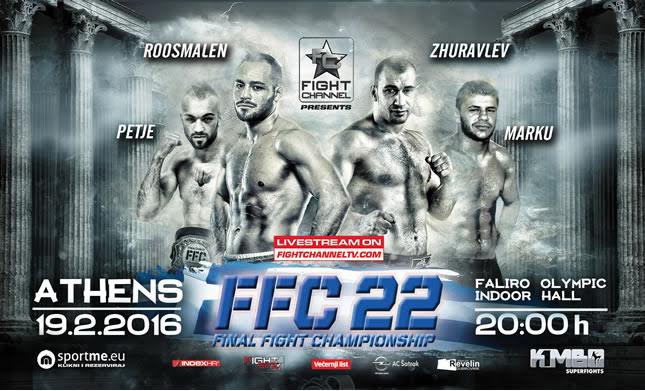 Robin van Roosmalen will be making his MMA debut at FFC 22 in Athens on February 19th, that much we knew, but his opponent was unknown still. Now we know that he\'ll be fighting 6-5 Greek fighter Theo Michailidis, currently fighting out of the UK at -66kg. This should be an interesting challenge for van Roosmalen as it\'ll involve weight cutting as well as fighting an opponent who is experienced in MMA, although not seemingly a world beater.
Another fight to look forward to is at -95kg in kickboxing between Pavel Zhuravlev and Brian Douwes. Douwes has proven himself many times over after a few mediocre showings in It\'s Showtime early on in his career and this fight is a pretty big deal at -95kg.
FFC 22 Athens
19/2/2015, 8PM
MMA:
Robin Van Roosmalen (NED) vs. Theo Michailidis (GRE), -66kg
Darko Stošić (SER) vs. Emil Zahariev (BUL), HW
Pavel Doroftei (MOL) vs. TBA, -84kg
David Vasić (CRO) vs. Zauri Maisuradze (GE), -84kg
Alexander Papadimitriou (GRE) vs. Vladislav Genov (BUL), -70kg
TBA vs. TBA
KB:
Pavel Zhuravlev (UKR) vs. Brian Douwes (NED), -95kg
Samo Petje (SLO) vs. Meletis Kakaoubavas (GRE), -70kg
Antonio Plazibat (CRO) vs. Sergei Masloboev (LT), -95kg
Tomislav Čikotić (CRO) vs. Marius Munteanu (ROM), HW
Marko Adamović (SER) vs. Florian Marku (ALB), -70kg
JAsmin Bajrović (CRO) vs. Dimitris Chiotis (GRE), -77kg