Tomas Hron vs Colin George on KOK WGP 2015 Heavyweight Tournament in Moldova.
07.09.2015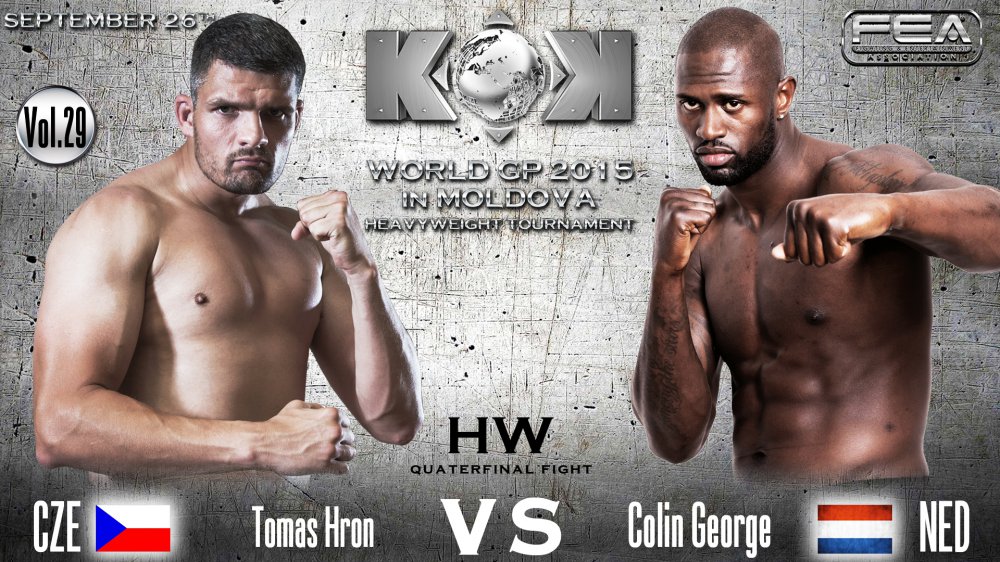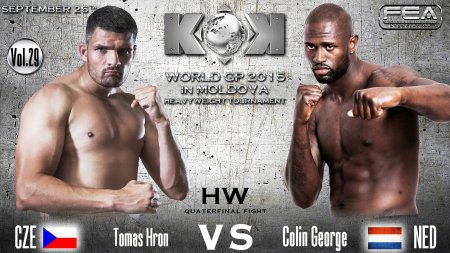 The legendary fighter from Thomas Hron will replace Daniel Sam.
The beginning of this week was marked by one more replacement. The legendary fighter from the Czech Republic Thomas Hron will replace Daniel Sam in a quarterfinal duel on the KOK WGP 2015 in Moldova tournament. Daniel Sam who is initially declared in a duel against Colin of George gave way to Hron, and itself remains in a reserve. Sam\'s unwillingness to fight against Colin became the reason of replacement. During discussions it became clear that Sam and Colin long time were engaged in one club at legendary Mike Passenye. It also served for adoption of such decision. But such star replacement served only as plus. Hron the world famous fighter and knows the whole world about his victories. He won against such world fayter as to Moroshan, Ignashov, Silva, Zimmerman and at many other famous fighters. Hron is in an excellent form, and this year won duels against Pakas in April and against Bugayenko in July. It is possible to decorate with such replacement any world show safely!!!
Tomas Hron
Born Tomas Hron
July 25, 1981 (age 34)
Brno, Czech Republic
Other names Rattle Snake
Nationality Czech Republic Czech
Height 1.92 m (6 ft 3 1?2 in)
Weight 95 kg (209 lb; 14 st 13 lb)
Division Heavyweight
Style Muay thai
Team Gladiator Promotion Team
Muay Thai Brno
Trainer Karel Kaiser
Kickboxing record
Total 85
Wins 70
By knockout 22
Losses 15
2013 "King of the Ring" K-1 Rules Super Heavyweight World Champion. (-105 kg)
2009 "King of the Ring" K-1 Rules Super Heavyweight World Champion. (-105 kg)
2009 Amsterdam Fight Club WMTA 4man Tournament Champion[7]
2008 W.I.P.U. "King of the Ring" K-1 Rules Heavyweight Super Champion. (-105 kg)[8]
2007 K-1 Italy Oktagon 2007 tournament champion
2006 WKN Kickboxing Intercontinental Oriental Rules Champion
2004 Kings of the Ring: World GP 85 kg tournament champion[9]
2004 WKA World Champion
2003 WKN World Champion
2002 MS WKA Champion