Sport review 29 july 2015
28.07.2015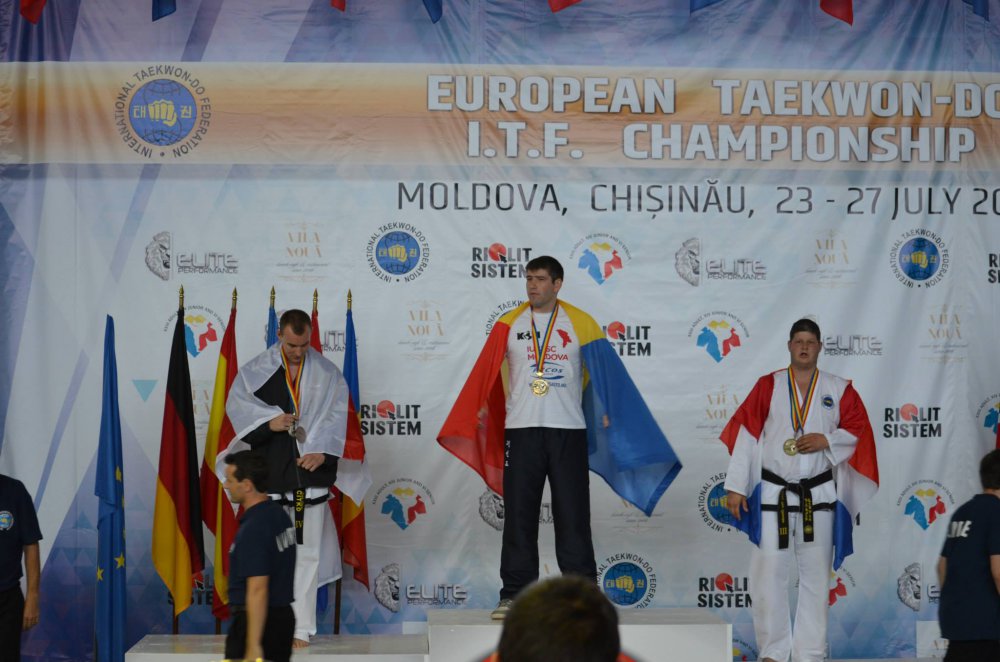 Maxim Bolotov – European Taekwondo Champion 2015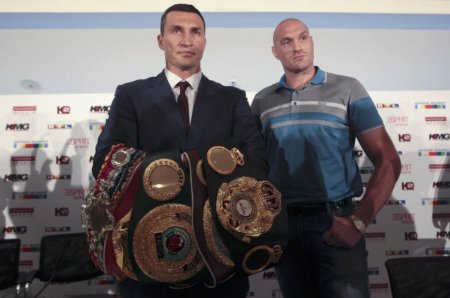 Wladimir Klitschko dismisses Tyson Fury insults at fight launch for October bout
Ukranian Klitschko appeared to be more familiar with Fury's controversial antics than his record as a fighter, admitting he has yet to study his previous bouts – apart from one notorious clip of the unbeaten Briton punching himself in the head early in his career.
Fury slammed down a microphone and knocked over a table before storming out of the press conference in March last year to publicise a fight against Dereck Chisora and has become renowned for the streams of invective aimed at his prospective opponents.
Klitschko has previously had a shoe thrown at him by Shannon Briggs but the champion takes it all in his stride.
"He didn't throw a microphone somewhere? His shoe? I don't know. There has been flying shoes and so much entertainment before – I'm sure it's going to show up," said Klitschko.
In Germany, where he will get his first world title shot on October 24 against WBA, IBF and WBO champion Klitschko, Fury accused his opponent, who has not been defeated in 11 years, of being boring.
It's a personal mission for me to rid boxing of a boring person like you," said Fury.
"I'm interested in all of them belts you've got on there. I'm interested in breaking your face in. You're boring, I want to rid you out of the heavyweight division.
"Your jab-and-grab style – surely all of Europe wants to see you get beaten and all of Europe and the rest of the world will see you get beaten."
Fury, 26, from an Irish Traveller background, also took exception to Klitschko's educated upbringing. Nicknamed 'Dr Steelhammer' he has PhD in Sports Science and reportedly speaks Ukranian, Russian, German and English.
"You have about as much charisma as my underpants – zero, none," said Fury. "You go on – you're a sports psychologist, you speak 37 different languages, so what? You're still a robotic person. You're still not exciting and fun to watch. I am the new blood in the division, you are an old man."
Fury's frustration is forgivable, despite his chosen method for venting it. Klitschko, and his older brother, Vitali, who retired from boxing in December 2013 aged 42, have dominated the heavyweight scene for a long time. Yesterday Wladimir announce that, at 39, he has agreed terms on a five-fight deal with German television, so has no immediate plans to move on.
That suggests, along with his comments, he does not see Fury as a serious threat.
"I believe Tyson Fury is really meaning what he is talking about and he is definitely not coming here on October 24 just to be present and be on the canvas,"
Klitschko said. "This guy is so entertaining. He sings, he dances, he is a cool dude. He does different things that people like – or hate.
"Some people adore you, some people say they can't stand you, which is good."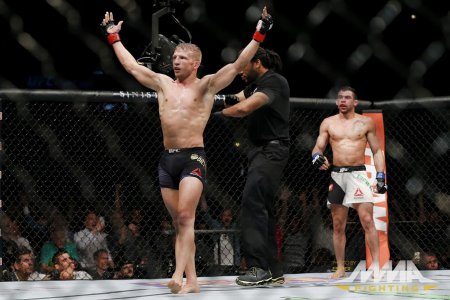 UFC on FOX 16 results: Biggest winners, losers from \'Dillashaw vs Barao 2\' last night
Ultimate Fighting Championship (UFC) put on a hell of a show in Chicago, Ill., last night (Sat., July 25, 2015) as UFC on FOX 16 delivered a ton of highlight-reel moments and a captivating performance from UFC Bantamweight champion T.J. Dillashaw.
In a rematch 14 months in the making, the undisputed 135-pound champion looked to once again defeat former kingpin Renan Barao. And this time the Team Alpha Male veteran defended his title with a violent flurry in the fourth round that had the Brazilian out on his feet (highlights here).
The co-main event featured former Strikeforce women\'s Bantamweight champion Miesha Tate earning her fourth straight Octagon victory after battering Jessica Eye for 15 minutes en route to the unanimous decision victory.
Check out the highlights here.
With that quick overview of the night\'s marquee bouts, here are your biggest winners, as well as the runners-up from "Windy City."
Biggest Winner: T.J. Dillashaw
The first time was no fluke, and Dillashaw made an emphatic statement with an even more impressive victory over Barao the second time around.
Once again showing off his breathtaking footwork and striking technique, Dillashaw carved a masterpiece inside the Octagon with his complete domination of the former UFC champion.
Dillashaw\'s precision and timing was something to behold, as he butchered Barao\'s face over the course of three rounds before violently stopping the Brazilian in the fourth with what seemed to be a 100-punch Tekken combination before referee Herb Dean finally called a stop to the massacre.
There certainly won\'t be a third fight between these two men after what transpired at UFC on FOX 16.
So where does that leave the UFC champ? Hopefully a bout with former champion — and fellow footwork savant — Dominick Cruz is in the cards.
Considering "The Dominator\'s" tendency for getting injured, you can expect Raphael Assuncao — the last man to beat Dillashaw — to get the call for the next title shot.
One more thing: Don\'t count out former UFC Lightweight champ Frankie Edgar.
Considering "The Answer" will have to wait a long time to get his hands on either Jose Aldo or Conor McGregor at featherweight, there is a possibility he could cut an additional 10 pounds to fight for the 135-pound strap against Dillashaw.
I certainly would tune in.
Runners-up: Miesha Tate
Tate got the job done at UFC on FOX 16, and it will likely catapult her into another title shot against Rousey — barring a stunning upset by Bethe Correia at UFC 190 next weekend.
Eye was no walk in the park, however, picking apart Tate on the feet early. It seemed "Cupcake" could be on the wrong end of a major upset courtesy of "Evil."
A ferocious haymaker of a right hand late in the first round for Tate nearly earned her the knockout victory, but although Eye wasn\'t finished, the punch turned the tide for the remainder of the fight.
Tate tried her best to finish Eye with a variety of submissions and thunderous right hands, but it was simply not meant to be.
Even though the former Strikeforce champ couldn\'t get the finish — or a post-fight interview to call out Rousey — she did pick up her fourth straight UFC victory with an impressive performance overall, and considering she kicked off her UFC career at 0-2, that is quite the feat.
Unless Cris Cyborg can miraculously make 135 pounds in the next six months, Tate will be Rousey\'s next challenger.
Sorry, but I am counting out Correia.
With that being said, I don\'t think "Cupcake" has what it takes to defeat "Rowdy" in their trilogy fight, but UFC brass will push it down our throats anyhow, and that means a massive payday for Tate no matter the outcome.
Tom Lawlor
Lawlor really brought back the filth to the Octagon that has been so painfully absent during his near two-year sabbatical from MMA.
A career Middleweight moved up to 205 pounds because he is "getting too old for this" to cut weight, took on Chris Weidman\'s No. 1 training partner and surging prospect in Gian Villante, and The Ultimate Fighter (TUF) veteran knocked his block off with a perfectly timed right hand.
Did I mention "Filthy" was getting outworked the entire first round before closing out Villante\'s lights just 27 seconds into the second?
Magical.
Lawlor mentioned to Joe Rogan after the fight that he will be staying at light heavyweight for the time being, and is hoping to make a title run.
Considering the 205-pound division is a barren wasteland of contenders, I can see Lawlor taking on Jimi Manuwa or even "Rampage" Jackson next.
Biggest Loser: Renan Barao
It was almost unfathomable to witness Barao get pasted by Dillashaw in their first fight back at UFC 173. Prior to that fight, Barao hadn\'t lost in nearly 10 years, and had beaten down some of the best 135-pound fighters in the world.
Dana White once coined Barao as the No. 1 pound-for-pound fighter on Earth. And while most balked at that sentiment, there was no question the Brazilian was clearly one of the best fighters in MMA.
That was of course before Dillashaw got his hands on him.
The challenger was a massive underdog at UFC 173, and almost nobody gave the Team Alpha Male veteran a shot to defeat "The Baron."
Well, 14 months later, Dillashaw has defeated Barao twice, and has taken everything away from the Brazilian in the process.
His title? Gone. Aura of invincibility? Eviscerated. Future title hopes? Bleak at best.
UFC on FOX 16 was a terrible night for Barao, and proved the Brazilian doesn\'t have what it takes to defeat TJ Dillashaw.
Could we see the former champ move up to featherweight in order to avoid cutting so much weight for his next fight?
Only time will tell.
Runners-up: The Judges
With the precipitous amount of negative attention towards the Reebok deal, UFC brass\' firing of Jacob "Stitch" Duran, and a wealth of other problems, MMA fans likely forgot about the prodigious issue of bad judging in the sport.
Well, UFC on FOX 16\'s bevy of horrendous decisions was a stern reminder to fight fans there is still a massive elephant in the room, and nobody\'s doing anything about it.
If you missed the Fight Pass "Prelims" — and I certainly don\'t blame you if you did — then you may not have seen Andrew Holbrook defeat utterly rob Ramsey Nijem. In a fight that was clearly controlled by Nijem in nearly every facet, the judges somehow saw the bout in favor of the UFC debutant by split decision.
To follow that up, the judges delivered wacky cards for Ben Saunders vs Kenny Robertson. In yet another split decision, "Killa B" took home the victory when many had scored the fight in favor of Robertson 29-28.
In the very next fight, Jim Miller was given a 30-27 scorecard against Danny Castillo in a fight that probably could have gone 29-28 either way.
The age old saying is tired and used, but is still rings true to this day: Don\'t leave your fight in the hand of the judges.
Takanori Gomi
I hate to say this, but it is time for Gomi to hang up his gloves for good.
The former Pride FC Lightweight champion was once lauded as the most dangerous 155-pound fighter on the planet. Today, the Japanese MMA legend is licking his wounds after his second straight first round (technical) knockout loss.
At 36 years old, it is safe to say Gomi is fighting nearly 10 years past his prime, and his last several UFC outings have corroborated that statement.
When UFC brass announced Joe Lauzon and Takanori Gomi would be hurling leather in Chicago, I was giddy with excitement before recalling "The Fireball Kid" is a shell of his former self, and would likely be on the wrong end of a violent "J-Lau" beatdown.
It was violent, it was fast, but it was also merciful as Lauzon stepped away from a seemingly unconscious Gomi before Herb Dean even called a stop to the bout in just under three minutes.
While his fighting career may have ended with a whimper, Gomi will always be remembered as a one of the most exciting 155-pound fighters to ever compete in the sport.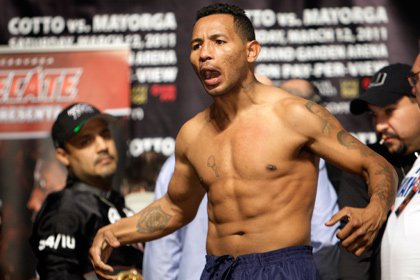 Former world Boxing champion named Mayweather gay
Former world champion in two weight categories Nicaraguan Ricardo Mayorga called American Floyd Mayweather gay. It is reported by Boxingscene.
"People want to see the warriors in the ring, they want to see blood. A boxers style with Floyd Mayweather running around the ring from corner to corner, as gays! If the ring was of large dimensions, he would be running around more, or would have jumped over the ropes," said Mayorga.
15 July Mayweather agreed about the fight with his compatriot Andre Berto. It is expected that the match will be the last in the career of the 38-year-old American. The fight is scheduled for 12 September, the venue chosen Las Vegas.
Mayweather speaks on a professional ring since October 1996. At 19 years old athlete scored 48 wins (26 KOs) in 48 fights, has achieved the title of best boxer in the world regardless of weight category by Ring magazine.
Mayorga his next bout on August 29 in Los Angeles against Shane Mosley. Total on a professional ring 41-year-old boxer from Nicaragua made 41 battle, 31 of which were wins (25 by knockout). In eight fights Mayorga suffered defeats, one draw, one fight is declared invalid.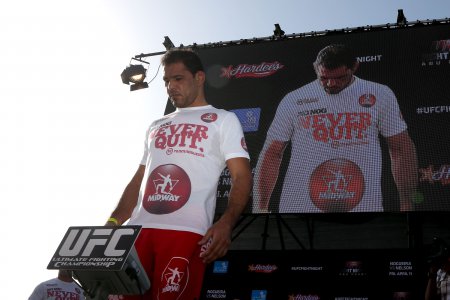 Big Nog welcomes fourth fight with Fedor, even if it\'s outside the UFC
Just a little more than a week ahead of his fight against Stefan Struve in Rio de Janeiro, Antonio Rodrigo Nogueira is already thrilled with the possibility of facing an old and familiar opponent who possibly became available again: Fedor Emelianenko.
Nogueira, who already faced Emelianenko three times before in Pride, still wants a chance to defeat the Russian, who beat him twice while the third fight ended in a No Contest. As Nogueira told Combate, he would like to welcome him back no matter the promotion he lands in.
"He\'s such an icon for the sport. If he\'s healthy and feels like fighting again, he should. The MMA world loves to watch him perform. There is always room for big icons like him. Tito Ortiz is still fighting, so is Quinton Jackson and Cro Cop. People want to see them fight. Sometimes there\'s a new kind winning the belt, but what about the guy you rooted for your whole life? I don\'t know if Fedor would end up in the UFC, whatever the promotion he lands, I would like to fight him one day. He\'s a great fighter."
So that\'s one more name added to the list of heavyweights who already called The Last Emperor out once the news of his return broke out. Nogueira, however, will have his hands full at least until August 1, when he faces Stefan Struve at UFC 190 in Rio de Janeiro.