Sport review 14/04/15
14.04.2015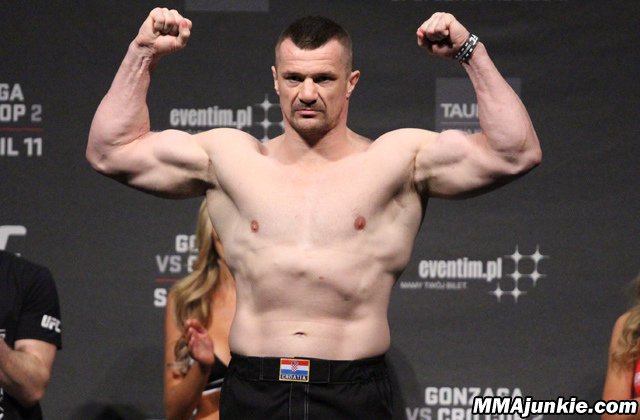 Interview with Denis Apavaloae
Pavel Voronin vs Ivan Daily
Pavel Voronin vs Francesco Xhaja

Interview with Serghei Morari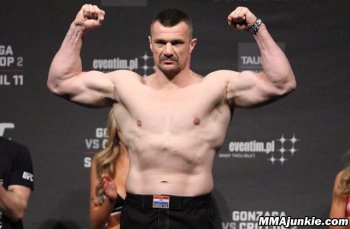 In the main event, Gabriel Gonzaga will square off against Mirko Cro Cop in a heavweight battle. Gonzaga defeated Cro Cop in their previous meeting at UFC 70 via first-round knockout.
Check out the UFC Fight Night 64 results below.
Main card
Mirko Cro Cop def. Gabriel Gonzaga via TKO (elbows) at 3:30 of R3
Jimi Manuwa def. Jan Blachowicz via unanimous decision (30-27, 30-27, 29-28)
Pawel Pawlak def. Sheldon Westcott via unanimous decision (29-28, 29-28, 29-28)
Maryna Moroz def. Joanne Calderwood via submission (armbar) at 1:30 of R1
Undercard
Leon Edwards def. Seth Baczynski via KO at :08 of R1
Bartosz Fabinski def. Garreth McLellan via unanimous decision (30-27, 30-27, 30-27)
Sergio Moraes def. Mickael Lebout via unanimous decision (29-28, 29-28, 29-28)
Yaotzin Meza def. Damian Stasiak via unanimous decision (30-27, 29-28, 29-28)
Anthony Hamilton def. Daniel Omielanczuk via unanimous decision (29-28, 29-28, 29-27)
Aleksandra Albu def. Izabela Badurek via submission (guillotine) at 3:34 of R2
Stevie Ray def. Marcin Bandel via TKO (ground and pound) at 1:35 of R2
Taylor Lapilus def. Rocky Lee via unanimous decision (30-27, 30-27, 30-27)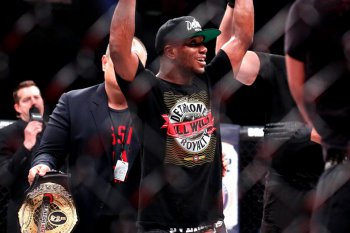 Bellator 136 results: Will Brooks outlasts a tough Dave Jansen, retains lightweight title
IRVINE,
Calif. — Heading into Bellator 136, Will Brooks predicted he would
finish his opponent, veteran Dave Jansen, in the first or second round. But
Jansen, who came up in the sport with Portland\'s legendary Team Quest
gym, has a recognizable quantity of old-school toughness. So even
though Brooks retained his Bellator lightweight title in their main
event fight, he had to work for it. Brooks turned up the heat over the
final two rounds to put away the fight against his tough-as-nails foe,
winning by unanimous decision. The judges\' scores were 49-46 across the
board. "Dave Jansen showed his warrior spirit tonight," the
American Top Team fighter said. "I hit him with some hard shots and I
thought I was going to break my hand." Jansen (20-3), who entered
the bout on a seven-fight win streak, came out fast in an active first
round, keeping the champion backpedaling with a high-volume output and
getting the best of things in the clinch. Brooks (16-1) picked up
the pace in the second round, as he fired off body kicks with both
legs, then closed the distance and landed solid flurries. The third
round was more of the same, but both fighters appeared to be running out
of stream. The champ, though, seemed to find his second wind in
the championship rounds., He battered the Portland native in the fourth
round, leaving him bloodied and bruised. Brooks continued to push the
pace in the closing round, and while Jansen remained tough, he wasn\'t
able to do anything to turn the bout in his favor. "I\'m on my way," Brooks said. "I\'m judging myself the hardest, going to continue to try to get better." Jansen
had won Bellator\'s season seven lightweight tournament in 2013, then
had to wait for his promised title shot as the title switched from
Michael Chandler to Eddie Alvarez to Brooks. Popular kickboxer
Joe Schilling got the loudest reception of the evening heading into his
co-feature middleweight bout against Rafael Carvalho, but Carvalho
played the role of spoiler, scoring a split decision victory.
Carvalho
got judges\' scores of 30-27 and 29-28, while Schilling took a 29-28
card. MMAFighting.com scored the bout 29-28 for Carvalho.
Schilling\'s
kickboxing credentials are world class, and his striking has translated
well in MMA, as he proved with a memorable knockout of Melvin Manhoef
in November. But Schilling, in his sixth pro MMA bout, seemed determine
to prove he\'s become well-rounded in MMA, and it backfired, as Carvalho
was only too willing to oblige. Schilling held his own in the
first round, which he won on two judges\' scorecards, but, by the second,
Carvalho took over the tone of the fight by exploiting Schilling\'s MMA
inexperience. He controlled the second round in the mat after Schilling
brought him there with a guilotine, transitioning out and then nearly
submitting him with an armbar. In the third round, Schilling
wobbled Carvalho with a jab, but Carvalho regained his bearing and
controlled the remained of the round on the ground. Carvalho, of Rio de Janeiro, improved to 11-1, with 10 straight wins. Schilling dropped to 2-4. In
a lightweight fight, Poland\'s Marcin Held added to his reputation as
one of the sport\'s top up-and-coming submission artists, as he added
Tiger Sarnavskiy to his list of victims. The 23-year-old Held verbally
submitted Sarnavskiy (30-3) via kneebar at 1:11 of the third round. The
bout was primarily a grappling contest, and primarily consisted of Held
working for submissions, whether working from the top, the bottom, or
from side control. Sarnavskiy escaped several times, but he had no
answer early in the third, when Held transitioned into a tight kneebar. The
victory was Held\'s 12th career submission victory, as he improved to
21-5 with 11 wins in his past 12 fights. After the bout, Held said he\'s
ready for a crack at Brooks\' title. "It\'s a great thing, I was
trying it in the first round, I was keeping pretty busy, and then in the
third round is when I got him," Held said. "Yeah I\'m sure I\'ll be
getting him in the fight. I think I\'m ready." Unheralded Tony
Johnson scored an upset victory over former Bellator heavyweight
champion Alexander Volkov. Johnson (9-2), an American Kickboxing Academy
fighter, used his clinch work and wrestling to overpower the
surprisingly listless Volkov (24-5). Johnson tired in the third round
and Volkov had his best round of the fight, but it wasn\'t enough.
Two
judges scored the bout 29-28 for Johnson and the third an inexplicable
29-28 for Volkov, who lost for just the second time in his past 17
fights.
In an undercard bout of note, veteran sluggers Joey
Beltan and Brian Rogers went toe-to-toe for 15 minutes in a fun brawl.
The scores were all over the map, with a 28-28 card to go with 29-27 and
29-28 for Rogers as he took a majority decision. MMAFighting.com scored
the bout 28-28, giving Rogers rounds one and three and Beltran a 10-8
second. Rogers withstood an epic beatdown over the final minute
of the second round, but managed to get to the end of the round. The
scoring, then, came down to close calls in the first and third. Beltran
(16-11, 1 NC), an Alliance MMA fighter who has fought as high at
heavyweight in his career, was making his middleweight debut. He won for
the second time in his past three fights. Ohio\'s Rogers (11-8) has
dropped four of his past five.
More from MMA Fighting