KOK WORLD GP 2014 HEAVYWEIGHT TOURNAMENT in GDANSK
02.10.2014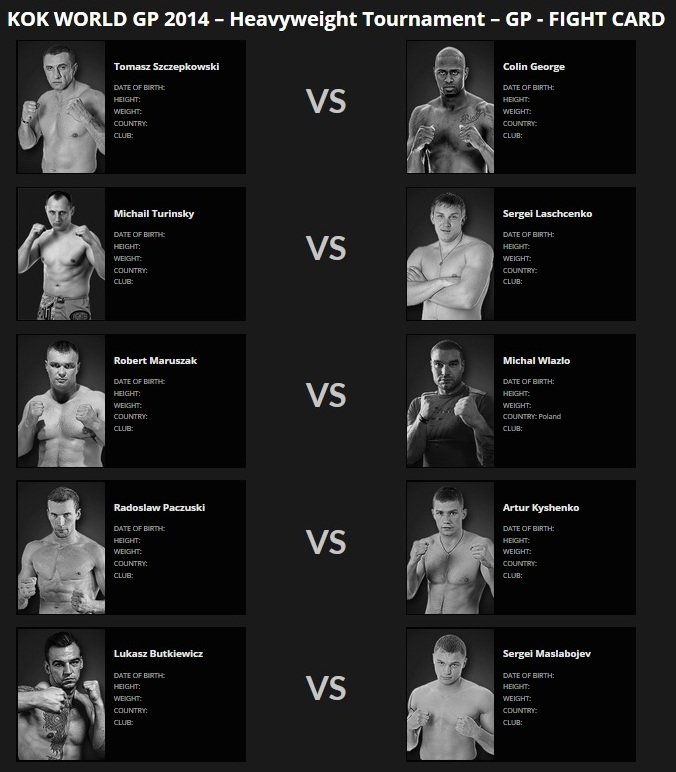 KOK WORLD GP 2014 IN GDANSK 4 men tournament
Friday, 17th October, at Gdansk Ergo Arena KOK WORLD GP 2014 will take place.
Four strongest European heavyweight fighters will try to find out: who is the one – king of kings? The winner of this tournament will fight for the title of KOK World champion in 2015.
In this forthcoming 4 men Grand Prix tournament will fight well known names: Sergei Lascenko from Ukraine, Colin George from Holland and two polish fighters Tomasz Szczepkowski from Warszaw, Michał Turyński from Wrocław.
It's impossible to prognose which of those four fighters will become the main hero of the evening, because all of them have really big experience and very impressive titles.
At the first GP fight will meet 33 years old polish fighter, champion of Poland of Muay Thai Tomasz Szczepkowski against 28 years old dutchman Colin George from the famous Mike's Gym from Amsterdam. Colin is known for his excellent punching skills and has an experience of fighting with such ring legends like Jerome Le Banner.
At the second GP fight Michał Turyński, champion of kickboxing of Poland, will face ukrainian fighter Sergei Lashchenko, finalist of K-1 World GP 2009 and champion of Super Combat. Winners of those two fights will meet in final on same evening. Don't miss it!
Tickets: www.eBilet.pl and www.eventim.pl.