FEA presents KOK WORLD GP 2014 Vol.21 in CHISINAU 19.09.2014.
08.08.2014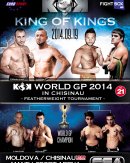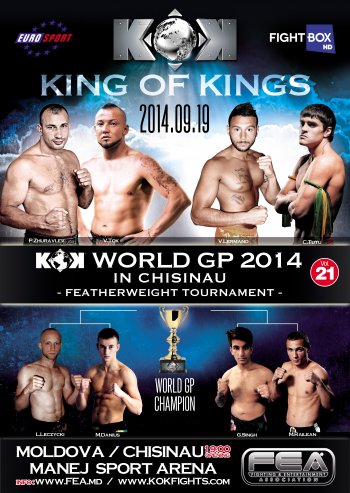 The autumn KOK show promises to be a real bomb and sensation, because the tournament grid lists the names of the fighters well known around the world. Let\'s start with the fact that the show will be divided into two parts.
The first part of the KOK WORLD GP 2014 FEATHERWEIGHT TOURNAMENT will include fighters with the weight of 65kg. This foursome and the reserved match will be brightened up by super fights. The foursome of fighters in this weight division includes Maxim Railean,
Martinas Danius Stas Renita, Graunte Marius, Singh Gurdep and Lucas Leziski. All fighters are worthy contenders and each of them wants to win the tournament.

The second part of the KOK WORLD SERIES 2014 will be dedicated to super fights as well as the ratings and title fights. Of course, the most anticipated fights will be between Pavel Zhuravlev and Tok Vladimir, Tsutsu Konstantine and Vittorio Lerman, Christian Dorel and Carol Lada.

Experts confirm that the KOK show held in Moldova generates extremely high interest around the world and the audience form all over the world are looking forward to the fights on the major television channels. So for the first time in the history of martial arts Moldovan KOK show will be broadcasted online on such channels as EUROSPORT and FIGHTBOX-HD.

It is worth noting that the rating fight and super fight will present Paul Voronin, Stepan Kyrlig, Bolotov Maxim, Alexander Daniel (a Romanian fighter who signed a contract with FEA) and Dorin Robert. Moreover, we will also witness a debut match performed by Para Vlad who is a multiple champion in the category of amateurs.
We can confidently declare that the tournament which will be held in the Arena on September 19th becomes a par to the most famous fighter projects.

Dear friends, the information will be updated continuously. Stay tuned for updates and do not miss the personal interviews with the fighters, photos, videos and constantly updated information on the tournament.