UFC 175 salaries: Weidman ($450,000), Machida, Rousey, Faber top earners
07.07.2014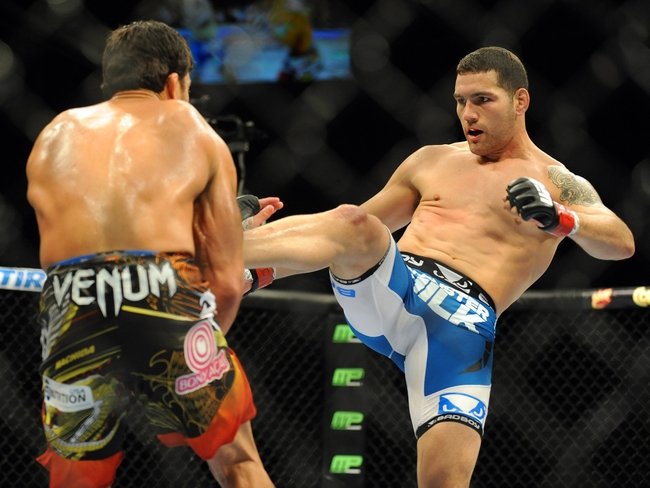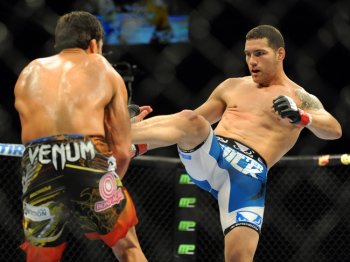 LAS VEGAS – UFC middleweight champion Chris Weidman, challenger Lyoto Machida, women's bantamweight champ Ronda Rousey and Urijah Faber all earned six-figure paydays at UFC 175.
MMAjunkie obtained the list of disclosed paydays from the Nevada State Athletic Commission, which oversaw Saturday's pay-per-view event at Mandalay Bay Events Center in Las Vegas.
The total disclosed payroll for the event was $1,158,000.
Weidman, who defended his title in the UFC 175 main event, picked up $450,000 for his five rounds of work, getting a contracted $225,000 to show and another $225,000 in win bonus money. He beat former light heavyweight champ Machida, who was paid $200,000 – though that figure was a flat fee without a win bonus, had he pulled off the victory.
In the co-main event, Rousey defended her title in more dominant fashion than ever before, stopping Alexis Davis with a brutal 16-second ground-and-pound knockout. She made $120,000 for her work with a $60,000 win bonus. (Davis was paid $24,000 and would have doubled that with a massive upset.)
Former WEC champ Faber closed out the preliminary card with a third-round submission of Alex Caceres and made $120,000, including a $60,000 win bonus.
Heavyweights Stefan Struve and Matt Mitrione were scheduled to fight on the main card. But a backstage fainting scare from Struve, who was returning from a lengthy layoff in part due to a heart ailment, scrapped that fight. However, UFC President Dana White told MMAjunkie following the event that both fighters would be paid both their show and win money, despite not stepping in the cage. That gave Struve $80,000 and Mitrione $60,000, though they're not reflected in the official salaries.
The full UFC 175 payouts included:
Chris Weidman: $450,000 (includes $225,000 win bonus)
def. Lyoto Machida: $200,000
Ronda Rousey: $120,000 (includes $60,000 win bonus)
def. Alexis Davis: $24,000
Uriah Hall: $20,000 (includes $10,000 win bonus)
def. Thiago "Marreta" Santos: $10,000
Russell Doane: $18,000 (includes $9,000 win bonus)
def. Marcus Brimage: $10,000
Urijah Faber: $120,000 (includes $60,000 win bonus)
def. Alex Caceres: $19,000
Kenny Robertson: $28,000 (includes $14,000 win bonus)
def. Ildemar Alcantara: $16,000
Bruno Santos: $16,000 (includes $8,000 win bonus)
def. Chris Camozzi: $23,000
Rob Font: $16,000 (includes $8,000 win bonus)
def. George Roop: $20,000
Luke Zachrich: $16,000 (includes $8,000 win bonus)
def. Guilherme Vasconcelos: $8,000
Kevin Casey: $16,000 (includes $8,000 win bonus)
def. William "Bubba" Bush: $8,000
Now, the usual disclaimer: The figures do not include deductions for items such as insurance, licenses and taxes. Additionally, the figures do not include money paid by sponsors, which can oftentimes be a substantial portion of a fighter's income. They also do not include any other "locker room" or special discretionary bonuses the UFC oftentimes pays. Additionally, they don't include any pay-per-view revenue some top fighters receive.
For example, as previously reported, UFC officials handed out additional $50,000 UFC 175 bonuses to Weidman ("Fight of the Night"), Machida ("Fight of the Night"), Rousey ("Performance of the Night") and Font ("Performance of the Night").
In other words, the above figures are simply base salaries reported to the commission and do not reflect entire compensation packages for the event.