UFC Fight Night 44 Results
30.06.2014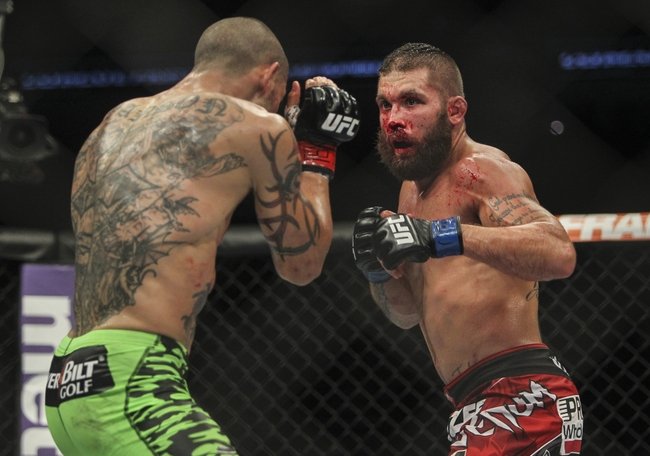 SAN ANTONIO – In an entertaining slugfest mostly contested on the feet, Cub Swanson may have punched his ticket to a featherweight title shot with a win over Jeremy Stephens.
Swanson (21-5 MMA, 6-1 UFC) took a unanimous decision from Stephens (23-10 MMA, 10-9 UFC) in a fight that saw some momentum shifts, but ultimately was one Swanson won thanks to a diverse striking game. With the win, Swanson won for the sixth straight time in the featherweight division, and may have put himself in position to fight the August winner of champion Jose Aldo and Chad Mendes
The featherweight bout was the main event of today's UFC Fight Night 44 event at AT&T Center in San Antonio. It aired on FOX Sports 1 following prelim on FOX Sports 1 and UFC Fight Pass.
It was a kicking affair early, and after a few strikes to the legs from each fighter, Swanson just missed with a front kick to the face. Swanson then went to the body before dancing back outside with a stance change. Stephens landed a straight right two minutes in and tried to push forward, then just missed up high with a kick. Seconds later, Swanson attempted a cartwheel kick that was off the mark. With 90 seconds left, Stephens landed a hard right hand that had Swanson to one knee, but quickly back up and firing. A Swanson right hand was on the money, and he followed it up with a kick to the body. But Stephens absorbed the kick and put Swanson on the canvas with a right hand. Stephens dove in and finished the round on top.
Stephens opened the second with an uppercut, and then another right hand was on the mark as he started to settle in to his boxing game. He blocked a kick upstairs from Swanson, then went back to leading the pace – and another right hand was dead on the chin. Midway through the round, another right hand was good from Stephens. Swanson tried to smile through it – typically a sign that the punches were working. Stephens tried a knee up the middle, but ate a right, and seconds later he just missed a big haymaker. With 50 seconds left, Stephens landed his best kick of the fight, a left to the body, and 15 seconds later he drove in for a takedown. Although Swanson was back up quickly, with a little help from the fence, it was an exclamation mark on the round for the underdog, Stephens.
In the third, Stephens tried to carry over his aggression from the second and opened with a right hand, then a kick. Ninety seconds in, Stephens circled around and landed another nice right hand. But Swanson landed a big right hand, then a kick to the body that stunned Stephens. And Swanson tried to take advantage. Smelling blood in the water, he started to pour on the pressure. Nearing the midway point of the round, Swanson landed a big combination set – but Stephens survived, then staved off a takedown attempt. With two minutes left, Stephens drove in for a takedown, but had to settle for pushing Swanson to the fence. Swanson broke off with a minute left, and with 30 seconds to go, he landed a spinning back kick, followed by a jab.
Swanson worked leg kicks in the fourth, then continued to dance away from Stephens' power. When Stephens tried to push Swanson forward midway through the round, he took advantage of a slight Swanson slip to tie things up. Moments later, he landed a right, then a left, then drove for a takedown. But he couldn't finish and the two stayed clinched up. Swanson landed a solid punch-kick combo with 30 seconds left, but then had to absorb a little more Stephens offense.
Stephens swung hard in the final frame, and when Swanson returned fire, Stephens was on point with his counters. Stephens tried the body, but seconds later it was Swanson returning with a kick to the body. He landed a cartwheel kick right after that, and again poured on some combos like he did in the second. Swanson seemed to be in control down the stretch, though Stephens threatened late.
After the fight, Swanson said he won't beg the UFC for a title shot – while Stephens said he may have broken his left hand early in the fight, though he continued to throw it.
Swanson won for the sixth straight time. Stephens had a three-fight winning streak snapped and lost for the first time at featherweight.
Up-to-the-minute UFC Fight Night 44 results include:
Cub Swanson def. Jeremy Stephens via unanimous decision (49-46, 49-46, 48-47)
Kelvin Gastelum def. Nicholas Musoke via unanimous decision (29-28, 29-28, 29-28)
Cezar Ferreira def. Andrew Craig via unanimous decision (29-28, 29-28, 30-27)
Ricardo Lamas def. Hacran Dias via unanimous decision (30-27, 30-27, 29-28)
Clint Hester def. Antonio Braga Neto via split decision (29-28, 28-29, 29-28)
Joe Ellenberger def. James Moontasri via split decision (29-28, 28-29, 29-28)
Carlos Diego Ferreira def. Colton Smith via submission (rear-naked choke) – Round 1, 0:38
Cody Gibson def. Johnny Bedford via TKO (punches) – Round 1, 0:38
Marcelo Guimaraes def. Andy Enz via split decision (27-30, 29-29, 29-28)
Ray Borg def. Shane Howell via submission (rear-naked choke) – Round 1, 2:17
Oleksiy Oliynyk def. Anthony Hamilton via submission (neck crank) – Round 1, 2:18