Chael Sonnen announces retirement from mixed martial arts
16.06.2014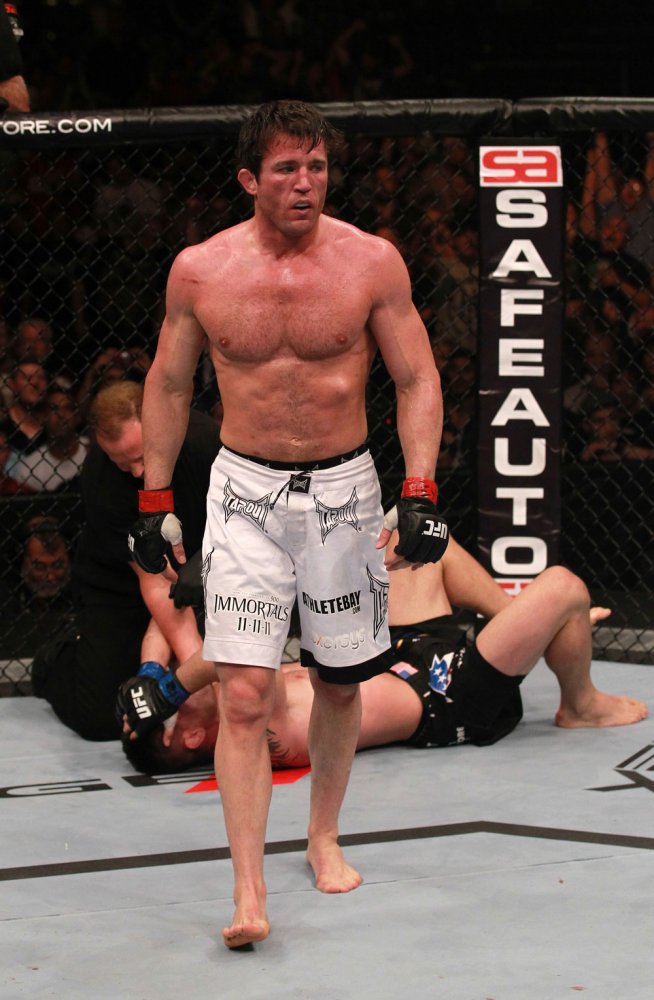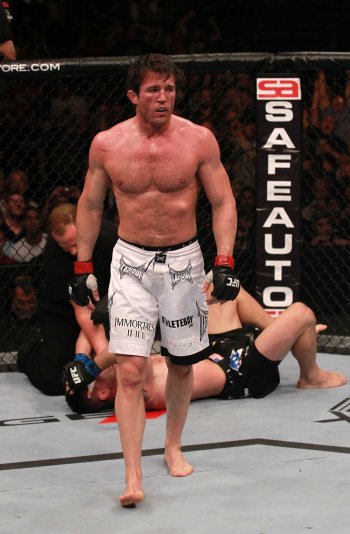 In the fallout of a failed Nevada Athletic Commission drug test, popular and controversial UFC fighter Chael Sonnen has announced his retirement from mixed martial arts.
The 37-year-old from West Linn, Oregon made his retirement official on Wednesday\'s edition of UFC Tonight.
The announcement came one day after it was reported that Sonnen tested positive for banned substances in a May 23 random drug test for what was a planned July 5 fight against Wanderlei Silva.
"I want to officially announce my retirement from competitive mixed martial arts," Sonnen said.
Sonnen, a former University of Oregon wrestler whose career dates back to 1997, retires with a record of 28-14-1. His final bout was a first-round loss to Rashad Evans at UFC 167.
Sonnen, who had been one of the highest-profile users of testosterone replacement therapy, attempted to blame the Nevada Athletic Commission for the test failure, essentially saying guidelines were unclear for fighters who were looking to wean themselves off the procedure after the commission banned it outright in February. Sonnen tested positive for two banned substances, Anastrozole and Clomiphene.
The series of events came about after Silva was pulled from the UFC 175 fight for refusal to take the same test Sonnen ended up flunking. Sonnen was temporarily scheduled to face Vitor Belfort, who himself had commission-and-drug testing-related issues, before his own test failure came in.
The fighter maintained during his entire stint on TRT that the controversial procedure was medically necessary, and made reference to his desire to raise a family. After the backlash to his Tuesday comments, and with a day to think things over, Sonnen reeled back his NAC criticism.
"I do want to admit fault," Sonnen said. "I want to make sure I\'m taking full responsibility. Yesterday, when I came out, I was mad and I was a fighter and I went into defense mode. However, ultimately the rules are the rules. I understand that, and I\'m a rules guy. I don\'t want to break the rules. Ultimately, it comes down to the athlete to make sure he\'s in compliance. That\'s a big list. I\'ve studied this for three years, and I\'ve gotten conflicting reports time and time again through studying this and through being part of it. I\'m not sure today I\'m any closer getting a strangehold than when I began 36 months ago. I\'m doing the best I can.
"I actually take responsibility," he continued. "I am well-aware, as is my management team, that we do need to talk to a commission. This was out-of-competition testing. This has never been done before to me. I\'m only the third athlete ever that\'s had to go through this so there are some moving parts and there is a little bit of a learning curve. There\'s also a bit of expectation on my behalf that the commission will understand as I\'m transitioning off testosterone, as we\'ve talked about a number of times right here on the show, that I\'m going to have to take different supplements.
The announcement brings an end to one of the most extraordinary careers ever seen in MMA. His first stint in the UFC was nondescript, as he went 1-2 in 2005-06. He was cut after a loss to Jeremy Horn, a fight which he was dominating until he got submitted from the bottom, which wasn\'t the last time that would happen.
After resurrecting his career in the WEC, Sonnen got another shot in the UFC, and this time, he made the most of his opportunity. Gone was the quiet guy on the undercard. In was the fighter who was brash, who mastered the art of hype, and who became one of the sport\'s biggest drawing cards.
Sonnen beat Dan Miller, Yushin Okami, and Nate Marquardt to earn a shot at Anderson Silva\'s middleweight title. He dominated Silva for four and a half rounds before Silva submitted him in the closing minutes in one of MMA\'s legendary finishes.
After two more wins, Sonnen got another shot at Silva, at UFC 148. A crowd of 15,104 paid a gate of nearly $7 million to see Silva win this one via TKO in the second round.
Wednesday, Sonnen took the time to thank Silva, as the duo turned one another into superstars.
"I want to thank the single-most important opponent that I\'ve ever had," Sonnen said. "I couldn\'t have gotten to where I am without this dance partner. That is of course you Anderson Silva. Thank you for the opportunity. Thank you for the memories. Thank you for the invitation to the barbecue even though I didn\'t take you up on it."
While that seemed to be Sonnen\'s final go at a championship, he managed to interject himself into the title picture again, this time at light heavyweight. Sonnen offered to step in and replace Dan Henderson after Henderson needed to drop out of UFC 151 with a knee injury, but Jones refused to fight him on nine days\' notice, prompting UFC president Dana White to cancel a show for the first time in Zuffa history.
However, when things simmered down, Jones and Sonnen ended up as coaches on The Ultimate Fighter, with a title fight to follow. Although the decision was heavily criticized, they went through with the bout, which Jones one via first-round TKO at UFC 159 in Newark, N.J.
Somewhere along the way, Sonnen went from wildly unpopular to a crowd favorite. Whether it was for his willingness to fight anyone, anytime; whether it was for his position as a FOX UFC commentator, in which he mixed his wit with deeply astute observations on the technical aspects of the sport, or whether it was a followup stint on The Ultimate Fighter: Brazil, the fans came around on Sonnen by the time the crazy affairs of the past couple weeks as well.
And while this is all a part of his legacy, the fact he twice ran afoul of testing procedures is also a part of that legacy. Following his first loss to Silva, Sonnen was suspended by the California State Athletic Commission for failure to properly disclose his use of TRT.
"I want to stay within the rules, and I don\'t fully understand them," Sonnen said. "I have to put my health first. I have to put my family first. If I know what I know now, and I know this is going to work and I\'m going to be able to get my wife pregnant and look forward to having a family, I\'m going to do the exact same thing 20 more times so it\'s going to put me out of compliance 20 more times. Let\'s just stop with that. Let me just remove myself."
"There\'s going to be a day where I\'m no longer going to have the title of fighter – that\'s just a reality," he continued. "I don\'t ever there want to be a day where I\'m not going to have the title of parent, father, and husband and my health has got to come first."