Twitter Mailbag: In which we try to sort out the Sonnen-Silva-Belfort mess
30.05.2014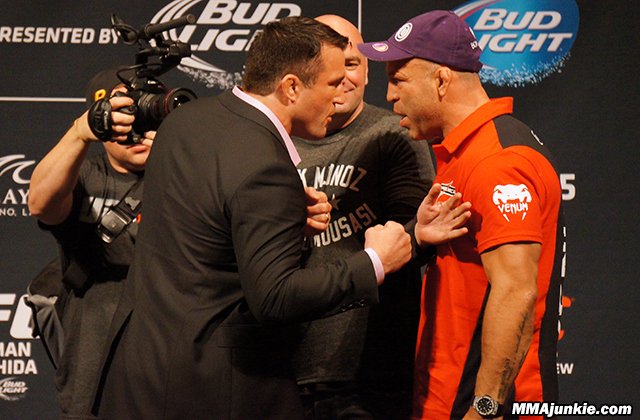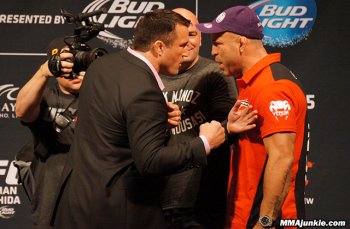 This was shaping up to be a nice, quiet week for the Twitter Mailbag. Then a bit of news broke on Wednesday afternoon and in came a flood of questions on, well, you know.
Guess we might as well get to it. If you've got a question of your own, send it off to @BenFowlkesMMA on Twitter.
For those of you joining this mess already in progress, news broke yesterday that Wanderlei Silva had been pulled from his UFC 175 showdown with Chael Sonnen over licensing issues in Nevada. The issue with his license is, he doesn't have one. And the reason he doesn't have one is, he didn't apply for one.
Silva also reportedly refused to submit to a random drug test. I think we can all connect the dots for ourselves there, and the picture we come up with might be one that signals a disappointing and distasteful end to Silva's long career.
Where it gets really weird, though, is with the UFC's decision to tap Vitor Belfort. As in, the same Vitor Belfort who was pulled from a title fight against Chris Weidman – who, as a result, is now fighting Lyoto Machida in the main event of this very fight card – as a replacement.
Why was Belfort forced to pull out of that fight (and, to hear him tell it, it wasn't his idea at all), if the UFC now thinks he'll be healthy and licensed to compete in this one? And why would they fight at light heavyweight if, as Sonnen claims, it's a bout to determine who gets the winner of Weidman-Machida for the UFC middleweight title? What would beating Sonnen even prove for Belfort, who was already the No. 1 contender at middleweight before the TRT ban and subsequent fallout forced him onto the sidelines? How does any of this make even a little bit of sense?
It doesn't, is the answer. But the UFC is going to (try to) do it anyway, because it has tickets and pay-per-views to sell, and the name of this game is putting butts in seats. The amazing thing is, this isn't even the weirdest situation Sonnen has found himself in during his UFC tenure. It's also not the weirdest pairing under the weirdest circumstances that fans have been asked to swallow in recent years. If you're paying attention, stuff like this seems increasingly normal. MMA fans live in a crazy netherworld caught between sport and theatre. Messes like this one suggest it's only getting crazier.
In a way, yeah, maybe. They were two of the most visible faces of that controversial drug "treatment," and it will forever be a part of their legacies, albeit probably in different ways. Belfort rode the TRT dragon to a late-career surge after a spectacular beginning to his career followed by some disappointing doldrums there in the middle. Sonnen rode it out of obscurity, and let his mouth do the rest.
So fine, Sonnen-Belfort has that "former TRT users get clean and collide" storyline going for it. It just doesn't have much else. Sonnen is 1-3 in his past four. It's been more than two years since he won a bout at middleweight. Belfort, on the other hand, is on a three-fight winning streak.
If the appeal here is a chance to see whose body holds up better under the strain of synthetic testosterone withdrawal, I don't know how we're supposed to feel about that.
That's a good question, though the answer will only lead to more questions. The Nevada State Athletic Commission is slated to decide Belfort's licensing fate at a hearing on June 17, which means we'll soon learn something about where the NSAC's priorities are in its post-Keith Kizer era. The way I see it, the commission gets to choose from a few options:
1. Keep the drug test secret. Belfort was tested out of competition, before he had applied for a license, and the NSAC subsequently stated that it didn't have the authority to release the results without Belfort's consent. If the NSAC wanted to give him a license just to keep the UFC happy, it could maybe conceivably use that as a loophole to keep Belfort's business out of the streets.
The problem with that is, we all know he was tested. If he won't tell us what the results were, and if the commission gives him a license without pressing the issue, we'll all assume he did not exactly come up clean. Licensing him anyway would be tantamount to admitting that the NSAC is willing to let the fight promoter write its own ticket, which is the exact opposite of what it's there to do. Bad for the NSAC, and bad for the UFC in the long run, because who's going to believe that "we're regulated by the government" stuff after that?
2. Deny Belfort a license. It's certainly a possibility. If he failed a random drug test a few months earlier, the NSAC would have plenty of cause to tell him that he's not welcome in any cage in Nevada. The UFC wouldn't like it. Dana White might even go on another rant about how the governor needs to step in and etc, etc. But what's the point of having a regulator if it's not willing to tell people no sometimes?
3. Come around to White's way of thinking on out-of-competition TRT. To hear the UFC president tell it, even if Belfort's testosterone levels were "off the charts," it shouldn't matter because "he wasn't fighting."
"As a guy who's not fighting, you can go around and do whatever the hell you want with TRT," White said just this past week.
Um, did you catch that? That's the UFC president saying that fighters with TRT exemptions from at least one jurisdiction can abuse synthetic testosterone to their heart's delight as long as they don't have, what, a pending license application? A fight officially on the books? That's weird, because here's what White said in February of 2013:
"I think from what I've seen over the last year, I've seen situations where … what I believe guys are doing is jacking this stuff up through the roof through their entire training camp and getting back down to normal levels right before the fight – which is cheating," White said. "I hate it."
So which is it? Is it cheating to abuse TRT in the months before a fight, or is it just a private citizen doing as he pleases? White's answer seems to change as the UFC's needs do. It'll be interesting to hear whether the most influential athletic commission in the nation feels the same.
4. Admit Belfort failed the test, and give him a license anyway. We've seen commissions do wackier things before, such as ask the very people it has accused of abusing a substance to later advise the commission itself on that substance. I guess it's possible that the NSAC could conclude that a failed drug test five months before the bout, from a fighter with a prior failed drug test in that state, should not necessarily preclude him from being licensed. I just don't know how it would possibly justify that.
Not really. The only times an immediate rematch makes sense after the title changes hands is when: 1) The champion dominated the division for a long, long time, the way Anderson Silva or Georges St-Pierre ruled their respective weight classes, or 2) Something weird happened that made us question the outcome of the bout.
T.J. Dillashaw's win over Renan Barao fits neither of these scenarios. Barao had only defended the title three times, and had only recently been named the outright champ rather than the interim one. Perhaps more importantly, Dillashaw beat the snot out of him from start to finish. There was no questionable decision, no early stoppage, not even any weird mid-fight antics that led to the knockout. Just a clear, straight-forward butt-kicking. We might see part two in the future, but it doesn't need to be the immediate future.
Allow me to answer a question with a question: Why is it that we are so obsessed with making friends fight each other? What is our deal? Why is that the first thing we go to whenever there are teammates in the same weight class?
Urijah Faber just lost yet another title fight (his third in the UFC), and he has a fight booked against Alex Caceres. Even if he wins that, it hardly puts him at the top of the list of bantamweight contenders. Between Raphael Assuncao, a possible Barao rematch, plus the ubiquitous threat of a Dominick Cruz return, there are plenty of other options. Yet the first thing we rush to is, can we make these two friends hurt each other, sort of against their will?
We're like the Vulcans who made Spock and Captain Kirk fight each other. And while the Vulcans had a lot going for them, that probably wasn't their finest hour.
I wouldn't get too bent out of shape over that. A little post-fight gloating is normal in MMA, and this one would have remained a private joke if Team Alpha Male hadn't broadcasted it via social media. Could they have been a little cooler about the whole thing? Sure, but with the rivalry between Nova Uniao and Team Alpha Male, they could have been way bigger jerks, too. As for grace in defeat, let's not forget that Barao's coach Andre Pederneiras just suggested that Dillashaw prove his manhood by giving Barao a rematch in Brazil. Just saying, I've seen more graceful post-fight remarks from the losing side.
That had not occurred to me, dude. Maybe I was just too busy watching Daniel Cormier drop Dan Henderson on his head to notice how gentle he was being with his face.
Yes and no. On one hand, if you're trying to make money selling a product, and if you don't sell enough units to turn a profit, it's tough to come away feeling like you've succeeded. On the other hand, we don't necessarily know what the magic number was for Bellator here, nor do we know for sure what the actual number is.
Right now all we have is some media members claiming it topped 100,000 buys, and Bellator Chairman and CEO Bjorn Rebney hinting the same. If true, I can see how Bellator would be happy with that. I also have to think it's happy with it more because of what it suggests about the future possibilities than because of what it adds to the coffers right away.
You stop it right there, Neal Taflinger. Don't you dare. Don't you put that evil on us.
I know we've all been burned before by fights that looked "yay!" and turned out to be "meh," but that doesn't mean we can't still put together a fight that looks awesome have it actually be awesome.
Matt Brown and Robbie Lawler? It's everything you could ask for. Not only does it pit one exciting, overachieving welterweight slugger against another, it also has real meaning. It's not just about throwing them bungalows. Although, to be fair, it is a lot about them bungalows and the throwing thereof. It's also about the future of the UFC's welterweight division, and the once far-fetched goals of the two men who both want the same thing.
The fact that their road to the title seems to go right past a new development of bungalows? That's just icing on the cake, baby (yeah, I called you baby).
Whoa, there. According to Rich Franklin, he still has one fight left on his UFC deal, and he intends to complete that deal. There's no word on who he might face in that final fight, or even what weight class he'll compete in, but according to Franklin it "must be something exciting for the fans to see." As if he hasn't been in enough of those already.
As for my favorite Franklin memory, while there are a lot of great ones, I have to go with his knockout of Chuck Liddell. Granted, Liddell was getting a little chinny by that point, but after a round that had been pretty one-sided in the other direction, and with a forearm that he knew was likely broken, Franklin hung in there and landed the one punch that decided the fight. In some way, it seems representative of his entire career. Maybe he wasn't the greatest, but he's proof that good things can happen if you show up prepared and keeping hitting back.
Throughout his time in the UFC, Franklin has always done both those things.