Errol Zimmerman dedicates GLORY 16 win to the late Ramon Dekkers, would have retired with a loss
08.05.2014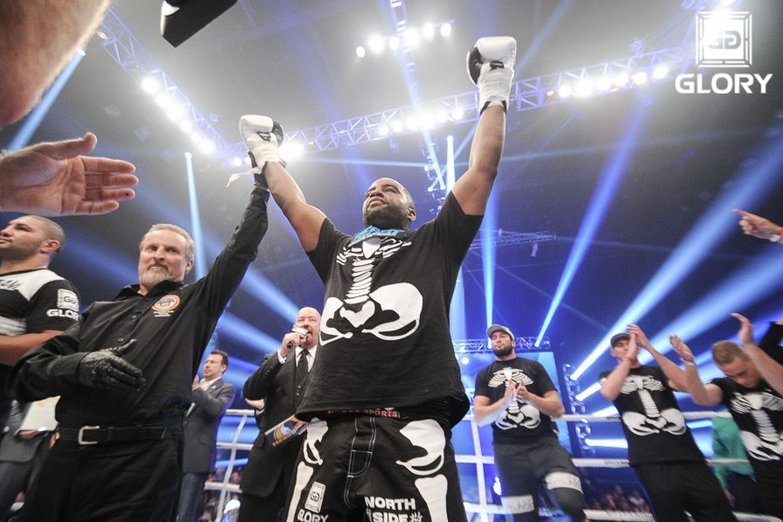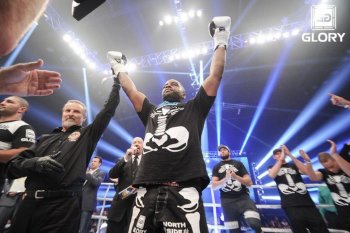 A contender tournament with four heavyweights in high altitude wasn\'t going to be easy to win by any stretch, but Errol Zimmerman didn\'t have many issues after back-to-back knockouts over Ben Edwards and Anderson "Braddock" Silva to win it all and hoist the Ramon Dekkers memorial trophy.
"My power was too much for both of them," Zimmerman told MMAmania.com at the post-fight presser.
In the semifinal round, the Curacaoan defeated Edwards via technical knockout in the first round. Zimmerman landed a big right hand that dropped the Australian for the second time in the round — which under GLORY tournament rules results in a stoppage — thus ending Edwards night at the 2:50 mark and giving him an easy road to the final.
Earlier in the week, Zimmerman predicted he would finish Edwards and get revenge from the Australia for knocking out his teammate Jamal Ben Saddik at GLORY 12 in New York. "When I say something I will do it," he said. "I told Jamal I would."
In the opposing bracket, Brazilian heavyweight "Braddock" Silva had to go all three rounds to get past Sergei Kharitonov, winning by unanimous decision. Silva knocked the Russian down early in round one, but could not follow up and put him away and appeared to lose momentum toward the end of the fight.
In the final, Zimmerman had a clear advantage in the stamina department and he came out fast and aggressive, knocking Silva down twice. The first came after a huge knee to the head early in the round. The second after Zimmerman landed a big combination. For the final of a tournament, the GLORY rules state that three knockdowns are needed in one round for a technical knockout. "The Bonecrusher" would earn the hat trick with a right hand at the 2:30 mark of the first frame.
Zimmerman explained how important winning the tournament was and how much it meant to him, because Ramon Dekkers — who the trophy is named after — was his former trainer and tragically passed away one year ago.
"To be honest, in the beginning I said to my trainer if I lost this tournament, I will stop fighting," Zimmerman told MMAmania.com. "I was really sure that I would win because this was a big day for me. This trophy was for my trainer, who passed away one year ago so I had to win this. If I lost this I would have stopped fighting, but I knew that I would win. I showed my best today and I showed the world what I can do."
With the contender tournament victory, Zimmerman punches his ticket to the heavyweight title tournament that will take place later this year. The veteran heavyweight also put the entire division on notice.