Boxing results: Manny Pacquiao wins rematch with Bradley
14.04.2014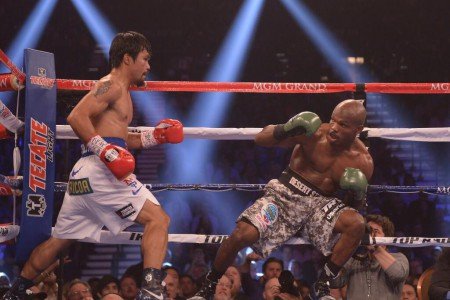 Eight time world champion Manny Pacquiao walked into the ring Saturday night at the MGM Grand Arena first as the challenger in his rematch with WBO welterweight champion Timothy Bradley Jr. He walked out a champion once again.
The boxing world may now exhale.
Pacquiao (56-5-2, 38 KOs) didn't get a knockout, but his victory over Bradley was a definitive unanimous decision. Judges Michael Pernick and Tom Metcalfe scored it 116-112; veteran Glenn Trowbridge scored it 118-111. It was the first defeat of Bradley's (31-1, 12 KOs) professional career.
Both fighters came out aggressively. The first three rounds were a blur of activity, but not many hard punches landed. Pacquiao's connect percentage climbed as the fight progressed.
Bradley seemed to have a mental image of landing the same sort of knockout shot Juan Manuel Marquez landed against Pacquiao. He tried again and again to land a single lights-out punch, but failed to connect. In round four, he came closest to this goal with a right that briefing staggered Pacquiao. Pacquiao shook it off, and Bradley never did any worse damage.
Timothy Bradley\'s best punch came in the fourth round.
Timothy Bradley's best punch came in the fourth round. Photo: Courtesy TopRank.TV
In round seven, Bradley came at Pacquiao again, but Pacquiao's superior ring generalship allowed him to pin Bradley on the ropes and open up a furious spray of punches. The punches didn't have a lot of power, but the speed was impressive. In the post-fight news conference, trainer Freddie Roach said he didn't know why there wasn't more heat on the punches, because Pacquiao was throwing hard during the warm-up in the dressing room. Nevertheless, the crowd loved it, and it likely impressed the judges.
During the second half of the fight, Bradley's trainer Joel Diaz could be heard above the crowd yelling at his fighter to get busy. Before the final round, he shouted "You have to win this round, you have to win." He knew his man was beaten.
According to CompuBox, Pacquiao landed 198 punches out of 563 thrown for a 35 percent connect rate, to Bradley's 141 punches out of 627 thrown, a 22 percent connect rate.
Speed has always been Pacquiao's friend and it was his most formidble weapon against Bradley again tonight. In the post fight interview with Top Rank commentator Larry Merchant, Bradley said "He was the better fighter tonight… He has impeccable timing and great footwork, he's incredible on his feet."
Bradley seemed to accept his first defeat with grace and humility. "I gotta go back to the gym, and I gotta get better… I will be champion again." Bradley said he felt better about the loss Saturday than the victory over Pacquiao in the first fight.
Manny Pacquiao and Timothy Bradley were gracious toward each other during their post-fight interview with Larry Merchant.
Manny Pacquiao and Timothy Bradley were gracious toward each other during their post-fight interview with Larry Merchant. Photo: Courtesy TopRank.TV
There were reports Bradley injured his right calf muscle early in the fight. Bradley said in the post fight interview his balance was off, but he would not offer any excuses. "I have to take my defeat like a man." He refused to answer questions about it. He said he hoped the fans enjoyed the fight.
Pacquiao said Bradley had improved a lot from their first fight. He said Bradley forced him to work hard. "I had to throw a lot of punches because he was throwing so many punches. They were all over, outside. I was throwing inside, inside punches."
Bradley's best punch came in the fourth round; Pacquiao admitted Bradley got him with it. "I listened to my corner, (trainer) Freddie Roach asked me to keep my hands up, watch my timing."
With just 30 seconds left in the fight, Pacquiao suffered a nasty cut above his left eye due to a head butt by Bradley. The fight was stopped briefly to examine it. Pacquiao needed stitches after the fight.
Pacquiao won in his "must win" situation. What comes next? With another full time job as an elected Congressman who's expected to run for President of the Philippines someday, does he still have the hunger to be the best at age 35? "I proved tonight my journey in boxing will continue. My opponent is not an easy boxer, he's a good boxer. Thank God for the victory he gave me tonight, " Pacquiao said.
What comes next for Pacquiao? Trainer Freddie Roach said if Juan Manuel Marquez wins his upcoming fight against Mike Alvarado, "we owe Marquez a fight." Roach also said if Floyd Mayweather was interested, they'd consider a fight with him.
Whatever Bradley's plans, he will return to the ring a smarter fighter. He may not have gotten the victory tonight, but he got his respect back. For him, it was a far more important prize.
The undercard fights provided some decent entertainment. Worth mentioning: the first round knockout by Ukrainian light heavyweight and 2012 Olympic bronze medalist Oleksandr Gvozdyk, who made his debut memorable with a first round knockout of Mike Montoya of Colorado. Also winning his bout by knockout in the fifth round was popular light heavyweight "Irish" Seanie Monaghan. Winning their undercard fights by decision were Jessie Vargas, Ray Beltran, and Brian Vasquez.