Report: Manny Pacquiao vs. Timothy Bradley boxing rematch set for April 12 in Las Vegas
23.01.2014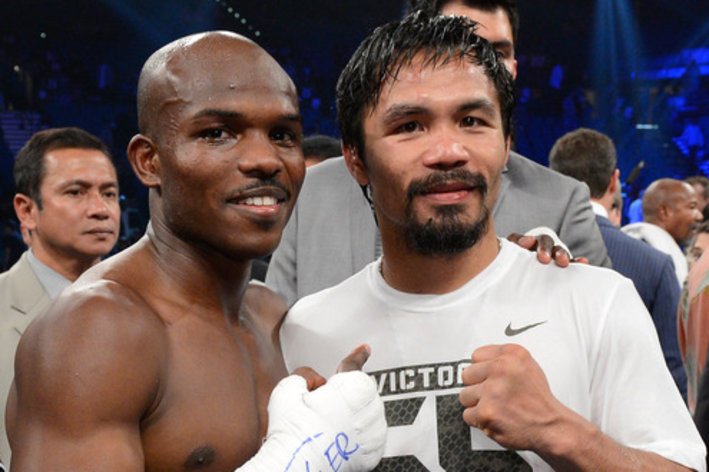 After a controversial split decision ended their first go-round, Manny Pacquiao and Timothy Bradley will have a chance to bring closure to their WBO welterweight rivalry this spring.
If you thought Ultimate Championship (UFC) President Dana White was angry at the Nevada State Athletic Commission (NSAC) for the way it handles mixed martial arts (MMA) bouts, you should hear his tirade regarding boxing matches.
Like the one between Manny Pacquiao and Timothy Bradley (see a sample here).
White was shocked — as was the rest of the world — when "Desert Storm" gobbled up all of "Pac Man\'s" points on the judges\' scorecards, when they cashed in 12 rounds to settle their championship score nearly two years ago (June 9, 2012) in Las Vegas, Nevada.
Bradley won by controversial split decision.
Now, Pacquiao has a chance to set things right, when both pugilists run it back for a rematch on April 12, 2014 inside MGM Grand Garden Arena in Las Vegas, Nevada, according to a report from The Manila Bulletin (via Bad Left Hook).
A formal announcement is expected next week, followed by a press tour in New York and Los Angeles.
Pacquiao lost his WBO welterweight title to Bradley, which became the least of his problems after Juan Manuel Marquez knocked him clean out in the sixth round during his follow-up fight. The former pound-for-pound king was able to rebound with a unanimous decision win over Brandon Rios, only to run into tax trouble in his native Philippines (details).
Bradley, meanwhile, has been aces.
The Californian followed up his win over Pacquiao by outpointing Ruslan Provodnikov, then took home a split decision win over the aforementioned Marquez. Despite his credentials, there\'s no question Bradley would like to silence the critics who insist he was gifted a decision.