Chris Weidman said his second victory over Anderson Silva has left him feeling he "100% knows I'm the better fighter."
05.01.2014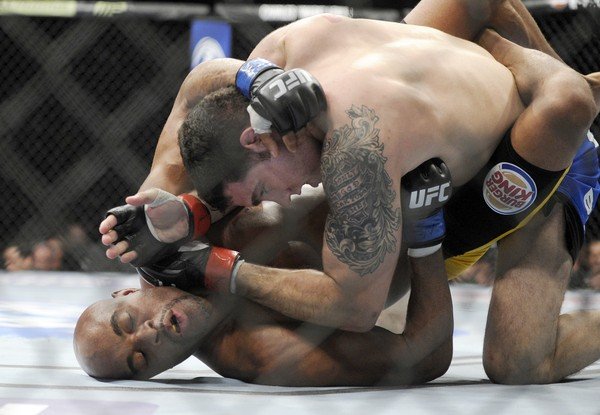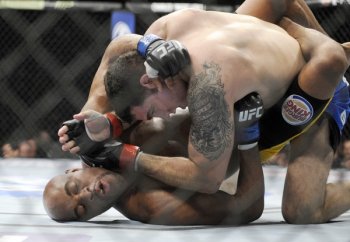 Chris Weidman said his second victory over Anderson Silva has left him feeling he "100% knows I'm the better fighter."
Weidman (11-0) broke Silva's left leg by blocking the former longtime Ultimate Championship middleweight champion's kick with his own left shin, causing Silva to crumble to the canvas in the second round of their Saturday night fight at MGM Grand.
"I don't like that his leg got broken," Weidman said in a Friday telephone conversation with The Times from New York. "It's bittersweet on that, but I felt I was completely dominating the fight. If anything, him breaking his leg stopped me from putting on more of a show."
There was some post-fight speculation that the way Silva's left leg broke indicated perhaps a prior injury, either in training or from a first-round kick on Weidman.
"I'm going to say something happened that moment," Weidman said. "If he had fractured his leg before the fight, there's no way he's throwing kicks like that. I checked the first kick good, which I'm sure hurt him, but I think he wanted to test his leg out again, hoping I didn't check it.
"It landed flush, right on my knee on the lower end of his shin. Those are both a no-no. Usually, if you kick, you want to kick with the upper part of your shin."
It's unclear what the 38-year-old Silva (33-6) will do now, retire or fight on.
The fact that Weidman is the champion in the division Silva has in the past said he had no plans to leave could dim Silva's possible return.
"It's a tough injury to come back from," Weidman said. "I honestly would feel bad to fight him again. I know he's going to be a little hesitant to kick me. He has to worry about getting knocked out. I've dropped him twice, knocked him out once. And I don't know if it'd even be a fair fight to take.
"There has to be a lot going through his head. Got a leg broken, got knocked out, got dropped. I don't know where he is mentally, but fighting is 90% mental."
The UFC is planning for Weidman to next fight former UFC 12 champion Vitor Belfort in either May or July in Las Vegas.
"Explosive, strong, experienced, confident guy coming off three knockouts, but it's a great matchup for me," Weidman said.
Beyond his future interest in taking on another UFC champion like light-heavyweight Jon Jones, Weidman said he's interested in cleaning out the middleweight division that includes recent new member, karate specialist and former light-heavyweight champion Lyoto Machida.
"I feel I can adapt to most situations," Weidman said. "The Machida fight, I know most people think that'll be a difficult fight for me because he's beaten a lot of wrestlers, but I'd be very confident in that fight, as well. I can adapt to different challenges."