RESULTS GLORY & SUPERKOMBAT
22.12.2013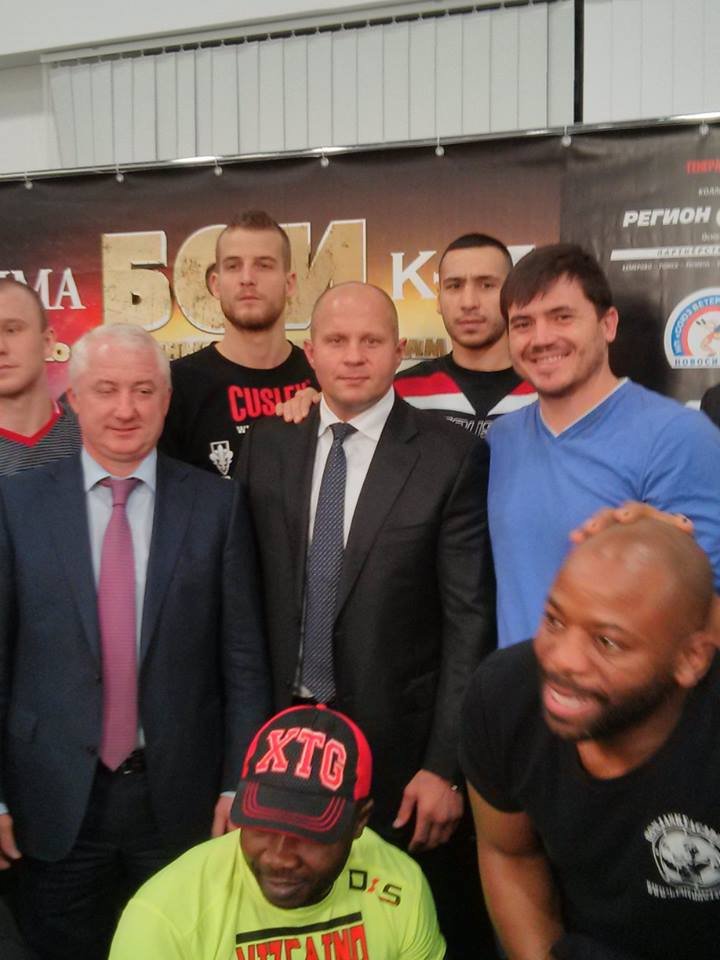 1. Opening Fight – Ligh Heavyweight Bout (-85.00 kg)
Alexandru Nedelcu (Romania) (R2 – KO) Mohammed El Boulahiati (Morocco)
2. Heavyweight Tournament / Semifinal 1 – Heavyweight Bout (+96.00 kg)
Redouan Cairo (Suriname) (R2 – TKO) Giannis Stoforidis (Greece)
3. Heavyweight Tournament / Semifinal 2 – Heavyweight Bout (+96.00 kg)
Frank Munoz (Spain) (R3 – Dec.) D'Angelo Marshall (Curacao)
4. SUPERKOMBAT® Super Cruiserweight Title – Super Cruiserweight Bout (-95.00 kg)
Andrei Stoica (Romania) (R3 – Dec.) Ondrej Hutnik (Czech Republic)
5. Fight – Super Heavyweight Bout (+135.00 kg)
Alexandru Lungu (Romania) (R1 – TKO) Mike Bourke (United States of America)
6. SUPERKOMBAT® Cruiserweight Title – Cruiserweight Bout (-92.00 kg)
Igor Bugaenko (Belarus) (R3 – Dec.) Bogdan Stoica (Romania)
7. Super Fight – Heavyweight Bout (+96.00 kg)
Benjamin Adegbuyi (Romania) (R3 – KO) Pavel Zhuravlev (Ukraine)
8. Super Fight – Heavyweight Bout (+96.00 kg)
Raul Catinas (Romania) (R3 – KO) Paul Slowinski (Australia)
9. Heavyweight Tournament / Final – Heavyweight Bout (+96.00 kg)
Frank Munoz (R3 – Dec.) Redouan Cairo
GLORY RESULTS
The Glory welterweight tournament took place today in Tokyo, Japan at Glory 13 and it did not disappoint. Going in many were expecting to see Nieky Holzken vs. Joseph Valtellini in the tournament final and that is exactly how things played out. Holzken won a unanimous decision over Karapet Karapetyan in the semi-finals, knocking Karapetyan down twice in the fight. Valtellini scored a third round knockout of Raymond Daniels to reserve his spot in the finals. After battering Daniels's legs with low kicks throughout the fight a stiff leg kick in the third round had Daniels reeling and when Valtellini backed him into the ropes instead of going low he went high and scored the knockout.
In the tournament final it was all fireworks. Neither Holzken nor Valtellini wanted to give up an inch and both continuously delivered power packed punches and kicks all while still keeping great technique intact. Holzken seemed to take the lead in the first round of the fight being a bit more accurate and active but Valtellini came storming back in the second round. It could easily have been one round a piece on the judge's score cards going into the third and final round. Both fighters came out letting their fist and feet fly in the third round. Holzken connected with a shot to body that had Valtellini hurt but he refused to go down. Valtellini continued to fire back at Holzken despite being in trouble. As the fight entered the final minute you could sense both men knew exactly everything that was on the line as they both continued to sling heavy leather. In a hectic exchange Holzken landed an overhand right that sent Valtellini crashing down to the canvas face first with only five seconds remaining in the fight. Valtellini was able to work his way back up to his feet before the ten count but the referee stopped the fight. It seemed that the referee could have let Valtellini try and make it to a decision, but in the end Holzken walked away the winner by (T)KO and with the $100,000 grand prize.
Peter Aerts and Glory heavyweight tournament winner Rico Verhoeven met in a super fight that would be Aerts last fight in Japan. It was a close fight as both men had their moments; the best way to describe this fight was a slugfest. In the end Verhoeven took home a split decision win over Aerts in a fight that could have gone either way.
In other action Daniel Ghita made quick work of Errol Zimmerman by knocking him out in just 35 seconds with a left hook and Makoko Uehara edged out Dustin Jacoby by split decision.
Results:
Glory Welterweight Tournament Semi-Finals
Nieky Holzken def. Karapet Karapetyan via Unanimous Decision
Joseph Valtellini def. Raymond Daniels via KO (Head Kick) at 1:20 of Rd. 3
Glory Welterweight Tournament Final
Nieky Holzken def. Joseph Valtellini via (T)KO at 2:55 of Rd. 3
Super Fights
Rico Verhoeven def. Peter Aerts via Split Decision
Daniel Ghita def. Errol Zimmerman via KO at 0:35 of Rd. 1
Makoko Uehara def. Dustin Jacoby via Split Decision
Mosab Amrani def. Yuta Kubo via Unanimous Decision
Artur Kyshenko def. Masayuki Kenmun via Unanimous Decision
Aleksandr Stetcurenko def. Karim Ghajji via Unanimous Decision
Anderson Silva def. Remy Bonjasky via Unanimous Decision
Hesdy Gerges def. Ewerton Teixeira via Unanimous Decision
Sergei Kharitonov def. Jerome LeBanner via Unanimous Decision
Email This