Results UFC on FX 8: Belfort vs. Rockhold
20.05.2013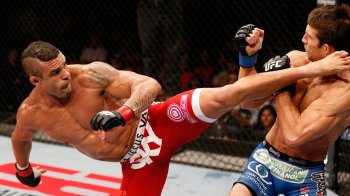 Known for his lightning-fast hands, former UFC champion Vitor Belfort shocked ex-Strikeforce titleholder Luke Rockhold with a wheel kick before fully removing him from consciousness in the first round.
The middleweight bout headlined Saturday\'s UFC on FX 8 event at Arena Jaragua in Jaragua do Sul, Santa Catarina, Brazil. It aired on FX following prelims on FX and Facebook.
Belfort\'s highlight-reel performance marked the second time he\'s used a kick to bring a fight to a swift halt. In his previous outing, he dispatched top contender Michael Bisping with a head kick and punches.
Like Bisping, Rockhold, who relinquished his Strikeforce belt when the promotion folded shop earlier this year, hoped to cement his status as a UFC contender. Instead, he found himself a victim of Belfort\'s pinpoint striking when referee Leon Roberts waved off the fight at the 2:32 mark of the first round.
"The Phenom," who months prior to the fight was told he needed several knockout wins to get another title shot at Anderson Silva\'s belt, declined to use his victory to ask the UFC to reconsider. But the promotion may end up doing just that.
"I\'m here to fight," he told the cheering crowd. "I don\'t pick fights. I accept fights."
Rockhold was a slight betting favorite heading into the headliner, which ended a contentious buildup between the middleweights. Rockhold blasted Belfort\'s use of doctor-prescribed testosterone and got in Belfort\'s face at the weigh-ins.
But afterward, he gave Belfort respect.
"He landed a spinning heel kick to the head," Rockhold said. "Kudos to him."
Belfort attempted the kick he used to end the fight early in the first frame, but Rockhold managed to elude it. The Strikeforce vet shot early for a takedown but was rebuffed. The two continued to snipe at each other before Belfort\'s sudden explosion.
Belfort (23-10 MMA, 12-6 UFC) now boasts back-to-back victories in the middleweight division following an unsuccessful attempt at light-heavyweight champ Jon Jones\' belt. Rockhold (10-2 MMA, 0-1 UFC), who hadn\'t fought in 10 months prior to UFC on FX 8, sees a nine-fight win streak snapped.
Up-to-the-minute UFC on FX 8 results include:
Vitor Belfort def. Luke Rockhold via knockout (strikes) – Round 1, 2:32
Ronaldo Souza def. Chris Camozzi via submission (arm-triangle choke) – Round 1, 3:37
Rafael dos Anjos def. Evan Dunham via unanimous decision (29-28, 29-28, 29-28)
Rafael Natal def. Joao Zeferino via unanimous decision (29-28, 30-27, 29-28)
Nik Lentz def. Hacran Dias via unanimous decision (29-28, 29-27, 29-28)
Francisco Trinaldo def. Mike Rio via submission (arm-triangle choke) – Round 1, 3:08
Gleison Tibau def. John Cholish via submission (guillotine choke) – Round 2, 2:34
Paulo Thiago def. Michel Prazeres via unanimous decision (29-28, 29-28, 29-28)
Yuri Alcantara def. Iliarde Santos via TKO (strikes) – Round 1, 2:31
Fabio Maldonado def. Roger Hollett via unanimous decision (29-27, 29-28, 29-27)
John Lineker def. Azamat Gashimov via TKO (strikes) – Round 2, 1:07
Jussier Formiga def. Chris Cariaso via unanimous decision (29-28, 29-28, 29-28)
Lucas Martins def. Jeremy Larsen via KO (punch) – Round 3, 0:13