We're a bit late here but it's taken quite a while to get access to video and piece together all the results
09.01.2013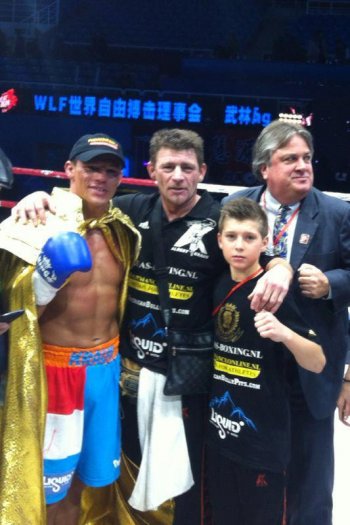 We\'re a bit late here but it\'s taken quite a while to get access to video and piece together all the results, as the biggest Chinese promotion Wu Lin Feng held a big show on December 31, highlighted by an eight man tournament featuring Albert Kraus, Vuyisile Colossa, Luis Bio and Zhou Zhi Peng among others.
The quarter finals started off with a rematch between Zhou Zhi Peng and Luis Bio. Bio had won their first fight, which took place in November in the United States. This time around was different though, with Peng walking away with a competitive decision win. Next up in the quarter finals was Gustavo Mendes of Brazil, who took on China\'s Dong Wen Fei. Dong Wen Fei won via a second round knockout to advance to the semi finals to fight Zhou Zhi Peng.
The other side of the tournament started off with South Africa\'s Vuyisile Colossa fighting China\'s Wang Wei Hao. Wang Wei Hao dropped Colossa and had him in trouble in the third round, and that was enough for him to win the fight by decision. The final quarter final saw the big star of the tournament, Albert Kraus, fight 18 year old Zhang Zhao Yu. Kraus was able to wear his opponent down and stopped the 18 year old in the third round with a serious of body punches (video).
With the semi finals set, Zhou Zhi Peng and Dong Wen Fei were the first ones up. Dong Wen Fei ended up getting the decision, although I\'m not sure that I agreed with it as Zhou Zhi Peng seemed to do more damage. Albert Kraus forced a number of counts on Wang Wei Hao in the other semi final, causing the Chinese corner to stop the fight after the first round, giving Kraus a TKO win (video).
Albert Kraus and Dong Wen Fei met in the final, and it ended in an emphatic finish. Kraus was hurting his opponent throughout the fight before finally knocking out Dong Wen Fei in the second round with a left hook to the body followed by a right high kick that sealed the deal (video).
Quarter Final: Zhou Zhi Peng def. Luis Bio by decision.
Quarter Final: Dong Wen Fei def. Gustavo Mendes by KO in Round 2.
Quarter Final: Wang Wei Hao def. Vuyisile Colossa by decision.
Quarter Final: Albert Kraus def. Zhang Zhao Yu by KO (Left Body Hook) in Round 3.
Semi Final: Dong Wen Fei def. Zhou Zhi Peng by decision.
Semi Final: Albert Kraus def. Wang Wei Hao by TKO (Corner Stoppage) after Round 1.
Final: Albert Kraus def. Dong Wen Fei by KO (Right High Kick) in Round 2.