NSAC LICENSES ALISTAIR OVEREEM FOR UFC 156 FIGHT WITH ANTONIO SILVA
09.01.2013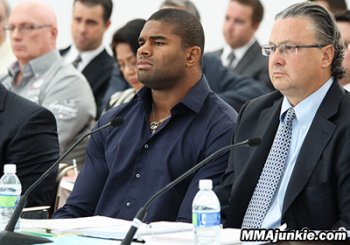 LAS VEGAS – Following a Tuesday hearing with the Nevada State Athletic Commission, Alistair Overeem has been cleared to fight Antonio "Bigfoot" Silva in the co-main event of February\'s UFC 156 event.
Overeem was required to appear in front of the commission after the NSAC declined to license him for a planned May 2012 fight with Junior dos Santos due to a failed drug screen. During the hearing, he said the ordeal proved educational, and he has since taken steps to ensure he never again fails a drug screen.
"I think we\'ve done everything we could to correct ourselves from the errors that were made, and I\'m just ready to get my life back on track," Overeem told the commission. "I\'m ready to get back to fighting."
NSAC executive director Keith Kizer revealed Overeem sent in five voluntary testing results between June and November and was also subjected to NSAC-administered blood and urine testing on Nov. 16 and Dec. 21. All results were negative. After hearing Overeem\'s testimony, the NSAC voted unanimously to approve his application
The massively chiseled Overeem has long been at the center of controversy regarding performance-enhancing drug use accusations. The Dutchman long contended he was a "clean fighter" and the "most-tested athlete in sports." However, he was in 2011 suspended by the NSAC when a a pre-UFC 146 drug test was flagged for a 14-to-1 testosterone-to-epitestosterone (T/E) ratio, more than twice the 6-to-1 ratio allowed by the commission.
Overeem maintained his innocence throughout his NSAC hearings and suggested a prescribed injection was responsible for his heightened ratios. Still, the NSAC declined to issue him a license and refused to hear a new application before Dec. 27. With the issue behind him, Overeem said he\'s ready to move forward with his career and is looking forward to UFC 156.
"Today I went for my license," Overeem told MMAjunkie.com (www.mmajunkie.com) following the hearing. "I\'m very happy to inform you guys that I got licensed to fight Feb. 2 in the UFC against \'Bigfoot\' Silva.
"For me, it\'s now back to work, back to entering the gym. I\'m already basically in shape, so it\'s just a couple more weeks of grinding it, and then it\'s going to be showtime again."
Overeem said he spent his de facto suspension focused on training and has actually added weight since his most recent appearance, a UFC 141 win over Brock Lesnar in December 2011. Overeem credited work with a new nutritionist and medical team for ensuring his testosterone levels are now within allowable limits.
"I just invested in getting to the next level; 2012 was not a lost year" Overeem said. "It was a year of learning from mistakes and preparing for a better 2013."
For more on UFC 156, stay tuned to the UFC Rumors section of the site.