Jerome «Jeronimo» Le Banner
23.08.2012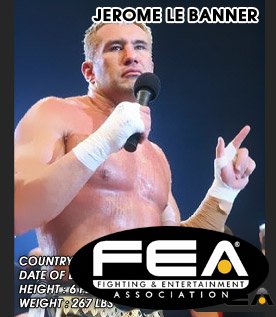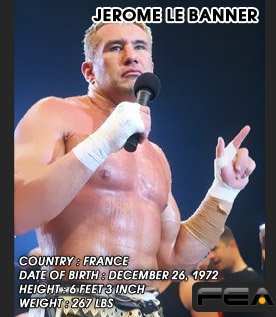 Jerome «Jeronimo» Le Banner
data:
Nickname: «Jer?nimo», «Battle cyborg», «Bulldog Normandy»
Date of birth: 26.12.1972
Height: 190 cm
Weight: 119.5 kg.
Club: Boerboel & Tosa Gym
Style: kickboxing, boxing
Country: France
Titles:
Finalist World Grand Prix K-1 2002
World Champion Grand Prix K-1 2001 in Osaka
World Champion Grand Prix K-1 2000 in Nagoya
3 place World Grand Prix K-1 1999
World Champion in 1996 in the heavyweight weight of Thai boxing version ISKA
Finalist World Grand Prix K-1 1995
World Champion W.K.N. to muay-tai in the heavyweight weight
Champion of France and the European Kickboxing
Jerome «Jer?nimo» Le Banner (born December 26, 1972), also known as «The fighting cyborg» or «Bulldog Normandy» – French professional kikbokser and K-1 superstar, known for his aggressive style of fighting and powerful knockout.
Biography and Career
Jerome Le Banner was born in the French town of Le Havre, in Normandy. Le Banner started training judo at the age of 6. When he was 14 years old, the movie Bruce Lee «Fist fury» made him the impression that he was practicing judo karate instead, while trying to use the technique dzhitkun-to, which he saw in the film. From dzhitkun-before he took his southpaw stance, which has used throughout his career, despite the fact that he is – Right.
At age 18 he debuted at his first competition in kickboxing for full-contact version. 20 years have had the title of champion of France ISKA and shortly thereafter won the European champion belt from Stephen Reveyona, as well as the international champion belt in South Africa in the fight against Mike Bernardo.
3 March 1995 Jerome Le Banner made his debut in K-1, won a judicial decision in the fifth round of the Nokveda Devi. Two months later, on May 4, 1995 he first took part in the World Grand Prix K-1 Tokyo, Japan, knockout, and Masaaki Satake and Mike Bernardo, and then losing Peter Aertsu in the finals of the tournament.
7 December, 2002 at the World Grand Prix K-1, after victories over Musashi in the quarter, and Mark Hunt in the semifinals, Le Banner, met in the finals with three world champion Ernesto Justo. After two rounds, held in equal fight, Hust Le Banner broken arm leg by three strokes with a turn. This happened in the third round of battle. Despite the fact that the injury almost cost J?r?me career, he was able to come to himself and returned to the ring in six months at the tournament K-1 2003 in Paris, where he won at the Belarusian Vitaly Ahramenko.
2 December 2006 after losing finals of the world\'s Grand Prix K-1 2006 Sammy Shiltu, Le Banner announced his withdrawal from the tournament fighting, confining work the appearance of title fights in K-1.
In early 2007, after his fight at the World Grand Prix K-1 2007 in Yokohama, Le Banner was forced to do an operation on his knees. His return is not expected before 2008, but he quickly recovered and decided to take part in the finals of World Grand Prix K-1 2007 in Seoul against Russian kikboksera Ruslan Karaev. In just two days before the battle Karayev was forced to withdraw, and was replaced by a Korean Yong Soo Park, a representative of Taekwondo. Le Banner took only 54 seconds to knock out the park in the first round of direct blow your hands and reach the final of the World Grand Prix K-1 2007, which was held on 8 December 2007 at Yokohama arena.
8 December, 2007, in its 9 th fight in the world Grand Prix K-1, Le Banner in the quarter-unanimous decision of the judges defeated Choi Hong-Manu. In his semifinal waited a valid K-1 champion Sammy Shilt. Le Banner led on points after the first round, but early in the second Shilt loukikom Jerome injured right knee, which had an operation. As a result, the fight was stopped, when from the corner of Le Banner threw a towel to avoid further traumatizing the sportsman.