Ray «Sugar leg» Sefo
23.08.2012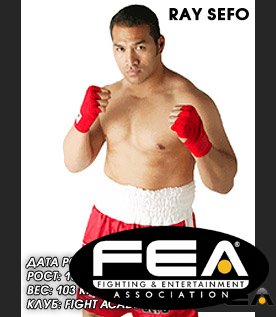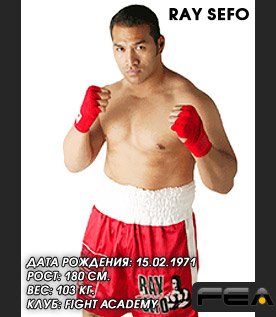 Ray «Sugar leg» Sefo
data:
Nickname: «Sugar leg»
Date of birth: 15.02.1971
Height: 180 cm
Weight: 103 kg.
Club: Fight Academy
Style: kickboxing, boxing
Country: New Zealand
Titles:
Finalist World Grand Prix K-1 2000
The world champion in 1998 according to WKBF heavyweight weight
The world champion in 1997 according to WKBA in the heavyweight weight
The world champion in 1996 according to WMTF in the heavy weight
World Champion 1996 ISKA version of polutyazhelom weight
World Champion 1995 ISKA version of polusrednem weight
The world champion in 1995 according to WMTF in polutyazhelom weight
Champion Hong Kong in 1993 in polutyazhelom weight
Champion of the South Pacific countries in 1992 in polutyazhelom weight
Champion New Zealand in 1991 in polutyazhelom weight
Champion New Zealand in 1990 in the heavy weight
Ray «Sugar leg» Sefo (born February 15, 1971) – New Zealand kikbokser, quintuple world champion in muay-tai and octuple Party finals of the tournament world Grand Prix K-1. There are currently lives and trains in Las Vegas, Nevada, USA.
Biography
In his youth Sefo has Win Chun. Later, under the leadership of the Thai legend Kiosota, he developed his style of fighting muay-tai. Sefo has an impressive list of victories as an amateur and a professional league in Oceania. Ray Sefo trained in the same room as Jason Sutti, Jason VAMO and his brother Ronnie Sefo.
His first success was the champion in WKA polutyazhelom weight, after which he acted as a sparring partner, New Zealand David Tua.
As a result, Ray Sefo, holder of five zones, the world champion, was invited to participate in the prestigious K-1 competitions. Sefo was able to earn an impressive list of achievements in a series of world events the Grand Prix K-1, it has the highest rating in the knockout K-1.
Sefo particularly known for its ability to cause a huge number of bumps. Sometimes he tease his opponents, descending hands and not protected, as if inviting his rivals to attack. Some of this tomfoolery like, others see his own trumpet. Nevertheless, opponents respected him feel aggressive and powerful fighter.
It is wonderfully udayutsya quick and powerful combination of drums from different angles, it works great legs, he has good speed, he often uses a uppercut to break the protection of the opponent. And finally, he is famous for its powerful, painful blows of the feet, including loukiki and blows to the head.
Sefo consider one of the best fighters K-1, and Jerome Le Banner (which Sefo once won), though he never won this tournament. In K-1 Sefo hitting his best and most well-known fighters such as Erensto Hust, Sammy Shilt, Remy Bonyaski, Peter Aerts. All of them at one time were the champions of this prestigious championship.
Because of the defeat Stefan Leko at the time of World Grand Prix K-1 2006 in Osaka, as well as from the fact that he has not won any of the regional Grand Prix title in 2007, Ray was unable to attend the Seoul qualifying tournament World Grand Prix K-1 2007 Final 16. However, FEG recorded Sefo in the battle as a «public favorite». In this battle, he should meet with Peter Aertsom, one of the legendary fighters K-1