Gago «Drago» Harutyunian
23.08.2012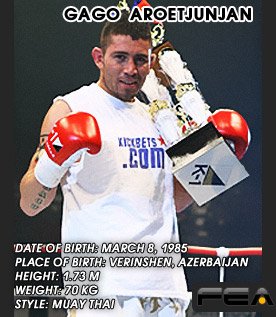 Gago «Drago» Harutyunian
K1-MAX
data:
Nickname: «Drago»
Date of birth: 08.03.1985
Height: 175 cm
Weight: 72,5 kg.
Club: Team It\'s Showtime
Style: Muay-Tai
Country: Armenia, Netherlands
Titles:
Champion of muay-tai Benelux countries in 2002
Gago «Drago» Harutyunyan (born on 8 March 1985) – kikbokser from Armenia, now the speaker for the Club Gym Alkmaar, Netherlands. Known for his shock combinations and unpredictable strikes legs. Gago is currently taking part in the championship K1 MAX, real-under the leadership of Edwin Van Osa.
Biography and Career Center
In 1989, at the age of four, Gago «Drago» moved from Armenia to the Netherlands together with his father. In 14 years, began Kickboxing Club Gym Alkmaar. He was sparring partner for such renowned fighters as Sahin Yakut and Denis Sharoykin. In 20 years, his real name Gago Haroutyunyan was replaced by Gago «Drago», when he began to stand out in the world of Dutch and Belgian kickboxing. In early career he was not allowed to leave the Benelux countries due to problems with visa. Finally in 2005 he received the Dutch nationality and was free to act anywhere in the world.
Fans love Gago «Drago» for the aggressive style of fighting, he always tries to be in the attack, providing constant pressure on their opponents. From 2002 to February 2006 he had not suffered a single defeat. On 5 February 2006 Faldir Chahbari stopped his band won the championship in the WFCA-event in Holland.
6 April 2006 Gago made his debut in the open world championship K1 MAX. As he was hitting his finale against the Dane, Ole Larsen. After strong start, the battle after the second round, «Drago» to play the enemy 8 points, but then took three rounds in succession and won a unanimous decision of the judges. Thus his name was among the best fighters division of K-1 MAX.
13 May 2006 was superboy Gago «Drago» v. Ray Staring through the World Grand Prix K-1 in Amsterdam. In this game Gago was defeated on points.
After nearly two months, 30 June 2006 «Drago» for the first time participated in the K-1 World MAX 2006. In his first fight he defeated Alberta Cross on points and reached the semifinal, where hitting his against Thai fighter Buakava Pramuka. In the second round Gago was ringside on the floor, and this time finished his fight in this tournament. His opponent Buakav Pramuk continued to fight more for the victory in World MAX Title.
3 October 2007 in World Cup Finals K-1 MAX 2007 Gago «Drago» wrestled with the world champion K-1 MAX 2006 Andy Souverom in quarterfinal tournament, and was a powerful knockout hukom right.