Alexander «Grand» Ustinov
23.08.2012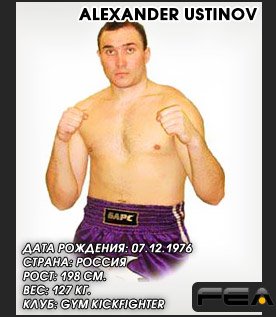 Alexander «Grand» Ustinov
data:
Nickname: «Great»
Date of birth: 07.12.1976
Height: 198 cm
Weight: 127 kg.
Club: Gym KickFighter
Style: kickboxing, Muay-Tai, Free battle
Country: Russia
Titles:
Champion Grand Prix K-1 2003 in Moscow
The world champion of amateurs on muay-tai on the version IAMTF in 2003
Champion Grand Prix K-1 2003 in Spain
Champion of Europe in muay-tai WKN version in 2004
Champion Grand Prix K-1 2005 in Italy
Champion Grand Prix K-1 2006 in Marseilles
Alexander «Grand» Ustinov (born on 7 December 1976) – Russian kikbokser-professional heavyweight weight boxing, mixed arts fighter. Lives and trains at the club Gym KickFighter, Minsk (Belarus).
Career Center
In 2003, after winning the Grand Prix K-1 in Moscow, where he sent the three rivals in a row, knock, Alexander Ustinov took part in the World Grand Prix K-1 2003 in Paris. In the quarterfinal, he met with Gregory Tony and won the battle in the 2 nd round technical knockout. In the semifinals, he came to fight against their own sparring partner Alexei Ignashova. After heavy fighting the judges gave the victory Ignashovu.
In December 2003, Alexander won the Grand Prix K-1 in Barcelona. 7 August 2004 Alexander Ustinov was invited to take part in the World Grand Prix 2004 K-1 Battle of Bellagio II. At this point, the biggest tournament of his career, he opposed the high South American soldier Gian "Giant" Norte. Alexander won the battle, but, unfortunately, was unable to continue participating in the tournament because of a shin injury and was replaced by American Scott La?ty.
In 2005, he won two more K-1 tournament in Milan and Lommele (Belgium), and made his debut in professional boxing.
After the victory in the K-1 tournament in France in January 2006, Alexander was fighting in K-1 in Slovakia against Bjorn Breguet of Switzerland. The first round hit Ustinov Breg knee in the groin, after which the referee added Alexander 8 points. But Ustinov has failed to recover, and the winner was announced Breguet. After such a dubious referee decision after fighting all the same was found invalid.
In October 2007 Alexander Ustinov, being successful kikbokserom has excellent results in the MMA in the Russian BARS-Cup promotion (7 wins (5 KO), 0 defeats) and in professional boxing (8 wins (8 KO), 0 defeats).