Zabit «Mowgli» Samedov
23.08.2012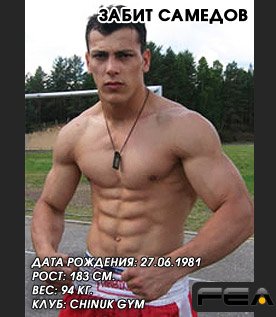 Zabit «Mowgli» Samedov
data:
Nickname: «Maugli»
Date of birth: 27.06.1984
Height: 183 cm
Weight: 94 kg.
Club: Chinuk Gym
Style: Muay-Tai, kickboxing
Country: Belarus
Titles:
Champion Tournament Rules K-1 2007 in Marseilles
Tournament Champion K-1 Network Riga 2006
Champion Hungarian Grand Prix K-1 2006 in Debrecen
European Champion Kickboxing WKBF 2005
The world champion of Thai boxing WAKO 2004
Champion of the tournament "Kristall Cup" Kickboxing 2002-2003 was
Champion of the tournament "BARS Gold Cup" Kickboxing WKBF 2002
Champion of Europe in muay-tai IFMA 2001
The world champion of Thai boxing WAKO 2000
Zabit «Mowgli» Samedov (born on 21 June 1984) – professional kikbokser, Azerbaijani nationality, has moved to Belarus, when he was 10 years old. Trains and supports for Chinuk Gym Club in Minsk, Belarus.
Zabit – a former sparring partner Alexei Ignashova. His path to the K-1, he paved the victories in various tournaments throughout Europe. He is known for its fast speed, footwork and strikes in a jump.