Francisco «Chiquinho» Filho
23.08.2012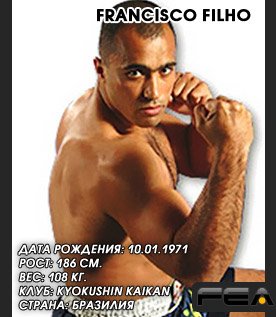 Francisco «Chiquinho» Filho
data:
Nickname: «Chiquinho»
Date of birth: 10.01.1971
Height: 186 cm
Weight: 108 kg.
Club: Kyokushin Kaikan
Style: Karate
Country: Brazil
Titles:
Finalist World Grand Prix K-1 2001
World Champion Grand Prix K-1 2000 in Yokohama
Champion of the World Karate-kiokusinkay 1999
The world champion of karate kiokusinkay-1997 in the heavy weight
3rd place at the world championships in karate kiokusinkay-1995
Successfully tested «100 kumite» in 1995
Champion of South America on kiokusinkay-karate 1992-94 biennium.
Uruguayan Champion Karate 1991
Paulista Karate Champion in 1990
Brazilian Champion Karate 1990
Francisco «Chiquinho» Filho (Born on January 10, 1971) – a Brazilian, a former fighter kiokusinkay-karate, kikbokser. One of the few fighters neyaponskih kiokusinkay-karate successfully tested «100 kumite» (100 matches in succession).
Career Center
Francisco Filho debuted in K-1 20 July 1997 from the tournament K-1 Dreams 1997 against the legendary fighters and kiokusina seydo-Kaikan Andy Haga. It was their second meeting. The first, held at the 5th World Tournament of kiokusinkay-karate in 1991, won Filho. At that meeting, he also won, making him one of the pretenders to the title of world champion Grand Prix K-1.
Since then, Filho was the champion, as in the K-1, and kiokusin-Kaikan. Since 2004, he was not involved in major competitions, but is actively preparing a young and promising fighters and overseen by a national team of Brazil kiokusinkay-karate.