ROAD FC INKS MELVIN MANHOEF, MINOWA
20.08.2012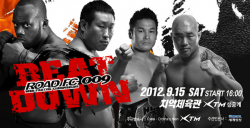 Melvin Manhoef will continue his Asian tour. The Dutchman, who recently competed with OneFC, will return to Asia only this time in Korea to fight Kim Jae Young at RoadFC 009 and will be the main event of the card.
Manhoef\'s last fight ended in a bit of disappointment when his shin bone split through his skin after exchanging leg kicks, causing the fight to be stopped and ruled a no contest. Manhoef\'s fight with Nakanishi will hopefully be rebooked at some point as the two are very highly touted fighters that would have no doubt put on a good show.
Kim Jae Young is 14-9 and a veteran of the Korean circuit. Having fought the majority of his fights with Spirit MC, Young is now a regular with the promotion. He has also seen fights with M-1 Global and DEEP. The idea here is obviously to create a fight between two sluggers as Young has won over 70% of his fights by knockout. We know what Manhoef is capable of.
This is Manhoef\'s first fight with RoadFC, part of the OneFC Network of Asian promotions. The fight will be contested at middleweight.