Debutants are preparing for their first performance and promise to put on a real show!!!
05.02.2020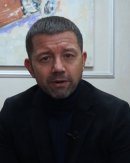 In the early prelims, for three consecutive matches, debutants will enter the professional octagon for the first time. All of them are prepared very thoroughly. And they promise to put on a real show.
Vasile Ceres, the representative of the capital\'s Thai Boxing Club, will meet with the representative of the Ungheni Pankration club, Grigore Albu. The fight will be held in the 77.1 kg category.
In the 86 kg category, Victor Cozmulici, also from Thai Boxing Club, will fight against Nicolae Gisca from LION FIGHT ACADEMY club. Andrei Frunze, Cozmulici's and Ceres' teammate, will enter the cage against the Ukrainian fighter, Valentin Romanov, in the up to 75kg division. And the more experienced, Nicolae Hantea, who has one victory in on his professional record, will perform in the up to 62 kg category against the Ukrainian representative, Mikhailo Cherep.
Thus, on February the 15th we'll see fighters making their firsts steps in the professional field in the first part of the evening, the EARLY PRELIMS within EAGLES NEXT LEVEL tournament.
In total, the show is divided into three parts, 17 fights are planned, 2 of which will be for the championship belts.
"On February the 15th, we will see young debutants from the Republic of Moldova, such as Gisca, Frunze, Ceres and many other fighters. They will be professionals for the first time. Come and support your favorite fighters, they need your support." – said Dorin Damir, founder and organizer of EAGLES FC, FEA president.
"I got to this debut thanks to my coaches, the club, and of course, because of my preparation. I feel like before any fight. I want to tell my opponent, if he watches this, to prepare very well. As it will be a difficult fight for him" – said Vasile Ceres.
"Yes, I got a small injury in the form of a black eye, the tatami was wet and I slipped while practicing an exercise on the mat and got this small injury. It will heal before wedding. I came to this sport thanks to my brother Ion Frunze, who had 2 fights in the EAGLES project. On the 15th I will show what I am capable of" stated Andrei Frunze.
"Yes, for me this will be the second pro fight, and I hope, the second victory. I am well prepared for all three rounds, but I intend to finish the match ahead of schedule in, maximum, the second round" said Nicolae Hantea.
"Hello everyone, to my opponent Nicolai Gisca, everything will be clear then and there on February the 15th. I want everyone to have a good time watching my debut. He's one of my obstacles to the championship belt, Nicolae get ready" said Victor Cozmulici, an older debutant.