Valeriu Mircea on top of the Five Prospects Who Could Step in Against Alex da Silva
26.07.2019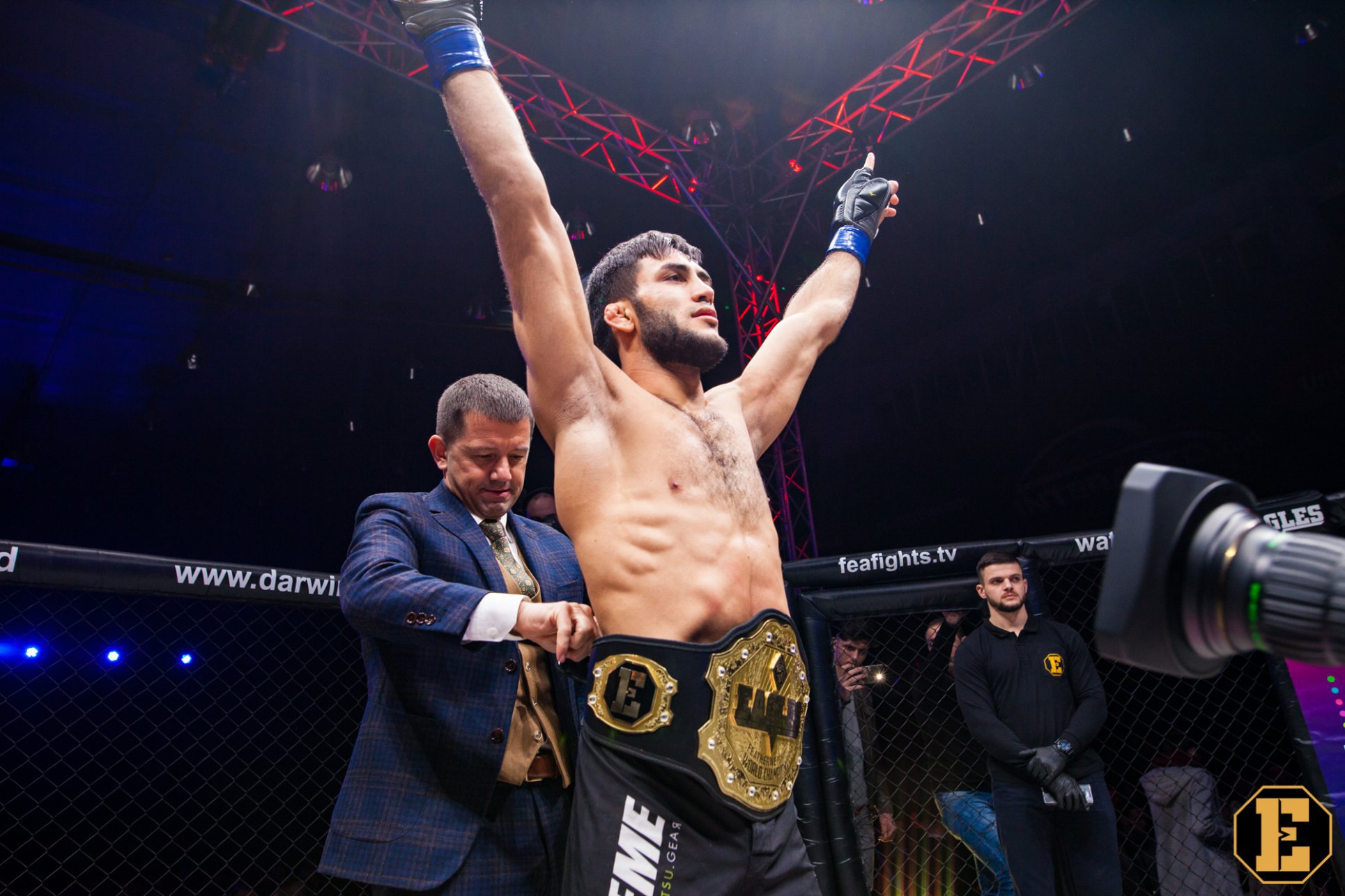 Alex da Silva needs an opponent for UFC Montevideo after Rafael Fiziev pulled out, so we came up with five prospects who could replace Fiziev.
UFC Montevideo had a bantamweight bout that was scheduled for the card as Rafael Fiziev was set to take on Brazilian Alex da Silva in Uruguay. Due to an injury (broken foot) Fiziev, unfortunately, had to pull out. The show must go on and with the event about two weeks away the UFC may find a replacement. Michael Fiedel (writer for TheBodyLockMMA and FloCombat) and I decided on five prospects we'd like to see step in and fight Ricardo Ramos.
Valeriu Mircea (25-5-1)
Born in Moldova but living in Rome, Italy, Mircea is currently on a six-fight win streak. With 31 combined fights, Mircea has tons of experience and is still only 25-years-old.
Fighting at 155 for the majority of his career, in his last fight he moved down to 145. In that fight, Mircea won the Eagles Fighting Championship featherweight title. On short notice, I doubt he would have any issue making weight, making 155 so many times.
Mircea is a fun fighter that is always looking for the finish, stopping his foes 21 times. The Moldovan has been in talks with the UFC in the past, so maybe the time is now.
Marif Piraev 28-2-1
Piraev is another fighter with tons of experience with 31 total fights. With an impressive record, Piraev is on an eight-fight win streak. His level of competition has been solid, only taking on five fighters who had a losing record at the time.
At only 26-years-old, the Russian out of Moscow is primed for a UFC opportunity. His two losses were to the former KSW lightweight champ Mateusz Gamrot and to top prospect Tofik Musaev.
You will see so many fighters the UFC will sign on short notice who are too young and not at all ready. That's not the case with Piraev as he has done more than enough to get in the UFC. It could be a smart decision bringing him in as he's not yet locked down with an exclusive contract.
Fares Ziam (10-2)
Unlike my other two choices, Ziam doesn't nearly have as much experience and is still young at 22-years-old. Ziam born in France which is a country that doesn't have many UFC fighters so that would be a good market
to continue the build. He has a key win over The Ultimate Fighter season 22 competitor Abner Lloveras.
Ziam is on a five-fight win streak and through his career won a few titles. "Smile Killer" wants to keep the fight standing so he can use his background as a kickboxer, fighting for the well-known GLORY promotion. Ziam is very long at 6'1″ tall.
Ziam, out of my three, would be the least UFC-ready but he's fun to watch and has a high ceiling. A fight with Silva will show how good the young Frenchman is.
Sidney Outlaw (13-3)
Whenever a lightweight fight falls through in the UFC, the first name on everyone's minds should be Sidney Outlaw. The Philadelphia, Pennsylvania, native is one of the country's top lightweights. In fact, Tapology lists him as the fourth-ranked lightweight on the U.S. regional scene, and the algorithms they employ gave him top honors for the New Jersey, Florida, and U.S. Northeast and Southeast regions.
But, algorithms can be wrong. In this case, though, that doesn't seem likely. Outlaw turned pro in 2013 after compiling a 5-1 record in the amateur ranks. Since turning pro, Outlaw has fought under some of the regional scene's most prestigious banners, including CFFC, Ring of Combat, Titan FC, and more. Outlaw has also fought on WSOF, Bellator, and Dana White's Contender Series, to boot.
Today, Outlaw is riding an eight-fight win streak, during which he has finished five fights – all by way of submission. The fight before Outlaw's impressive streak was a split-decision loss to highly-touted lightweight and current undefeated UFC standout Gregor Gillespie.
Prior to his unanimous decision win over Titan FC veteran Michael Cora on the Contender Series, Outlaw captured the Ring of Combat lightweight and welterweight titles. Following the Contender Series victory, which did not result in a UFC contract, Outlaw won the Titan FC lightweight title before defending his RoC welterweight strap and winning twice more, once in the Island Fights and once in the CFFC cage, respectively.
Outlaw has proven that he can perform on the sport's biggest stages, and his record and resume are both massively impressive. The Renzo Gracie Academy product is a tried-and-true submission threat, and he deserves to be in the running to replace Rafael Fiziev against Alex da Silva at UFC Uruguay.
Troy Lamson
Just behind Sidney Outlaw on Tapology's list of the top regional lightweights in the United States is Michigan's Troy Lamson. Ranked first in the state of Michigan and third in the U.S. Midwest by Tapology, it's no secret that Troy Lamson is one of the nation's top prospects.
Lamson turned pro in 2014 after a 17-0 amateur career and maintained his winning ways at the onset of his pro career. The Michigan native scored six-straight wins before dropping his only two losses back-to-back in 2016.
Since 2016, Lamson has put losing in the rearview mirror. The former Michigan State University wrestler has won seven straight fights, notching four of those by way of finish – two submissions and two TKOs.
In his most recent bout, Lamson defeated fellow top prospect and PFL and LFA veteran Robert Hale by split-decision. With the win, Lamson moved his record to 13-2 as a professional.
As a former NCAA DI wrestler, Lamson already has one of the many bases in mixed martial arts covered. As his record can attest, both his striking and his grappling are coming along quite well.
Given his record, his long winning streak, and his credentials, Lamson could be a perfect candidate to fill in on short notice against da Silva on August 10.