UFC 227 results, highlights: TJ Dillashaw knocks out Cody Garbrandt to retain bantamweight title
05.08.2018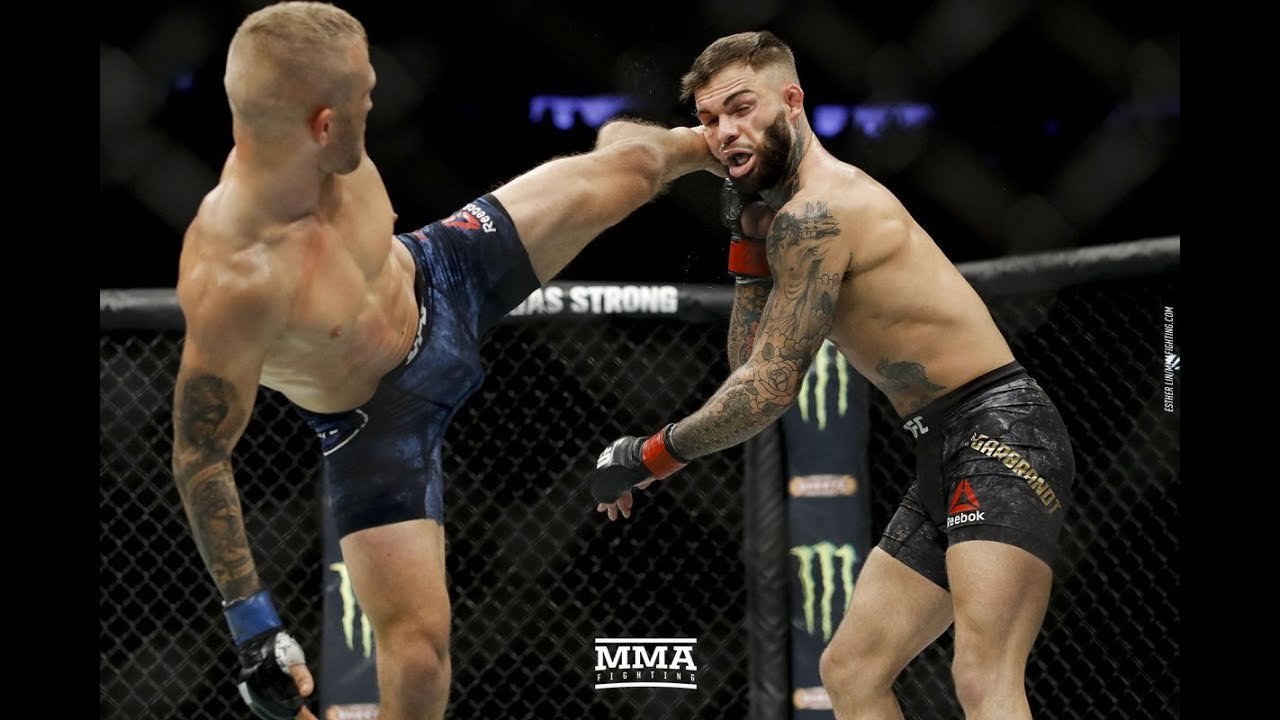 As it was in the beginning, so it is in the end: TJ Dillashaw is the best bantamweight in the world. His second consecutive knockout of heated rival and former champion Cody Garbrandt on Saturday at UFC 227 may have secured him the status of greatest 135-pound fighter in promotional history.
Dillashaw (17-3), a two-time champion, ruined Garbrandt\'s attempt at an immediate rematch that he himself never received in 2015 when he lost his title by disputed decision and he did so by keeping the fight out of the judges\' hands.
Just like his stoppage victory over Garbrandt in their first meeting at UFC 217 last November, the 32-year-old Dillashaw was able to lure his former teammate into a brawl before landing the quicker and more precise punches in a first-round TKO inside Staples Center in Los Angeles.
"I am the best bantamweight of all-time," Dillashaw said. "That\'s it, the best bantamweight of all-time, right here."
Garbrandt (11-2) entered their rematch without the back injuries that prevented him from sparring or training ahead of their first fight. Yet Saturday\'s second meeting was just as dramatic with Garbrandt rocking Dillashaw twice in the early going before succumbing to counter shots.
He caught me good but nothing to where I wasn\'t there," Dillashaw said. "I expected him to want to counter my kicks so I wanted to wait. I know he likes to lead with that right hand so I tried to time it and hit him with one of my own."
Can\'t get enough UFC? Subscribe to my podcast In This Corner with Brian Campbell where we break down everything you need to know in the Octagon.
Just as it appeared like Garbrandt had things in control midway through the first round, the tenor of the fight changed for good when both fighters connected with right hands at the same time. But as Dillashaw staggered backwards momentarily following the effect of the blow, Garbrandt was hurt far worse and fell to his rear.
"He was definitely hurt and didn\'t have his legs underneath him yet," Dillashaw said. "I was going for the kill and got a little happy on him but I kept the pressure on and kept those right hands coming and kept loading them up."
Although Garbrandt was able to work back to his feet, Dillashaw was all over him with punches and dropped him a second time with a pair of looping right hands. Dillashaw landed a series of hard punches from behind, which caused Garbrandt to regain his feet along the cage. But a knee to the face proved to be the finishing blow as referee Herb Dean jumped in at 4:17 to rescue Garbrandt as he slumped against the cage.
"You see the smile on my face every time I come out?" Dillashaw said. "I\'m here to bang and I\'m here to knock you out."
Although Dillashaw may not be able to stamp his credential as the greatest bantamweight in UFC history without defeating former two-time champion Dominick Cruz, who edged Dillashaw by a disputed split-decision in 2015, he may already have his next title defense lined up.
In Saturday\'s co-main event, Henry Cejudo upset longtime flyweight champion Demetrious Johnson by split decision and called out the winner of Dillashaw-Garbrandt II for a superfight at 135 pounds.
Asked whether he was interested, Dillashaw responded by saying, "Bring it baby, let\'s do this."
CBS Sports was with you for every punch, kick and submission attempt on Saturday night with our live blog below. If you are having trouble viewing the blog, please click here.
Main card
TJ Dillashaw def. Cody Garbrandt via first-round TKO (4:10)
Henry Cejudo def. Demetrious Johnson via split decision (47-48, 48-47, 47,48)
Renato Moicano def. Cub Swanson via first-round submission (4:15)
JJ Aldrich def. Polyana Viana via unanimous decision (29-28, 29-28, 29-27)
Thiago Santos def. Kevin Holland via unanimous decision (29-27, 29-27, 29-26)
Undercard
Pedro Munhoz def. Brett Johns via unanimous decision (30-26, 29-28, 29-27)
Ricky Simon def. Montel Jackson via unanimous decision (30-27, 30-27, 29-28)
Ricardo Ramos def. Kyung Ho Kang via split decision (29-28, 28-29, 29-28)
Sheymon Moraes def. Matt Sayles via unanimous decision (29-28, 29-28, 29-28)
Alex Perez def. Jose Torres via first-round KO (3:36)
Zhang Weili def. Danielle Taylor via unanimous decision (29-28, 29-28, 29-28)
Marlon Vera def. Wuliji Buren via second-round TKO (4:53)