Ion Cutelaba turns tables on Gadzhimurad Antigulov for first-round TKO
29.07.2018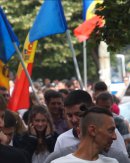 Gadzhimurad Antigulov was the first-round stoppage master, but it was Ion Cutelaba who turned the tables on him.
Cutelaba (14-3 MMA, 3-2 UFC) shut down Antigulov (20-5 MMA, 2-1 UFC) with a first-round standing TKO after withstanding the Russian's early wrestling prowess. Cutelaba got the finish at the 4:25 mark of the opening frame and shut down Antigulov's 14-fight winning streak, which including 12 first-round finishes.
The light heavyweight bout was part of the preliminary card of today's UFC on FOX 30 event at Scotiabank Saddledome in Calgary, Alberta, Canada. It aired on FOX following additional prelims on UFC Fight Pass and ahead of the main card on FOX.
Antigulov threw a right hand right away, then shot for a double-leg takedown and landed it just a few seconds into the fight to put Cutelaba on hsi back. Cutelaba backed his way to the fence and wall-walked back to his feet, but Antigulov put him right back on the canvas and went to work in guard.
When Cutelaba again got back to his feet and tried to get some separation, Antigulov tied him up and briefly took his back on the feet. Cutelaba landed a pair of knees to the body and that helped him push free. Another knee and an elbow cut Antigulov, who then tried again for a takedown. Cutelaba continued to land some big knees, but Antigulov walked through them to get another takedown with 90 seconds left in the round.
Cutelaba kicked him off, got back to his feet, then landed some heavy uppercuts. Antigulov dropped his head and covered up. Cutelaba continued to pour it on after eating an uppercut, and after a few short elbows referee Marc Goddard was in to shut things down.
Cutelaba picked up his second straight win and has won three of his past four. He now has his first UFC winning streak. Antigulov had a 14-fight winning streak snapped and lost for the first time in more than five years.
Dustin Poirier continued working his way towards a shot at the UFC lightweight champion by defeating Eddie Alvarez via second-round TKO in the main event of UFC Calgary. Poirier earned some vindication, as a previous fight between him and Alvarez last May was ruled a no-contest when Alvarez landed two illegal knees while Poirier was grounded. It\'s Poirier\'s third straight stoppage victory over a former champion, having defeated Anthony Pettis and Justin Gaethje in his previous fights.
The first round was competitive with both fighters scoring. Poirier controlled the distance early on and peppered Alvarez with his jab. Alvarez responded with some nice body shots and also landed a spinning back-fist. They traded leg kicks as the fight stayed on the feet. Poirier did some showboating after stuffing a couple takedown attempts by Alvarez and continuing to work his boxing. It was a close round and either fighter could\'ve won it.
In the second round, Alvarez pushed forward and forced the clinch early, but Poirier jumped up for a guillotine choke. Alvarez remained calm and survived, forcing Poirier to let go of the choke at the risk of tiring out his arms. Alvarez took control and maintained top position, taking Poirier\'s back and locking up a neck-crank. Poirer was able to survive, but Alvarez moved to full mount and started landing some shots. Controversy arose between these two once again, as Alvarez threw and illegal 12-to-6 elbow that landed on Poirier\'s shoulder. Even though it didn\'t do much damage to Poirer, it was still an illegal technique and referee Marc Goddard was forced to take away Alvarez\'s top position. With the fight back in the center of the octagon, Poirier landed a crisp combination and landed a stiff knee that wobbled Alvarez. Alvarez stumbled back to the fence and Poirier poured it one with a diverse volume of strikes, landing punches and knees before flooring Alvarez with an elbow, forcing the referee to stop the fight at the 4:19 mark.
In his post-fight interview, Poirier made his case for a title shot. He undoubtedly deserves a championship fight, but the logjam at the top of the lightweight division makes it somewhat murky. Current champion Khabib Nurmagomedov is expected to defend his title against former champion Conor McGregor at some point this year, with reports saying the UFC is looking to book that fight in October or December. Poirier has every right to sit and wait for that situation to sort itself out so he could face the winner for the title. But former interim champion Tony Ferguson is currently recovering from an injury, so depending on the result of Nurmagomedov vs. McGregor, it wouldn\'t be a surprise is Poirier had to fight Ferguson before getting a title shot.
In the co-main event, former UFC featherweight champion Jose Aldo ended a two-fight losing streak with a first-round TKO of Jeremy Stephens. It was Aldo\'s first stoppage win since August 2013, and his first non-title fight since June 2009. The fight was highly entertaining for as long as it lasted. Stephens pushed forward and looked to have Aldo hurt early, but he survived and started throwing power shots of his own. Aldo earned Stephens\' respect and opened up a cut near his eye, stopping Stephens\' trademark heavy pressure. Aldo then landed a vicious body shot that sent Stephens to the canvas and he rained down some ground-and-pound before the referee stepped in at the 4:19 mark. After back-to-back losses to current featherweight champion Max Holloway, Aldo earned his first win in more than two years. Stephens had a three-fight winning streak entering this fight and likely would\'ve entered the title conversation had he won the fight.
Full results from the event can be found below:
– Dustin Poirier def. Eddie Alvarez via TKO (strikes) at 4:19 of Round 2
– Jose Aldo def. Jeremy Stephens via TKO (strikes) at 4:19 of Round 1
– Joanna Jedrzejczyk def. Tecia Torres via unanimous decision (30-27, 30-27, 30-27)
– Alexander Hernandez def. Olivier Aubin-Mercier via unanimous decision (30-27, 29-28, 29-28)
– Jordan Mein def. Alex Morono via unanimous decision (29-28, 29-28, 29-28)
– Hakeem Dawodu def. Austin Arnett via unanimous decision (30-27, 30-27, 30-27)
– Islam Makhachev def. Kajan Johnson via submission (armbar) at 4:43 of Round 1
– Ion Cutelaba def. Gadzhimurad Antigulov via TKO (strikes) at 4:25 of Round 1
– John Makdessi def. Ross Pearson via unanimous decision (30-26, 29-27, 29-28)
– Katlyn Chookagian def. Alexis Davis via unanimous decision (29-28, 29-28, 30-27)
– Dustin Ortiz def. Matheus Nicolau via knockout (head kick, punches) at 3:49 of Round 1
– Nina Ansaroff def. Randa Markos via unanimous decision (29-28, 29-28, 29-28)
– Devin Powell def. Alvaro Herrera via knockout (strikes) at 1:52 of Round 1