IMMAF & WMMAA START AMALGAMATION OF NATIONAL FEDERATIONS
19.05.2018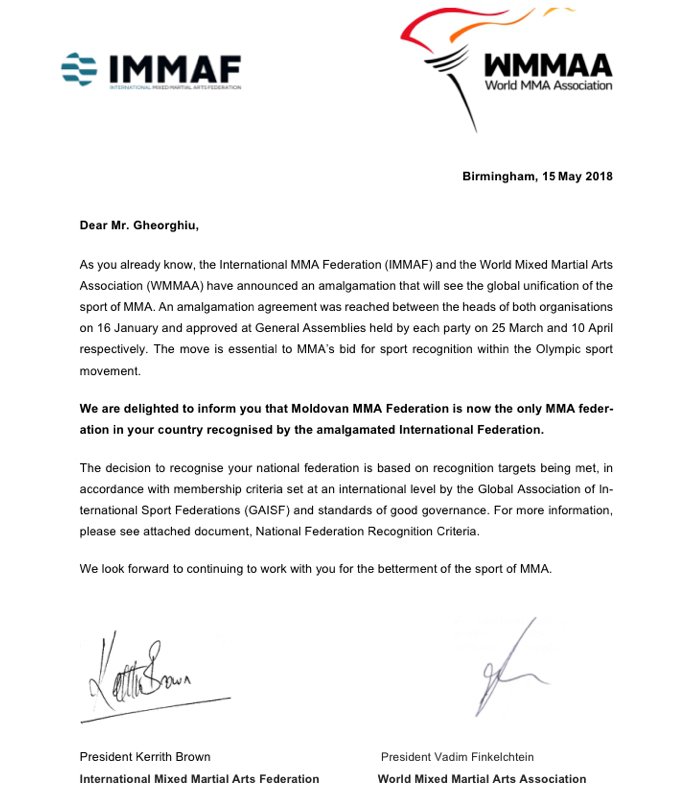 On 10 April, the International MMA Federation (IMMAF) and the World Mixed Martial Arts Association (WMMAA) announced an amalgamation for the global unification of the sport of MMA. Crucially this step is of key significance to MMA's bid for sport recognition within the Olympic sport movement.
Today WMMAA and IMMAF have reached out to their collective membership, to officially notify national federations of their recognition status under the new structure. In countries where two federations exist, IMMAF/ WMMAA will be inviting the organisations to collaborate, and where one is recognised by its Ministry of Sport or NOC, for the other to be absorbed into that federation. The respective strengths of national federations have been assessed according to IMMAF/ WMMAA membership targets, which follows the membership criteria set at an international level by the Global Association of International Sport Federations (GAISF). See below.
IMMAF President Kerrith Brown welcomed the opportunity for the modernisation of the collective membership:
"The amalgamation provides a catalyst for the modernization and strengthening of our membership, which in turn will accelerate sport development and increase services to MMA participants worldwide. In facilitating the unification of two organisations in some territories, we aim to bring the strengths and successes of each to the table and help them to negotiate a complementary working structure under one banner. For example, we have noticed that while one national federation might focus on professional event sanctioning, its former 'rival' may have achieved commendably in youth development projects. Clearly, these two activities are not mutually exclusive. The amalgamation has also instigated a fresh review of our membership, to what extent they meet international governance criteria and in which areas we need to support them."
The Romanian Kempo MMA Federation, who will be hosting the 2018 IMMAF European Championships next month, embodies an early success story of a merger between IMMAF and WMMAA members. Very positive initial conversations have been reported between other members too, with a combined French 'super team' already reported as planning to participate in the IMMAF European Championships.
WMMAA President, Vadim Finkelchtein, expressed his faith in the ultimate success of national level unifications:
"The WMMAA and IMMAF amalgamation leads to creation of one united world organisation with the number of its members coming close to a hundred. A huge amount of work has been done to unitе the federations on a national level and speed up the movement towards GAISF and consequently Olympic Committee recognition. We expect that each federation – be it an IMMAF or WMMAA member – is willing to find common ground with their past rivals for the sake of MMA. We've achieved so much in the past, much more is yet to be done and I have no doubts we will get there together."
First international opportunities for the WMMAA and IMMAF communities to come together will be through invitations to WMMAA members to participate in IMMAF continental championships and courses, in the run up to a joint 2018 World Championships of Amateur MMA in Bahrain in November. Participation will see WMMAA athletes enter the IMMAF World Amateur MMA Rankings.
A letter issued yesterday invited "IMMAF and WMMAA communities" to come together in "friendly competition and in the shared spirit of good sportsmanship".
IMMAF/ WMMAA National Federation Membership Targets
National Federation Membership Criteria can be divided in 3 Categories:
Organisational (Main/Others)
National Representation/Universality
Sporting
Organisational Criteria (Main):
Federation is recognized by its Sports Ministry (/ Government) as the national governing body for MMA
OR Federation is recognised by its National Olympic Committee as the national governing body for MMA
OR Federation is the sole national governing body for MMA
Organisational Criteria (Others):
Not-for-Profit
Democratic
Board and committee structure
Anti-Doping: Compliance of regulations with the World Anti-Doping Code
Gender Representation: Organisational Chart and importance of women representation in elected Body
History: General Assemblies held
Accounting: Audited Financial Statement (Income/Expenses report)
Strategic Plan: Mid-term/Long term
National Representation/Universality:
National membership numbers (clubs/ participants)
National membership reach (regions/ geographic spread)
Participation in international MMA championships
Sporting:
Hosting of National Competitions: Fairness/ Attractiveness/ Non-Discrimination, Fair Play, Solidarity
Sports Achievements: Athletes/ Coaches/ Anti-Doping/Medical/ Administration/ Communication & Marketing
Education and progression
Community