Kailin Curran vs. Alexandra Albu on UFC 214, july 29.
19.07.2017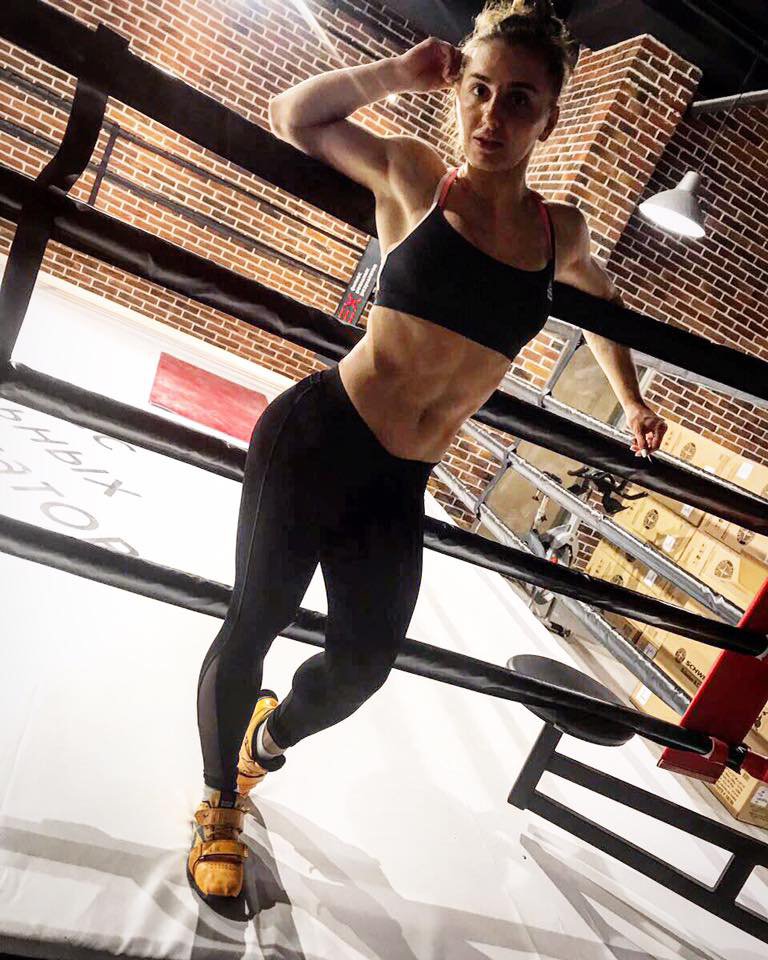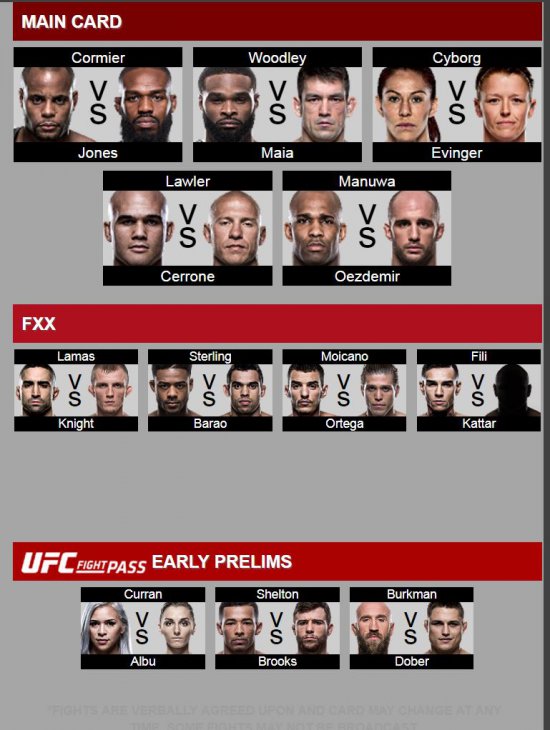 UFC 214 is the biggest card of 2017 thus far would be an understatement. One need only look at the lineup of fights to realize that this is one of the greatest cards in UFC history.
Daniel Cormier vs. Jon Jones
Tyron Woodley vs. Demian Maia
Cris Cyborg vs. Tonya Evinger
Ricardo Lamas vs. Jason Knight
Robbie Lawler vs. Donald Cerrone
Jimi Manuwa vs. Volkan Oezdemir
Preliminary Card (FXX)
Aljamain Sterling vs. Renan Barao
Renato Moicano vs. Brian Ortega
Sage Northcutt vs. John Makdessi
Andre Fili vs. TBA
Preliminary Card (UFC Fight Pass)
Eric Shelton vs. Jarred Brooks
Kailin Curran vs. Alexandra Albu
Josh Burkman vs. Drew Dober
Dmitrii Smoliakov vs. Adam Wieczorek
With three title fights, two possible top-contender bouts and a long list of leading prospects set to throw down, it\'s worth giving the once-over to the entire fight card.
So jump right in, and enjoy Bleacher Report\'s early preview of UFC 214.
Sage Northcutt vs. John Makdessi
Following Sage Northcutt\'s tough submission loss to Mickey Gall at UFC Fight Night on Dec. 17, the UFC was looking to throw him a softball in the form of Claudio Puelles, per MMAjunkie. That fight fell apart, and the company decided to throw him a hardball (or at least, a harder ball) in the form of John Makdessi. The Canadian isn\'t an elite fighter by any stretch of the imagination, but he has the tools to take a straightforward win over the 21-year-old.
Renato Moicano vs. Brian Ortega
Featherweight super-prospect Brian Ortega is back after a yearlong layoff to face regular prospect Renato Moicano. Both men have been on similar career trajectories to this point (outside Ortega\'s failed drug test), but while the Brazilian has been outpointing opponents en route to split decisions, Ortega has been finishing them and should enter UFC 214 as a clear favorite.
Kailin Curran vs. Alexandra Albu
Alexandra Albu signed with the UFC back in 2013 and has only fought once since. That\'s a shame, since she looked promising in her debut (which didn\'t come until April 2015 at UFC Fight Night). She returns after two years against a struggling Kailin Curran in a fight that stands as a pick \'em, solely based on Albu\'s inactivity.
Josh Burkman vs. Drew Dober
This might be a loser-leaves-town match. Drew Dober is settled into a gatekeeper spot in his career and is coming off an ugly submission loss in December to Olivier Aubin-Mercier at UFC 206. That\'s not a good place to be since the UFC has been is cutting a dozen fighters at a time. That said, Josh Burkman is (more or less) 1-6 in his most recent UFC run and enters UFC 214 on a three-fight losing streak, making it odd that he\'s still in the promotion at all.
Dmitrii Smoliakov vs. Adam Wieczorek
Speaking of fighters with records that traditionally result in a pink slip, heavyweight Dmitrii Smoliakov is stepping back into the Octagon following two ugly stoppage losses in his first two UFC fights. He welcomes a debuting Adam Wieczorek to the cage in what will likely be his last fight in the company.
Robbie Lawler vs. Donald Cerrone
It was on. Then it was off. Then it was on. Then it was off. Now, it\'s back on…and fans couldn\'t be happier.
This fight was initially booked for UFC 213 and was previewed by this writer last month. The details haven\'t changed, and a lengthy breakdown can be found on the preview for last Saturday night\'s show. Check it out for all the details.
Jimi Manuwa vs. Volkan Oezdemir
Daniel Cormier and Jon Jones are set to throw down in the UFC 214 main event, but that doesn\'t mean the fight is going to happen. MMA fans have seen Cormier vs. Jones bouts cancelled or delayed several times now in their lengthy rivalry, and the UFC has a plan B here in Jimi Manuwa vs. Volkan Oezdemir.
In the shallow light heavyweight division, both men have gone from relative unknowns to legitimate contenders in just 12 months\' time. While their recent wins and knockout power would combine for an exciting top contender\'s bout on any other card, at UFC 214, this contest is merely an insurance plan in case another disappointment befalls the headliner.
Aljamain Sterling vs. Renan Barao
The UFC knows how to hold a grudge, and Renan Barao and Aljamain Sterling are great examples of that.
Both men drew the ire of the UFC for silly reasons (a health scare at an inopportune time and actually negotiating a contract, respectively). Both men have been seemingly punished with disadvantageous matchmaking and less prominent placement on cards. Both find themselves at a career crossroads, and the UFC is making sure only one of them can turn the corner.
It\'s tough to guess how the fight will go, given the lack of in-cage consistency from either one. Sterling is a stiff test, though, and should be able to challenge Barao in ways he hasn\'t been to this point.
Ricardo Lamas vs. Jason Knight
Jason Knight\'s stock is rising very, very quickly. The 24-year-old has looked generally excellent in the UFC thus far, and he posted strong finishes in his last two fights over Alex Caceres (UFC Fight Night on Jan. 28) and Chas Skelly (UFC 211 on May 13). Now he has the chance to cement himself as a top-10 featherweight by facing Ricardo Lamas.
That\'s a tall order for the youngster, but it\'s doable. While Lamas has stuck around in the top 10 of the featherweight division for years, he has struggled to post good performances against higher-end fighters while consistently running through mid-level opposition.
If Knight can get through him—and look good doing it—it proves he is a legitimate, championship-caliber fighter.
Cris Cyborg vs. Tonya Evinger
There\'s a strong case to be made that Cris Cyborg vs. Tonya Evinger is the best women\'s MMA bout in UFC history. That may sound like hyperbole, but just think back on what both women have done over the last few years.
With Ronda Rousey out of the picture, Cyborg has reclaimed her throne as the queen of MMA. Her physicality and pure knockout power remain as phenomenal as ever, but the former Strikeforce and Invicta FC featherweight champion has also continued to sharpen her overall game to the point where she is a dynamic threat rather than just a deadly slugger. Riding an 18-fight undefeated streak (including one no-contest after the CSAC overturned the victory), there are few fighters you can reasonably see as a threat to her.
One of the few, however, is Evinger. After spending the first seven years of her MMA career as a middling regional fighter, she found her way to Invicta FC in 2013 and went on an amazing surge.
The company eventually rewarded her strong three-fight winning streak with a bantamweight title fight. She took the belt with an emphatic knockout of Irene Aldana at Invicta FC 13 in July 2015 and ran the division with an iron fist for two years.
While there are many talented women in the UFC and there have certainly been great fights, this is the first time when two fully developed, elite-level female fighters are entering the Octagon while riding lengthy winning streaks.
Cyborg is the clear favorite here, but Evinger is easily the toughest test of her career. Nobody should be shocked if Triple Threat manages to pull off the upset.
Prediction: Cris Cyborg def. Tonya Evinger by TKO in Round 4
Tyron Woodley. vs. Demian Maia
At long last, Demian Maia is getting his chance to claim the UFC welterweight championship.
Maia has been standing at the front of the title-shot line, but the UFC has kept putting him into difficult fights. And many have seen it as an effort to force him out of the title picture. Still, he has managed to take win after win over stiff competition and has been so dominant for so long that not even the UFC can deny his rightful place as the top contender at 170 pounds.
His reward is a fight with Tyron Woodley. Though it\'s hard to call that a "reward."
Woodley was something of an unknown commodity for a long while. He had the individual tools for long-term success in MMA with his ferocious knockout power and two-time NCAA Division I All-American status. Unfortunately, he struggled for years to amass a streak, and even as his career trended upward, he struggled to distance himself from past losses to Nate Marquardt, Jake Shields and Rory MacDonald.
Those ghosts faded when he knocked out Robbie Lawler in June 2016 at UFC 201 to take the title and were exorcised when he twice retained it opposite Stephen Thompson at UFC 205 and 209. Now, he can only be looked at as the best 170-pound fighter on the planet.
Prediction: Tyron Woodley def. Demian Maia by Unanimous Decision
Daniel Cormier vs. Jon Jones 2
Well, third time\'s the charm, right?
This writer has previewed Daniel Cormier vs. Jon Jones 2 in these "Early-Card Preview" articles twice now. Pretty much all the talking points remain the same:
Jones beat Cormier decisively by unanimous decision in their first fight at UFC 182 in January 2015.
Cormier has looked phenomenal since, taking wins over Anderson Silva, Alexander Gustafsson and Anthony Johnson (twice).
Jones has fought just once since then, posting a clean (but not especially dominant) win over Ovince Saint Preux by unanimous decision at UFC 197 in April 2016.
While Cormier has tightened up his game, the biggest question is whether Jones\' skills have decayed with his recent inactivity.
Jones, despite his issues outside the Octagon and another long layoff, remains a clear favorite over any and every fighter he comes up against. That said, Cormier is most certainly cause for concern among Jon Jones fans.
Prediction: Jon Jones def. Daniel Cormier by Unanimous Decision
One of MMA\'s greatest mysteries has been solved—where is Alexandra Albu?
After making a successful debut at #UFCKrakow way back in April 2015, the Russian strawweight fell off the UFC radar and was scarcely seen or heard of in the world of MMA. Speaking to Sherdog.com last year, Albu revealed that her time off was due to both injuries and to finish her studies:
"There were several reasons," Albu said. "Firstly, I was suffering from a lot of injuries, so immediately after the fight, I underwent surgery, which required a fairly long recovery period. Secondly, this year is my last year at the university, and I have to defend my graduation thesis, which also requires a lot of time."
Having made a full recovery and finished her studies, it was revealed this morning by UFC.com that she will return to the Octagon at #UFC214 when she takes on Hawaii\'s Kailin Curran.
#Albu, 2-0, will be taking a big step up in competition when she faces Curran. The Russian made her pro debut in 2013 when she defeated Lyubov Demidova via TKO in the first round. She was then scheduled to make her UFC debut against Julie Kedzie later that year, however, Albu pulled out injured and had to wait nearly a year and a half to make her first appearance under the UFC banner against Izabela Badurek at #UFCKrakow.
#Curran will enter the Octagon with almost four times the experience of Albu with eight pro fights under her belt (4-4). The Hawaiian will have experience on her side, but she has lost three of her last four bouts with defeats to Alex Chambers, Felice Herrig and Jamie Moyle sandwiching a sole win to Emily Kagan.
No doubt, both Curran and Albu will be looking to get their UFC careers kick-started on July 29 when they go toe-to-toe in Anaheim.