Nate Diaz says he laughed at Eddie Alvarez fight offer: 'He just got melted by the guy I just beat up'
11.05.2017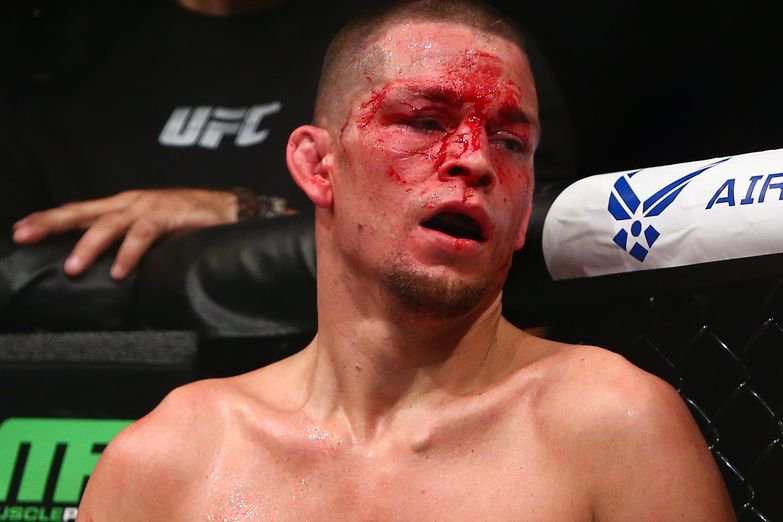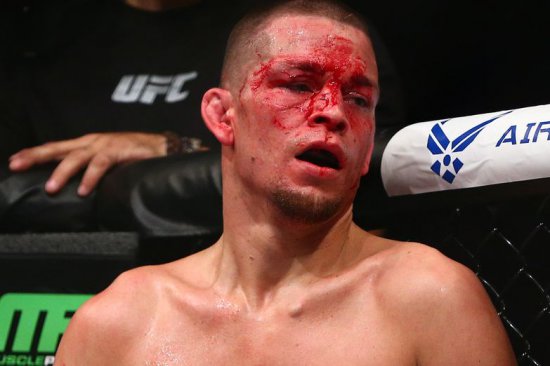 Nate Diaz says he laughed at Eddie Alvarez fight offer: 'He just got melted by the guy I just beat up\'
Nate
Diaz and Eddie Alvarez could have fought in 2015. The two got into a
backstage altercation at UFC 188 in Mexico City and there was plenty of
interest at that time about a matchup between the two hard-nosed
lightweights.
It didn't happen, though. Diaz told Ariel Helwani
on a special edition of The MMA Hour last week that Alvarez turned the
bout down at that point because he was waiting for a title shot. When
the UFC offered him Alvarez back in January of this year, Diaz was no
longer interested.
"They texted me about the Eddie Alvarez
fight," Diaz said. "And I'm just like pshht. Eddie Alvarez had his
chance. Remember when I seen him in Mexico and I called him out? I was
like I want to fight him the next day."
Things have changed
significantly for Diaz since the confrontation with Alvarez. He beat
Michael Johnson in December 2015, then stepped in on short notice to
face Conor McGregor at UFC 196 in March 2016, shocking the world by
submitting McGregor in the second round. Diaz and McGregor fought a
rematch at UFC 202 last August and McGregor pulled out a tight majority
decision.
After the Diaz fights, McGregor challenged Alvarez, by
then the UFC lightweight champion, at UFC 205 last November and knocked
Alvarez out in the second round.
When the UFC came calling about an Alvarez bout, Diaz said he didn't even say no.
"I
just laughed," Diaz said. "'Do you want the Eddie Alvarez fight?' How
dare you. He just got melted by the guy I just beat up. He just got
plumbed by Conor and I just beat Conor's ass. I just laughed at them,
like 'Get the f*ck out of here, call me with some real sh*t.'"
Diaz
believes he knows why the UFC offered him that fight. He said a few
days after he laughed it off, he got an e-mail saying his contract had
been extended six months. UFC fighters have provisions in their
contracts allowing the UFC to lengthen contracts if they don't accept
fights by a certain time.
"You guys just offered me that fight
that you knew I wasn't gonna take so you can extend my contract, because
it was almost over," Diaz said. "My time was almost up on my contract.
You get your loophole. Don't be trying to play me."
Diaz has
since been offered a fight against Tony Ferguson, which he also turned
down, so it's likely his contract will be extended another six months.
Diaz said he's not looking to be a free agent necessarily. He just wants
one of two things from the UFC in a prospective fight: more money or an
opponent he's motivated to be locked inside a cage with.
Ferguson didn't fit that bill for Diaz. Neither did Alvarez.
"You
had your chance," Diaz said of the former UFC 155-pound champion.
"That's not a fighter. You're not a fighter. … You didn't want the
fight. You had your chance."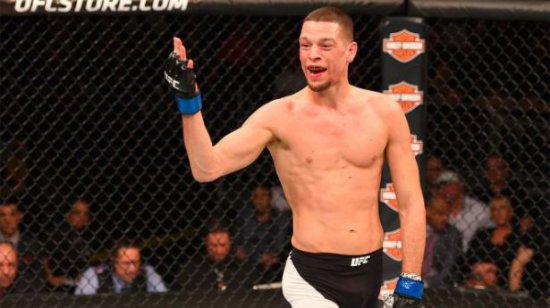 On Nate Diaz and the \'Allegory of the Cafeteria\'
If
you've ever wanted to see life through Nate Diaz's eyes, you could do a
lot worse than what shall henceforth be known as "The Allegory of the
Cafeteria." It goes a little something like this:
"You're in
the school cafeteria, right? Lunch time. Remember high school? And
somebody's like, 'Hey, look around the room. Who do you want to fight?
Who do you want to fight in here?' Random Tuesday. Week is going fine.
Who do you want to fight in this cafeteria? Remember the cafeteria?
There's 300 people in there, right? You look around the room like,
'(Expletive) man, I don't really want to fight anybody.' Will I fight
anybody? Yeah, I guess. Do I want to? No. First of all, that's rude."
The
first thing I should admit here is that I've never been in this
cafeteria. But now, thanks to Diaz's eloquence on his very own mid-week
episode of "The MMA Hour," I feel like I have. I can picture it. I can
put myself right there at a table with young Nate Diaz, both of us
minding our business, dreading fifth period Algebra, just trying to
finish our sandwiches and get through the day.
But in this one
overcrowded room the threat of violence is never far from our minds,
apparently. We don't seek it out, but we're ready for it. We have
accepted it as a fact of life. We are not particularly happy about it.
To
the Diaz brothers, the MMA world is that cafeteria. It always has been.
It's why they keep trying to leave, because they know that while
they're here we won't ever leave them alone. They keep trying to eat
their Cheetos, and we keep poking them in the ribs, saying, "How about
that guy over there? Would you fight him?"
It never occurred to
us that each time they said yes it might have only been because, for one
reason or another, they felt like they couldn't say no.
This
seems especially relevant for Diaz (19-11 MMA, 14-9 UFC) now. Two fights
with Conor McGregor brought him a lot of money, according to UFC
President Dana White, but as he tries to enjoy it the powers that be
keep poking him and then pointing across the room at one lightweight or
another. How about him? Would you fight him?
The answer lately has been the same: no, no, no. At least not without a significant bump in pay, and therein lies the rub.
Diaz,
we're told, wants too much money. And the UFC remains committed to the
idea that he's a nobody who is powerless to move that stubborn needle,
so why should he get a raise? It's an idea undermined by the continued
fascination with him in spite of – or maybe even because of – his
inactivity.
Diaz is 3-4 in his past seven fights, and still he
gets an "MMA Hour" episode all to himself just to announce that he's got
nothing to announce. What's more, people actually watched. Why wouldn't
they? How many other fighters could compare this sport to a cafeteria
that's part "Breakfast Club" and part "Shawshank Redemption" and have it
all make a strange sort of sense? Who else could entertain fight fans
just by explaining why he's not going to fight?
If you ask fans
of theirs to explain the enduring appeal of the two Diaz boys, chances
are that at some point they'll hit on the topic of "realness." Nick and
Nate? Those guys keep it real. There's something undeniably authentic
about them. Even when they don't make complete sense they somehow make
more sense than anyone else.
"If anything I'm like the superhero
coming in with this anti-bull(expletive)," Nick said in the lead-up to
his fight with Georges St-Pierre. And though we didn't know exactly what
he meant, come on – we knew what he meant.
It's the same thing
now. The UFC offers Nate fights. He turns them down in part because he
can, but also because he's tired of being goaded into cafeteria combat
for the benefit of others. He's tired of being used, in one way or
another, and unlike a lot of his peers he recognizes that using people
is one of the things the fight game does best.
Why keep playing a
game like that if you don't have to? What do you think he is, crazy?
Well, OK, maybe a little crazy, but he's not nuts. And if you think that
alone makes him ill-suited for the world of MMA, what have you just
admitted?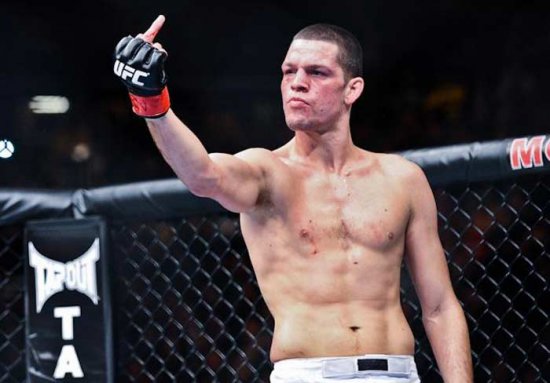 Morning Report: Tony Ferguson goes off on 'b**ch' Nate Diaz: 'You're in the wrong sport. Go try tennis
Yesterday,
Nate Diaz spoke with Ariel Helwani on a special edition of The MMA Hour
where he talked about all sorts of things, among them, why he most
likely wouldn't be fighting Tony Ferguson at UFC 213. Diaz said that
Ferguson, who shares a management team with McGregor, was cajoled into
calling him out and talking trash by his management team because he is
unknown while Diaz is a "money fight." Diaz said Ferguson, McGregor, and
their management are all "in cahoots" working against him and that he's
not going to play that game and "cover for Conor" by fighting Ferguson.
Coincidentally,
Ferguson also recently did an interview with Submission Radio where he
talked about the link between himself and McGregor but refuted that his
calling out of Diaz had anything to do with his management or money.
"Well
I figured, I was like,' S**t, man. The next person that beat the dude
that's next in line would be Nate.' So it had absolutely nothing to do
with management and it had nothing to do with the f**king money either. I
get paid either way and I get paid good. These dudes want to f**king
make it soft and be like, 'Oh money fight, money fight. This and that
money fight.' Yeah that's cool. The money will come to you, you've just
got to keep winning. You've gotta keep putting in the time but these
b**ches want to fight like one time and then go and retire. I understand
it. You're a p**sy, don't worry about it. You don't like to fight.
You're in the wrong sport. Go try tennis.
"This is a man's sport.
I fight. I like to have job security. Give me somebody in front of me
that wants to have their ass beat. Give me somebody that wants to go in
there and test their wit against me. I thought this was the UFC and
we're supposed to be the best and toughest fighters in the world. Point
and proven, Khabib, McGregor, and Nate Diaz are a bunch of bitches. It's
all fake for them."
Ferguson has been calling for a fight with
Diaz since his interim title fight with Khabib Nurmagomedov fell through
at UFC 209 due to weight cutting issues for Nurmagomedov. With
Nurmagomedov out until the fall, there are few other fights that make
sense for Ferguson and much of the rest of the ranked fighters in the
division are already booked up. But with Diaz refusing the fight,
Ferguson is left in the lurch and frustrated by the division.
"I'm realizing that this division is full of b**ches and I can't help that. So I'm gonna find work wherever I've got to go. . .
"I'm
down to deliver ass-whoopings any day and I've been calling out the top
guys and even calling out the lesser guys and there's no bites. These
motherf**kers are soft. The only people that I see that are willing to
fight for the interim title are the guys that are in like the top 30.
These dudes who are like number one, two, literally they f**kin'
disappeared. What are you gonna do if you have the division at a halt? I
put this division at a halt, put it that way. I worked my ass up so far
up into this division that I became a glitch."
Glitch or not,
Ferguson is still without an opponent and not many viable options at the
moment. He mentioned the possibility of a rematch with Edson Barboza or
a foray into the 170-pound division, but though he says that a title
isn't the most important thing and that it will come eventually, it
appears that a belt is really where is mind is at right now.
"Give
me that title. Give me that title! Where's that belt that's mine? F**k
you, Conor. F**k you, Conor. F**k you, Nate. You bunch of b**ches. You
guys are holding hands in the f**king locker room. . .
"I'm tired
of the leprechaun. I'm tired of these fake-ass dudes. Let some real
fighters up in the division. . . I want to fight. I want to work for
something and earn it, how about that? When's the last time somebody
actually worked for something and earned it instead of talked their way
f**king to it?
"The UFC can only hide me for so long because I'm
gonna have that b**ch one way or another. That belt's gonna be mine. You
want to give me another fight, I'm ready for it. You want to give me
another interim title fight, that's fine."
Perhaps this is the type of talk that will "wake up" Nate Diaz.
Nate Diaz torches Jose Aldo for 'crying' over Conor McGregor
If
you\'re a UFC fighter looking for career advice, maybe you would or
wouldn\'t look to Nate Diaz to share his thoughts on the business side of
mixed martial arts. But if you\'re Jose Aldo, Nate\'s thoughts are coming
right at you free of charge, and they aren\'t very complimentary.
"Aldo's
crying about McGregor? I'm like bro, it's your fault, you took him on
that fucking ride around the world and let him punk you everywhere,"
Diaz said during his recent 90 minute interview on The MMA Hour. "You're
responsible, what the fuck are you crying for? I don't even know if
he's crying anymore because he got over it, he probably realised that.
I'm like bro, you just made a star out of that guy!"
"I wish I
had somebody I could just run all around the country and slap around,
You know what I'm saying, now I'm the most famous guy in the world and
all I had to do was slap around this little fucker all around the whole
place. I don't mean to disrespect Aldo, but let's talk the truth here,
this is the real hour."
Aldo certainly had a rough period after
his shocking 13 second loss to McGregor where the only news we ever
seemed to hear was \'crying\' about McGregor. That turned into a serious
rift with the UFC where Jose almost retired from the sport, but
everything seems like it\'s starting to settle back down after Aldo\'s
interim belt was turned into the real featherweight title back in
November.
During all that craziness, Aldo almost moved up to
lightweight, which just happens to be where Nate Diaz fights when he\'s
not at moneyweight. Perhaps Jose should consider turning his ire towards
Diaz … maybe he could become that bad motherf**ker in the cafeteria
that Nate actually wouldn\'t mind fighting.